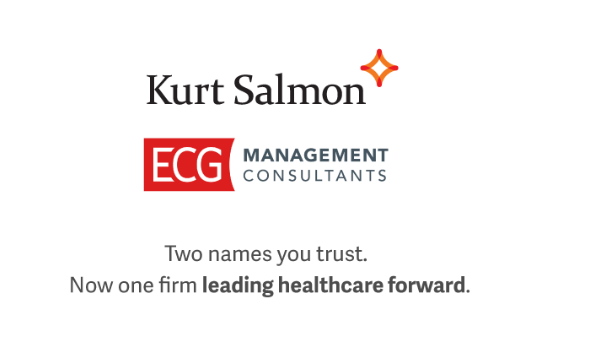 Healthcare management consultant firm ECG Management Consultants, today announced it has acquired the healthcare division of Kurt Salmon. The sale of Kurt Salmon's healthcare division by parent company Management Consulting Group PLC, a London-based professional services company is expected to be $12M ((equivalent to approximately £9.2 million), Interactive Investor reports. An additional $1M of consideration is deferred and contingent on post completion performance. MCG will retain the reminder of the Kurt Salmon business. 
"The sale of the healthcare practice, which follows the sale of the French and related operations of Kurt Salmon in January 2016, will allow MCG to focus on the Kurt Salmon business serving the retail and consumer goods sector, where it is a market leader, as well as the ongoing recovery in Alexander Proudfoot," said Nick Stagg, Management Consulting's chief executive in a statement.
With more than 250 consultants, Kurt Salmon provides management consulting to more than 250 hospitals, health systems and physician groups across its three major service lines: strategy, facility and capital assets, and information technology.
The acquisition tightly aligns with ECG's core service offerings in strategy, operations, finance, and technology to boost its enterprise strategy and IT strategic planning services and expertise in facility planning and capital asset management.
As part of the acquisition, ECG is adding two new office locations – Atlanta and Minneapolis – as part of the Kurt Salmon transaction, as well as a second office in San Francisco.
"Kurt Salmon's healthcare division is a natural fit with ECG, sharing a singular focus on healthcare. If you look at the expertise and capabilities of each firm, what we will be able to accomplish together for the benefit of our clients is really unmatched in the industry," said ECG CEO Gary Edmiston in the press announcement. "Coming together allows us to strengthen ECG's current suite of services and expand our offerings in strategic planning, facility and capital assets planning, and IT strategy in order to fully serve the healthcare organizations we work with."