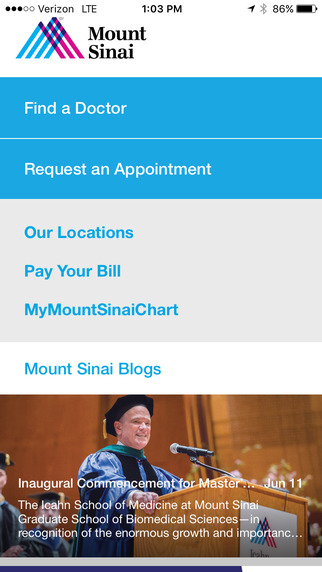 LifeMap Solutions–a subsidiary of BioTime and Mount Sinai today announced the launch of MountSinaiNY, the first patient-facing app designed to serve all patients within the Mount Sinai Health System. The app's initial capabilities allow patients to access their medical records and manage their healthcare experience from their phones. 
Building on the expertise from collaborations with Mount Sinai, Stanford, and Apple, the launch of Mount Sinai NY demonstrates LifeMap's commitment to bringing mHealth solutions to a broader population of patients.
Initial features of the MountSinaiNY app include:
– MSHS general information: Access contact information, visiting hours, directions, parking, and amenities for each MSHS hospital campus, urgent care/walk-in and primary care location
– Find a Doctor: Find physicians and request an appointment quickly for any specialty at any MSHS location
– Pay My Bill: Easily pay bills through the mobile bill pay system
– Medical Record Access: Seamlessly access medical record information through connection with MyMountSinaiChart
– Stay Connected with Us: Access MSHS news, blog, and social media feeds
Future updates to the app may include enhanced telemedicine, way finding, symptom tracking, deeper Epic electronic health record integration, and emergency management features.
Mount Sinai has been working with LifeMap—the only commercial developer to participate in Apple's ResearchKit launch—for more than two years, developing other mobile health apps together, including the Asthma Health and COPD Navigator apps.
"In co-developing MountSinaiNY, we have had the privilege of working once again with the innovative Mount Sinai leadership," said Corey Bridges, CEO of LifeMap Solutions. "Even for a Silicon Valley company, it is rare for us to find a partner as forward-thinking as Mount Sinai. MountSinaiNY has been an opportunity for LifeMap to work with MSHS to directly empower patients, and it represents a new level of coordination between our two organizations."