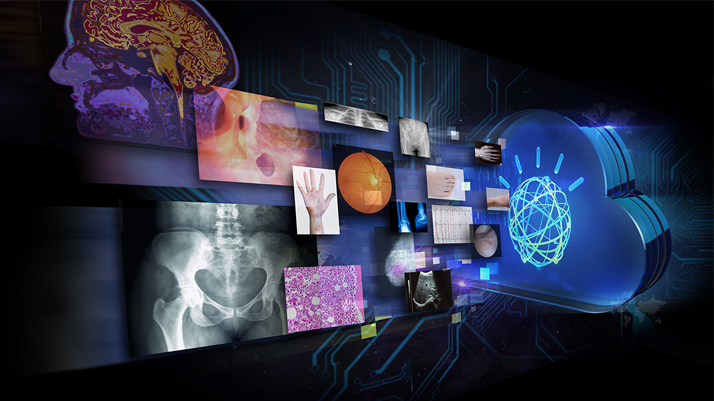 IBM has formed a Watson Health medical imaging collaborative, a global initiative comprised of more than fifteen leading health systems, academic medical centers, ambulatory radiology providers and imaging technology companies.  
The goal of the collaborative is to bring cognitive imaging into daily practice to help doctors address breast, lung, and other cancers; diabetes; eye health; brain disease; and heart disease and related conditions, such as stroke.
Collaboration Details
Each member of the collaborative will put Watson to work to extract insights from previously 'invisible' unstructured imaging data and combine that with a broad variety of data from other sources. The efforts may help physicians make personalized care decisions relevant to a specific patient while building a body of knowledge to benefit broader patient populations. This information may include data from electronic health records, radiology and pathology reports, lab results, doctors' progress notes, medical journals, clinical care guidelines and published outcomes studies.
Initial plans include training Watson and evaluating potential new offerings in a variety of patient care environments ranging from stand-alone ambulatory settings to integrated health delivery networks. The aim in doing so is to gather data based on diverse real-world experience and to share findings to inform how the medical community might reduce operational and financial inefficiencies, improve physician workflows, and adopt a patient-focused approach to improving patient care and outcomes.
"With an ability to draw insights from massive volumes of integrated structured and unstructured data sources, cognitive computing could transform how clinicians diagnose, treat and monitor patients," said Anne Le Grand, vice president of Imaging for Watson Health. "Through IBMs medical imaging collaborative, Watson may create opportunities for radiologists to extract greater insights and value from imaging data while better managing costs."
Foundational members for the collaborative include:
– Agfa HealthCare
– Anne Arundel Medical Center
– Baptist Health South Florida
– Eastern Virginia Medical School
– Hologic, Inc.
– ifa systems AG
– inoveon
– Radiology Associates of South Florida
– Sentara Healthcare
– Sheridan Healthcare
– Topcon
– UC San Diego Health
– University of Miami Health System
– University of Vermont Health Network
– vRad
– Merge Healthcare
Collaborative Members Expectations
Members of the collaborative are expected to team with Watson Health cognitive computing experts to train Watson on cardiovascular disease, eye health and other conditions using data provided by the members of the collaborative or from population-based disease registries, which house millions of de-identified cases from around the world. To help create new solutions powered by Watson, the industry members of the collaborative could integrate Watson into their workflow systems or image management software.
For example, members of the collaborative could train Watson to:
– detect cardiovascular disease early and identify commonly overlooked heart health conditions such as congestive heart failure or myocardial infarction (heart attack)
– detect early disease detection to analyze and 'score' a coronary angiogram (a video image of a beating heart) for physician review. This score, commonly known as a SYNTAX score, is one factor used by physicians to decide to refer a patient with coronary artery disease to a minimally invasive stent procedure or a coronary artery bypass graft procedure.
– aid physicians in discerning chest pain likely to indicate a future heart attack from chest pain related to a different health condition
Recent studies reveal that inadequate, unnecessary, uncoordinated, and inefficient care and suboptimal business processes eat up at least 35%—and maybe over 50%—of the more than $3 trillion the United States spends annually on healthcare.
That suggests more than $1 trillion is being squandered.[1] Watson Health aims to help healthcare professionals improve care and reduce waste by enabling enhanced utilization of medical imaging data and providing cognitive offerings and services that support a doctor's ability to make tailored medical recommendations personalized to each patient's unique needs.