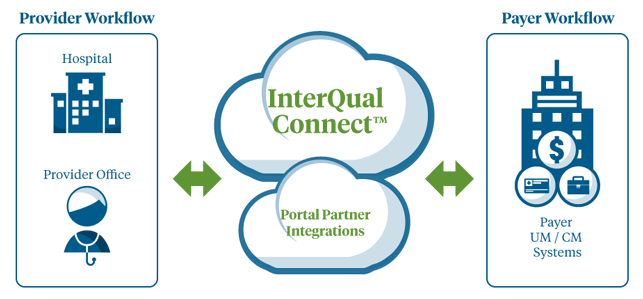 InterQual Connect™ is now being integrated into HealthTrio's Smart Connect portal solution making HealthTrio the first portal partner to bring InterQual Connect's cloud-based automated medical review and authorization capabilities to its payer-provider network. 
HealthTrio's SaaS provider for the healthcare market, enables payers and providers to achieve the triple aim of better care, better outcomes, and lower cost within a rapidly transforming industry. 
Now health plans and ACOs that use Smart Connect can give their providers expanded automated authorization that supports requests requiring a medical review, without ever leaving the Smart Connect portal. They can receive the InterQual® medical review along with the authorization request from network providers and, in most cases, automatically return the authorization determination without manual work. By eliminating duplicative reviews and manual intervention, health plans can lower administrative costs and speed authorizations while helping ensure appropriate care.
InterQual Criteria help payers and providers help ensure appropriate care across the medical and behavioral health continuums of care, which helps improve quality and reduce unnecessary cost. The InterQual clinical development team synthesizes current, best evidence into a fully referenced decision support tool that is reviewed and updated annually.