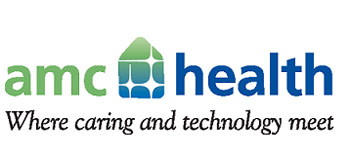 AMC Health, a provider of virtual care solutions has launched a multifaceted remote chronic care program with a large independent regional health plan in the Midwest. The multi-year program is designed to monitor and treat the payor's Medicare populations with heart failure, pulmonary disease (COPD), and diabetes in their own homes to promote patient engagement, improve patient outcomes, and prevent costly acute episodes.
The partnership marks AMC Health's third launch this year with a major payor organization.

AMC Health's virtual care solutions will enable members to easily report daily biometric measurements, such as weight, blood pressure, heart rate, glucose levels, and inhaled medication use using Bluetooth-enabled devices in the comfort of patients' homes, helping them adhere to their care treatment plans.
Patient data is transmitted seamlessly to a secure cloud-based clinical platform called CareConsole. CareConsole provides the latest in high-resolution virtual care on mobile smartphone and tablet technology, expanding patient and care team interactions beyond hospital, clinic, outpatient and home settings. Symptom and behavioral information is also collected to provide a more complete view of patient status.
Additionally, CareConsole® utilizes a sophisticated analytics engine to alert the care team to patients' emerging health issues or concerning trends so the care team can prioritize outreach to the right patients, before small clinical issues became serious problems.
AMC Health's team of experienced RNs (registered nurses) will monitor and provide support to patients with an alert status, as an extension of the health plan's care management teams. Nurses have access to real-time data, enabling them to focus on the specific needs of each patient: an opportunity for a teachable moment (diet, compliance, etc.); resource support (transportation, home
 health); or help with an in-person appointment with their PCP or specialist when necessary.
During patient interactions, AMC Health will also focus on specific gaps in care to support the health plan's commitment to clinical quality and STAR ratings.