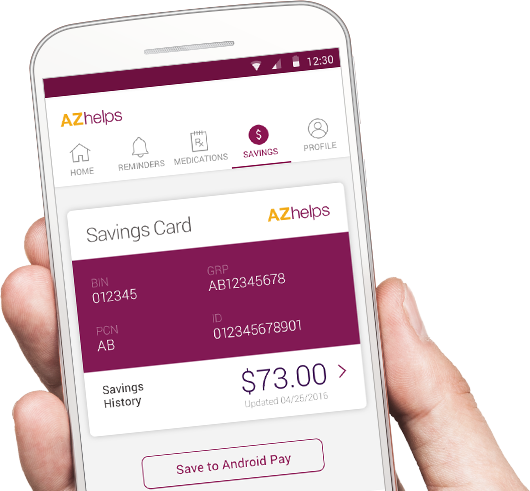 AstraZeneca has expanded its expanded its patient support offerings with the launch of mobile health app AZhelps, which provides patients and caregivers a resource to save, track and learn all in one place. While several health companies have apps with various fitness or medication reminder features, AstraZeneca's AZhelps is a comprehensive and unique connected health management program.
The app offers an industry-first, multi-brand savings card (stored in the app and can be added to Apple Wallet or Android Pay for easy use at the pharmacy), medication reminders, lifestyle content (news, recipes, advice, etc.), one-tap prescription refills, simplified mail-order reimbursement, and more.
The centerpiece of the program is the AZhelps mobile app, which gives eligible patients prescription savings, personalized healthcare information, healthy lifestyle advice, and the ability to connect with the AstraZeneca Information Center via phone or Twitter—all right from their smartphone in the moments when they need it most. Created with today's mobile lifestyle in mind, the service helps patients:
Save
· The AZhelps mobile Savings Card helps eligible patients lower out-of-pocket costs on multiple medications made by AstraZeneca
·  Once registered, patients can access their mobile card through the AZhelps app or add it to Apple Wallet or Android Pay for easy access at the pharmacy
·  The AZhelps mobile Savings Card is also available for download by registering for it on each AstraZeneca brand's mobile site
·  Eligible patients will also receive mobile mail-order refill reimbursement, and through the app's Savings History feature, patients are able to see their savings while using the program
Track
· Patients can track all of their prescriptions and set medication and refill reminders to align with their personal treatment schedules
·  A Tracking History feature shows patients how long they have been following their treatment plan
·  Because their progress and treatment history is stored in one place and instantly accessible via their smartphone, patients are able to share the information with their doctor at their next visit
·  A mobile refill functionality allows patients to order refills of their participating AstraZeneca prescriptions from their pharmacy straight from their phone. The app also lets them know when their refills are running low 
Learn
·  AZhelps provides health and wellness support, information, and advice, helping patients find answers to questions about their medications and lifestyle
·  Health-related content is available within the app and offers tips and articles from trusted content providers centered on each patient's individual needs
· Patients can access important information about their AstraZeneca medications, and tap-to-call the AstraZeneca Information Center for support and answers to questions, right from their phone
Connected AZhelps social channels also add instant access to customer support and health/wellness information via Facebook, Twitter and Instagram. The social channels incorporate an array of content including how-to videos, GIFs, recipes, and lifestyle tips.
The channels also serve as customer service support channels, with the AstraZeneca Information Center engaging and helping patients directly through social media. 
AZhelps is now available to download for free from the Apple App store and Google Play.