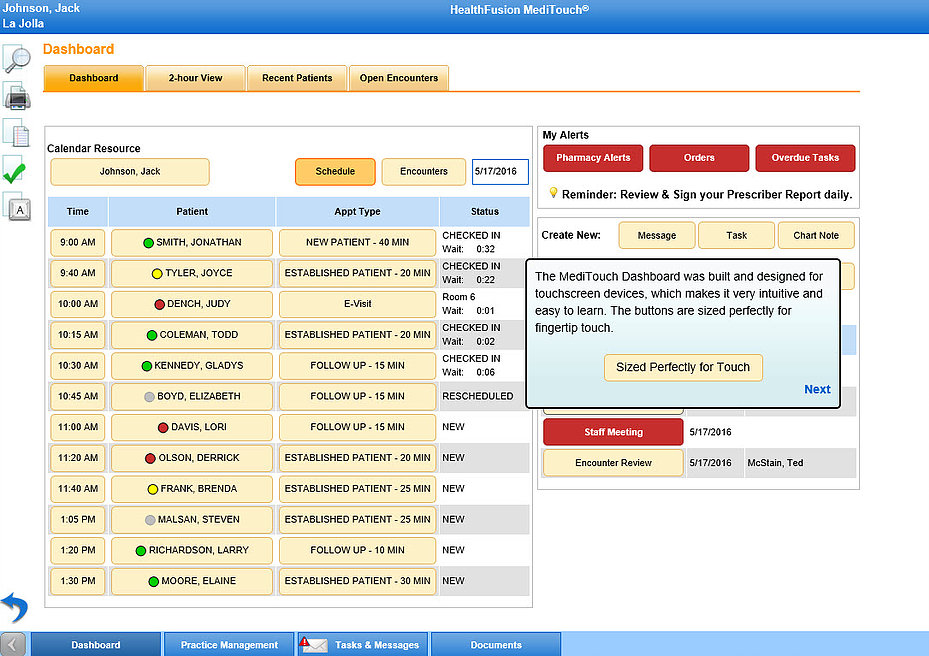 HealthFusion, a wholly owned subsidiary of Quality Systems, Inc., announced it has integrated with online scheduling platform ZocDoc to help provider clients of both MediTouch EHR and Zocdoc attract new patients.
The integration will also provide patients with a real-time view of MediTouch provider schedules, delivering the convenience they want and ultimately improving the patient experience and access to care, while offering more efficiency to medical practices using both services.
"Healthcare providers are seeking integrated solutions to enhance their practices and stay at the forefront of technology for their patients," said Todd Edebohls, Zocdoc's VP of Business Development. "This type of open, interoperable partnership between HealthFusion and Zocdoc is a great example of how we can collaborate to meet the needs of today's practices and set them up for success. Ultimately, when practices are successful, patients also benefit by gaining access to the quality care they expect and deserve."
ZocDoc Integration Details
Patients can book open appointment times instantly online at their convenience either directly on the MediTouch YourHealthFile patient portal, on Zocdoc.com or via the Zocdoc mobile app. Whether patients schedule appointments on the MediTouch YourHealthFile Patient Portal or Zocdoc's channels, this partnership will offer practices more exposure to neighborhood patients seeking medical care. 
Functionalities of this new integration include:
– an automatic display for patients of open appointment slots based on the provider's schedule
– appointments that patients book through Zocdoc automatically appear on Meditouch users' schedules, along with any appointment changes such as cancellations or time changes, without any manual intervention.
"This new combination will allow MediTouch providers to capitalize on Zocdoc's marketplace by unearthing their underutilized appointment inventory – including last-minute cancellations and no-shows, which can make up as much as 25 percent of a doctor's day," said Seth Flam, MediTouch SVP. "With the two-way integration between MediTouch and Zocdoc, MediTouch providers can now avoid having to update their Zocdoc schedules manually to keep them in sync, which reduces administrative work."
MediTouch is comprised of a range of web-based software solutions for physicians, medical practices and billing services; including practice management and EHR applications, patient portal, clearinghouse, interoperability and connectivity solutions.