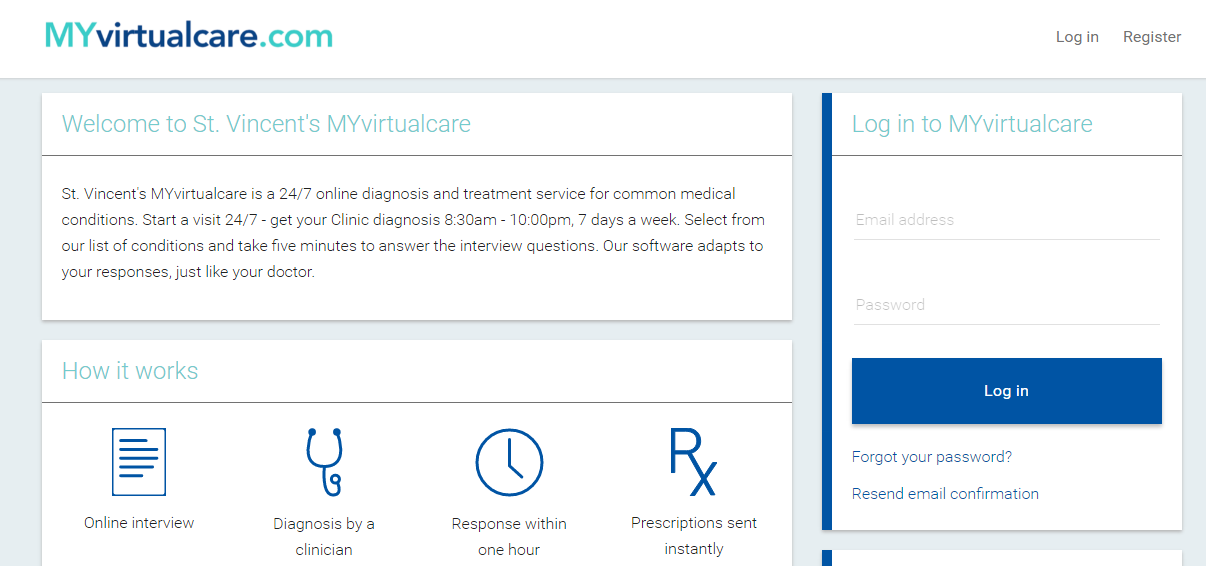 St. Vincent's Medical Center has launched its own virtual care platform making MYvirtualcare.com – an online diagnosis and treatment service making it easier for patients to receive care for common health conditions.
Powered by by Zipnosis that connects patients with St. Vincent's clinicians, MYvirtualcare.com patients can now receive prompt care for conditions such as sinus infections, female bladder infections, pink eye, or colds, coughs, and the flu – for a set fee of $35, less than the cost of many insurance co-pays. The virtual care platform was developed by Zipnosis – a Minnesota-based company that partners with health care systems to provide the technology and methodology to launch a service, meeting the needs of patients while also enhancing their internal processes.
How It Works
Patients can start a virtual visit using MYvirtualcare.com by completing an online adaptive interview that adheres to the latest evidence-based medical guidelines and is similar to what they would experience in a face-to-face visit. The patient's medical history and symptoms are then forwarded to a St. Vincent's provider for review and diagnosis.
When the diagnosis and treatment plan are complete, typically within one hour, the patient receives a text or email alert. If a prescription is appropriate, MYvirtualcare.com allows the provider to send the prescription electronically to the pharmacy of the patient's choice. If the clinician determines that the patient's symptoms require a face-to-face visit, St. Vincent's staff will help the patient to book that appointment, as well.
St. Vincent's clinicians are available for virtual diagnosis seven days a week from 8:30 am to 10:00 pm. Patients may access MYvirtualcare.com 24/7 via computer, smartphone or other Web-enabled device, and off-hour visits will be reviewed and followed up on within one hour of opening the next day.
"At St. Vincent's, we are keenly aware of the fact that healthcare delivery must address multi-generational needs. MYvirtualcare.com has proven to be a welcome alternative for patients," explained Frank Scifo, MD, medical director, St. Vincent'sMultiSpecialty Group. "Not only have patients found it convenient and easy to navigate, they appreciate the relatively low cost for this care. It has enhanced both the patient and provider experience because care is available when physician offices or convenient care sites are closed or may not be easily accessible."