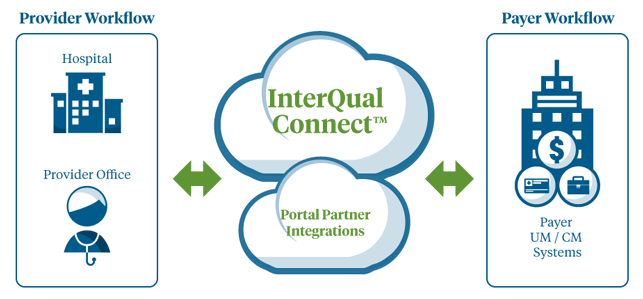 ZeOmega Inc. has announced an agreement to integrate ZeOmega's Jiva™ population health management solution with McKesson's InterQual® Connect authorization and connectivity solution to fully automate pre-authorization for payers and providers. The integration marks ZeOmega's Jiva as the first partner to tap InterQual Connect's cloud connectivity to expand automated authorization to include requests requiring a medical review and simplify pre-auths for their customers.
Without leaving their easy chair, providers will be able to click a button and get an instant authorization from health plans that use Jiva with InterQual Connect. No paperwork, no faxes, no phone calls, no switching to another software system or duplicative reviews. Best of all, this helps reduce costs, speed care for patients and payment for providers.
Now health plans and ACOs that use Jiva can expand automated authorization to include requests requiring a medical review, without leaving their Jiva system. They can use InterQual Connect's secure connectivity to receive the InterQual medical review along with the authorization request from network providers and, in most cases, automatically return the authorization determination without manual intervention. By eliminating duplicative reviews and manual work, health plans can reduce administrative costs and speed authorizations while ensuring appropriate care.
"Prior authorization can be a costly burden for payers and providers alike, and can slow care delivery," said Nilo Mehrabian, vice president of product management, Decision Management, at McKesson Health Solutions. "Bringing InterQual Connect to Jiva means ZeOmega's customers can streamline their workflow with the integrated medical review and enhanced automated authorization. Making utilization management (UM) more efficient is crucial for a world increasingly moving to value-based care."
InterQual Connect is part of the InterQual product line, McKesson's flagship decision support solution. InterQual Criteria help payers and providers ensure appropriate care across the medical and behavioral health continuums of care, which helps improve quality and reduce unnecessary cost.
The InterQual clinical development team synthesizes the current, best evidence into a fully referenced decision support tool that is reviewed and updated annually. InterQual's development process, honed over nearly 40 years, is founded on rigorous review of the literature, and includes extensive peer review by practicing clinical experts across the United States.