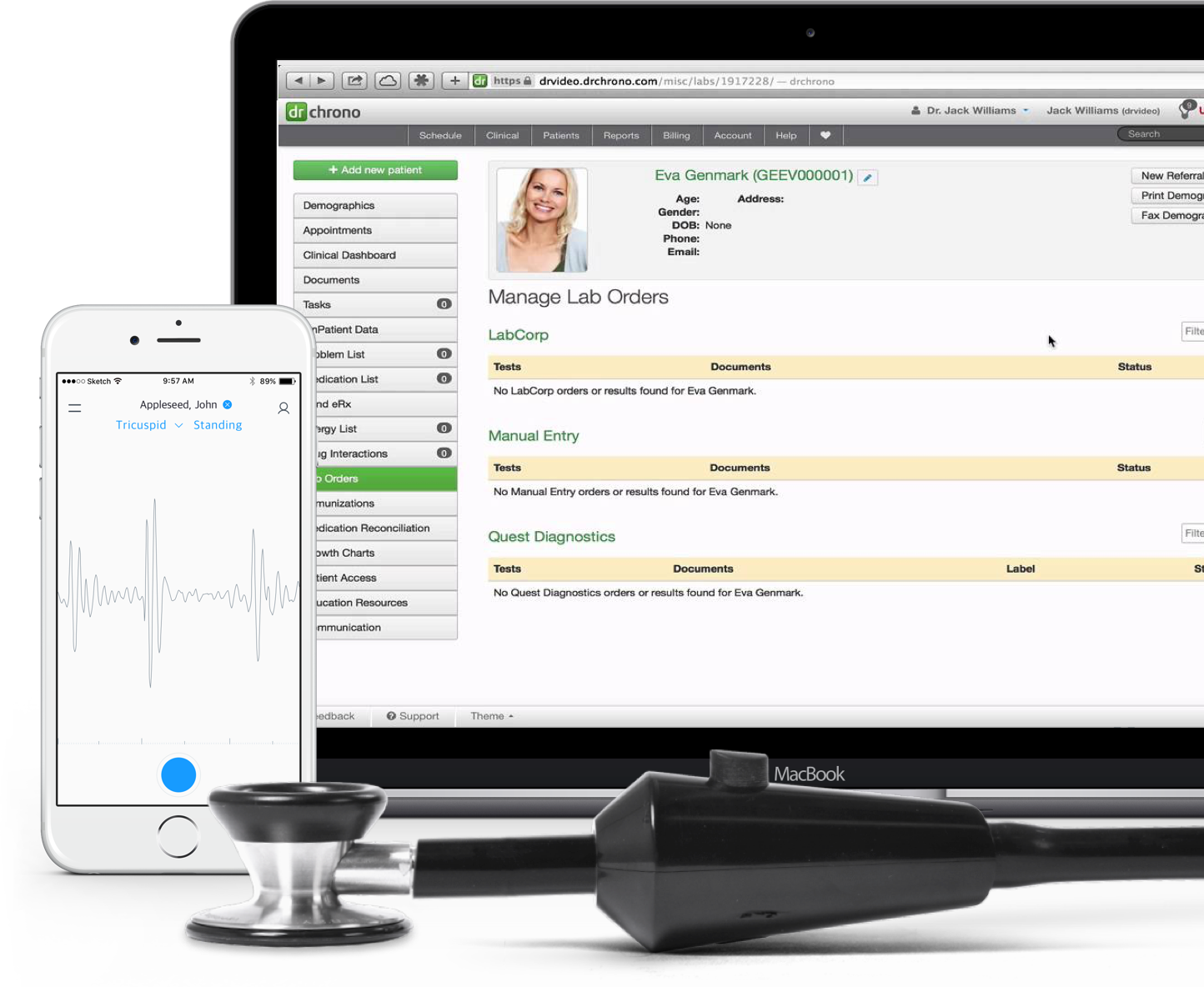 Three companies have teamed up to integrate a patient's heart and lung sounds into the EHR for clinical documentation for the first time ever, representing a milestone in longitudinal patient care. The new partnership from Direct Urgent Care,Eko, and drchrono uses a quick three step process, clinicians can now seamlessly integrate heart and lung sounds into a patient's EHR. 
How It Works
1. Direct Urgent Care, a Berkeley-based urgent care provider with 30,000 patients, enables providers to record important heart and lung sounds using the Eko Core Digital Stethoscope 
2. The Eko Core Digital Stethoscope wirelessly transmits stethoscope sounds to a HIPAA-compliant Mobile App on a smartphone or tablet. 
3. The information is then uploaded to the drchrono EHR, an online medical platform with comprehensive EHR capabilities, to enable clinicians to seamlessly incorporate heart and lung sounds alongside patient health records.
Direct Urgent Care will be able to streamline cardiology and pulmonology specialist referrals, reference sounds between patient visits and improve long-term care for patients of all ages.
"Improving patient care is one of the most critical pieces to healthcare today, and this EHR-integrated stethoscope is a game-changer in the industry," said Dr. Caesar Djavaherian, Founder of Direct Urgent Care in the company statement. "The ability to share recorded heart and lung sounds with specialists who may not be in the same location as the patient dramatically improves the time to diagnosis and treatment of the patient. An EHR-connected stethoscope is truly revolutionary."
The Eko Core is the only FDA-cleared digital stethoscope on the market that amplifies 40X, wirelessly pairs with a HIPAA-compliant mobile application, and enables telemedicine clinics to stream heart and lung sounds to remote clinicians in real-time.
"While the stethoscope has been around for two centuries, this represents the first time that doctors are not only hearing heart and lung sounds but also saving them to the patient's record. This is a really decisive moment in digital healthcare and we are pleased to partner with industry experts to bring this technology forward," said Connor Landgraf, CEO of Eko Devices in the company statement. "This partnership represents the beginning of better, more integrated and more efficient healthcare."