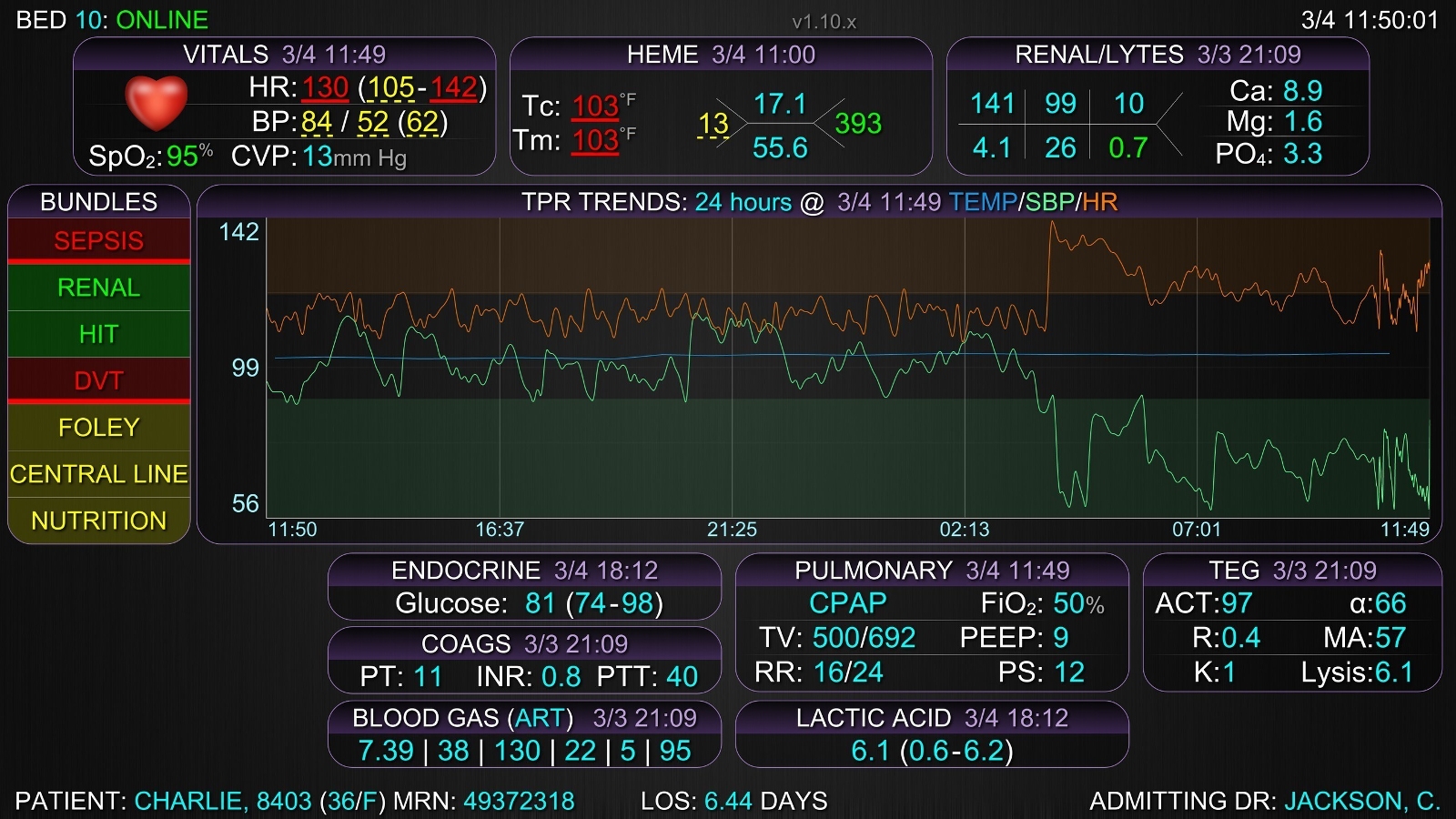 Decisio Health, a Houston-based healthcare software company that helps acute-care provider organizations continually improve their clinical processes, announced today that it has raised $4.5 million in Series B funding. The round was led by DECLATEX, LLC with participation by the University of Texas Horizon Fund. The company also added Larry Lawson, founder of eCardio, as an investor and board member.
In addition to the funding round, the company has launched their clinical intelligence platform. Based on technology developed at the University of Texas Health Center, the FDA cleared Decisio Health Clinical Intelligence Platform gathers data from existing hospital monitoring systems to intelligently display the most current and valuable information in one easy-to-view location at the bedside. The company charges around $150 to $300 per hospital bed per month for its platform. 
Clinical Intelligence Platform Overview
Decisio Health's Clinical Intelligence Platform bedside display shows vital trends and lab snapshots giving care teams immediate access to the data they need to treat their patients. In addition, it digitizes and displays a hospital's own protocols for diagnosis and treatment, reducing the variability of care which can lead to better patient outcomes. Decision support visual alerts are designed with human factors in mind and color coded green, yellow and red so care teams can easily act on clinical information and adhere to hospital protocols.
"The Clinical Intelligence Platform was created for clinicians, by clinicians with a focus on providing real-time relevant data at the point of care," said Bryan Haardt, chief executive officer, Decisio Health. "By arming clinicians with this information they are able to be more patient-focused and proactive in their decision making via simple, visual and instantaneous access to the most critical patient data and trends."
Decisio Health arms clinicians with the immediate, high impact information they need to maximize clinical outcomes. This is achieved in three key ways:
1.    Enabling better adherence to a hospital's own protocols by codifying compliance directly into the display of health information at the bedside.
2.    Identifying areas of clinical deficiencies that hospitals are often unable to previously establish, enabling the setting of new baseline standards that drive measurable, actionable results that can significantly impact hospital financial health.  
3.    Improving the care experience by using data to transparently build a bridge between clinicians, patients and family.
The company currently has 10 employee and expects to utilize the funding to add five to eight employees over the next year.