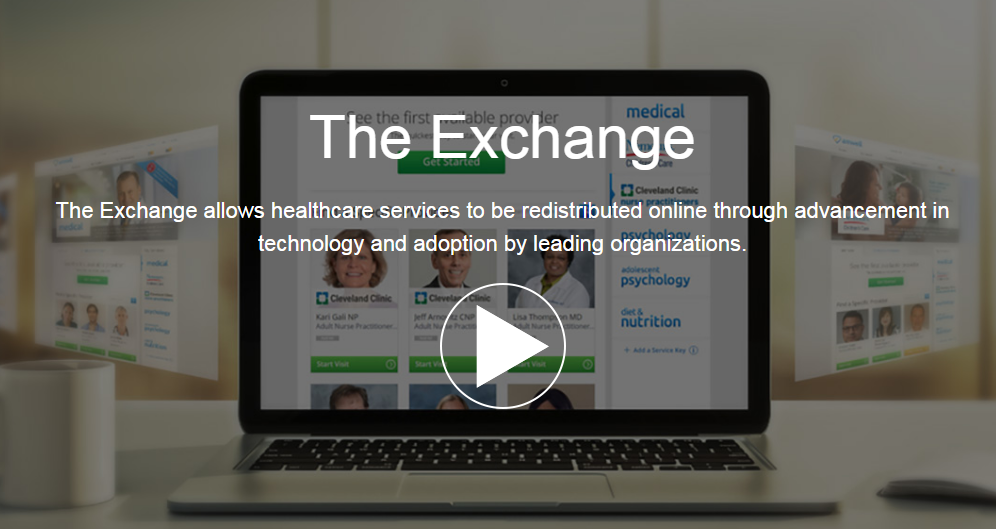 National telehealth provider American Well, today has unveiled its newest enterprise telehealth service called the Exchange allowing healthcare organizations the ability to redistribute their services online to new patient populations.  
Here are six key things to know about the new Exchange:
1. With the Exchange, the virtual barriers between the supply and demand generators and their distinct telehealth services are lifted. Now, these organizations can connect and exchange their services with one another, instantly, online. As such, a new opportunity emerges for healthcare providers looking to 'package' up care and population programs into telehealth 'products' (e.g. programs for hypertension, diabetes, cancer, Parkinson's) and market and distribute them to payers and employers –all through the Exchange.
2. The first American Well partners to enter the exchange include Cleveland Clinic, Nemours Children's Health System and LiveHealth® Online. 
3. Cleveland Clinic will begin offering its services on the LiveHealth® Online platform, a telehealth service for live, video consults with a provider to obtain diagnosis and receive treatment for common urgent care conditions, 24 hours a day, seven days a week. Consumers who access LiveHealth® Online in Ohio, West Virginia and Pennsylvania can connect with Cleveland Clinic Nurse Practitioners for live video consults on-demand.
4. Nemours Children's Health System will begin offering Nemours CareConnect, a service that leverages American Well technology to offer pediatric video consults in Delaware, Florida and Pennsylvania. Through the Exchange, consumers in Florida who use American Well's consumer telehealth platform, Amwell, will have access to Nemours' board-certified pediatricians 24 hours a day, seven days a week. Later this year, Nemours plans to expand this service to Delaware and Pennsylvania.
5. In American Well's network alone there are: more than 40 health systems; more than 40 independent health plans; and thousands of employers – all of which can now enter the Exchange.  Today more than 100 million consumers have access to American Well technology through its work with these organizations. 
6.  The regulatory climate is also becoming increasingly favorable to cross-pollination of healthcare services, across state lines. The process to obtain expedited licensing is coming in summer 2016, after which multistate telemedicine licenses will be issued to any doctor who wants it. This means that provider organizations entering the Exchange and redistributing their services in other geographies can expect expedited, multistate licensure for their physicians.