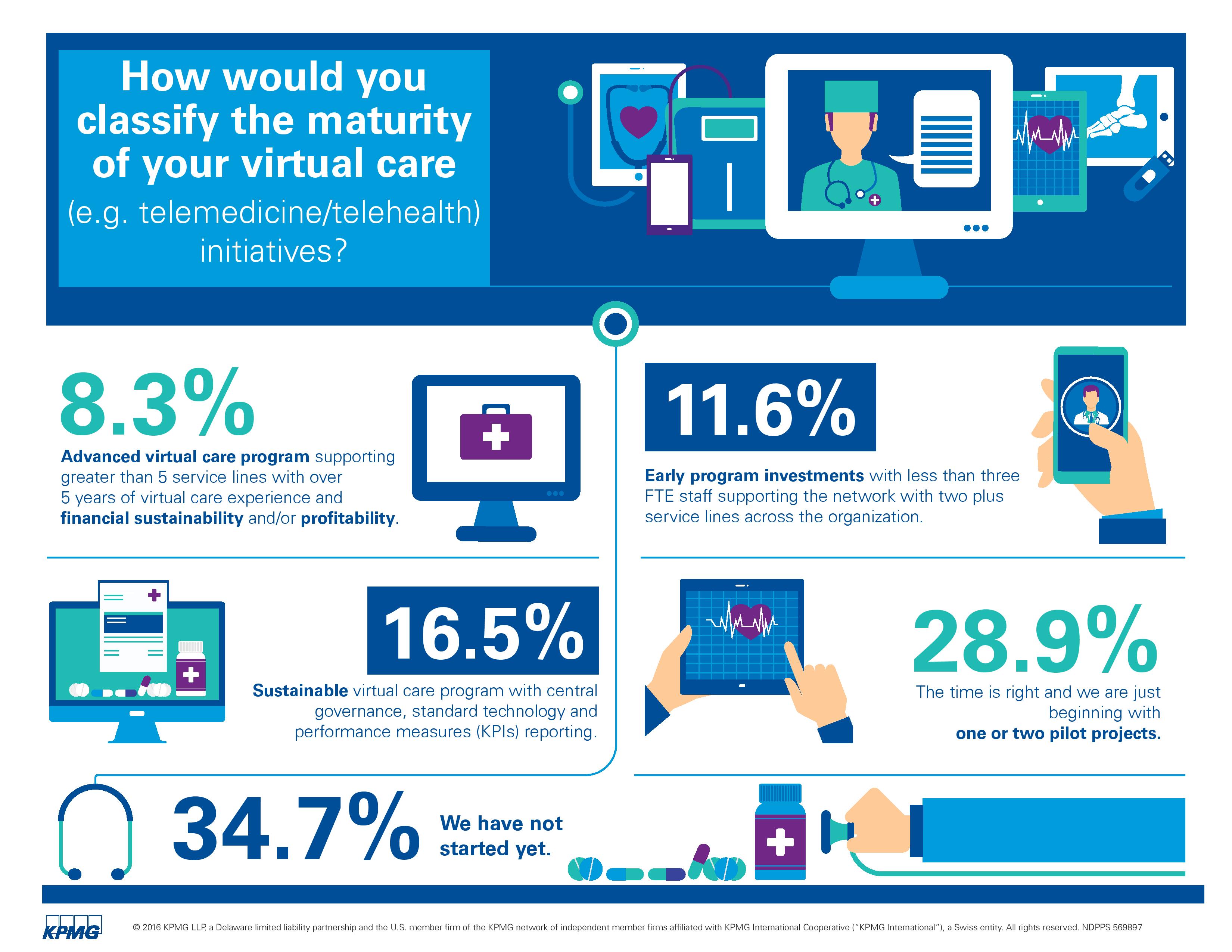 A KPMG survey found that a quarter of healthcare providers surveyed found that their virtual care programs — telehealth and telemedicine — were sustainable, while 35 percent of providers have not yet embarked on their programs. 
The poll reflected responses from 120 individuals, who identified themselves as working for healthcare providers, during a webcast on April 14, which was titled "Virtual Care – Establishing a Scalable and Sustainable Program as a Growth Strategy." 
Approximately 40 percent of respondents were either in the pilot stage or starting early program investments with fewer than three full-time employees engaged in telemedicine-telehealth. 
Telemedicine is gaining greater acceptance in healthcare as technology and the reimbursement climate has made it more feasible as a part of patient care.  Virtual care is used bring specialists to help with time sensitive matters such as stroke care or to offer psychiatric consults in the emergency room, as well as helping to determine whether nursing home patients need to be referred to the hospital. Follow up visits and disease management programs are increasingly incorporating telehealth into patient care.
Key Drivers, Challenges for Virtual Care
KPMG's poll found that the biggest drivers for expediting adoption of virtual care were:
Increase patient volumes and loyalty (29 percent)

Care coordination of high risk patients (17 percent)

Reduce costs for access to medical specialists (17 percent)

Meaningful use and payer incentives for adoption (13 percent)

Patient requests/consumer demand (13 percent).
Implementing a virtual care program is not without challenges, however. Healthcare providers cited several, including:
Too many other technological priorities (19 percent)

Maintaining a sustainable business model (18 percent)

Organizational readiness to implement new services/technology (18 percent)  

Regulatory compliance and risk concerns (15 percent).