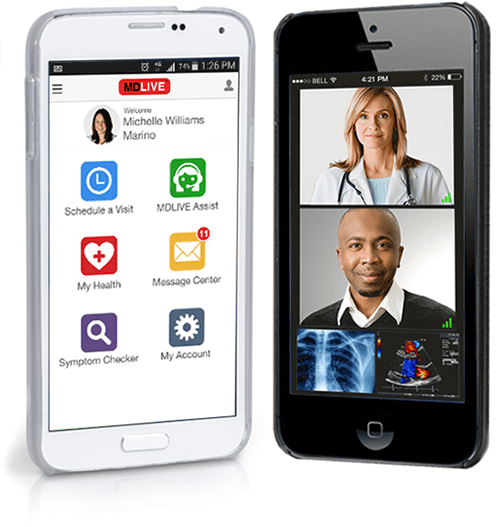 Walgreens announced today it will expand mental health services including access to behavioral health treatment via Breakthrough, an MDLIVE telehealth company to treat addiction, depression, stress and other behavioral health concerns. With the addition of Breakthrough, Walgreens consumers will now also have access to more than 1,000 licensed therapists nationwide to schedule secure telehealth video sessions by appointment.  The collaboration between MDLIVE and Walgreens first launched in December 2014.
Breakthrough Behavioral counseling services without prescriptions are available in all 50 states and Washington, D.C. In addition, behavioral health prescribing services will be available in 20 states including Arizona, California, Colorado, District of Columbia, Florida, Hawaii, Iowa, Kentucky, Louisiana, Massachusetts, Maryland, Michigan, Nebraska, New Hampshire, New Mexico, New York, Oklahoma, Oregon, Texas and Virginia.
MDLIVE's telehealth medical services have also expanded to 13 additional states, including Arkansas, Hawaii, Kentucky, Maine, Massachusetts, Missouri, Nebraska, New Hampshire, Rhode Island, South Dakota, Utah, West Virginia, and Wyoming.  This enables MDLIVE to offer these services via Walgreens digital properties in 37 states, as well as Washington, D.C. 
Walgreens customers can access MDLIVE medical services through the Walgreens mobile app or website.  The cost per visit for medical conditions is $49.
Breakthrough Behavioral Services can be accessed from the Walgreens website, or the Breakthrough mobile app, which is available for download on iOS and Android.  Users will need to set up a free account, and then can begin to browse therapists and schedule a video consult with the therapist of their choice.  The cost per visit is based on the therapist selected, however, Breakthrough accepts most insurance plans. ePrescription services may be available from individual subscribers listed on the Breakthrough marketplace.
The Walgreens mental health platform aims to improve health outcomes through early screening and intervention, to heighten consumer awareness and reduce stigma associated with mental illness, and to connect more people with clinical resources in their community who can help. As part of the campaign, Walgreens has formed a collaboration with Mental Health America (MHA), a leading community based nonprofit organization, dedicated to addressing the needs of those living with mental illness and to promoting the overall mental health of all Americans.
 Mental health conditions affect approximately 1-in-5 Americans each year – more than heart disease or diabetes1 – however it's estimated more than half of those affected don't or may never seek treatment.