In 2015, the Experience Innovation Network published the first study focused on the evolving role of the CXO in healthcare. The report established a benchmark for the industry, revealing priorities, resources, and responsibilities of these emerging change agents.
Last week, the Experience Innovation Network released its second annual Chief Experience Officer (CXO) Report, "The Rise of the Healthcare Chief Experience Officer."  For the 2016 research report, more than 100 leaders from in-patient and out-patient organizations across the United States and Canada once again provided insight about the role of leading experience transformation and shared insights on operational infrastructure, patient and staff engagement practices, improvement strategies, and human-centered technologies.
The second annual Chief Experience Officer (CXO) report uncovers four key areas of focus for 2016:
– Greater alignment and integration with quality/safety and process improvement efforts—sometimes with experience as the umbrella strategy.
– Broader vision across the continuum of care so that experience improvement ceases to be focused solely on the inpatient hospital environment.
– Deeper engagement of key stakeholders, including physicians, board members, patients, and families. Patients will increasingly be the architects of improvement.
– Concerted focus on physician, nurse, and staff well-being, joy, and resilience to combat initiative fatigue and drive sustainable change.
Here are five key points to know from the report are highlighted below: 
1. Experience is a top strategic priority and have the ear of the C-suite.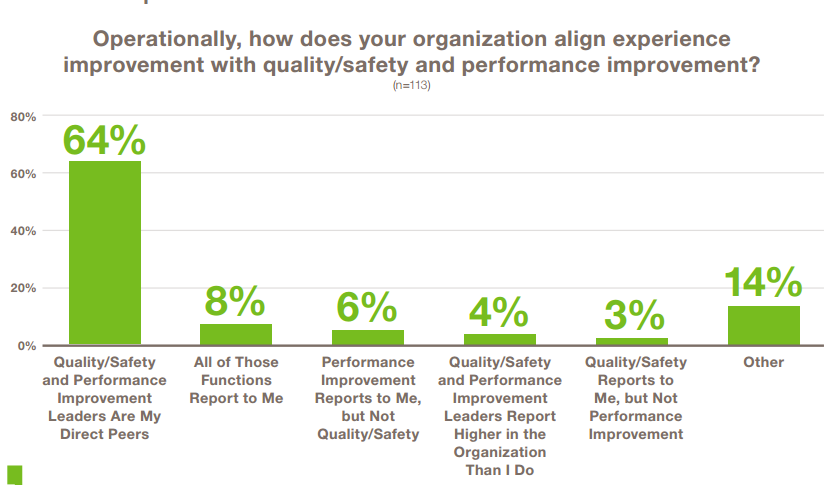 Nearly 40 percent of CXOs report directly to the chief executive officer or their health system president, while 28 percent report to a clinical executive in quality, medicine or nursing. More women than men are leading healthcare experience work, according to the report, and the median number of staff members reporting to these leaders has nearly doubled since last year's survey. On average, experience leaders have 20 people reporting to them. However, 13 percent said they have no direct reports, leaving them dependent on other teams' resources to accomplish experience goals.
2. Engagement with the CEO is critical to a Chief Experience Officer's success. Experience leaders know that without visible and vocal leadership from their system's, hospital's, or clinic's top leadership, experience excellence is unachievable.  Only with the CEO's and presidents commitment to leading, reinforcing, and celebrating experience as a top strategic priority is this level of transformation possible
3. Experience work is catching up with accountable care. The report finds 60% of experience leaders own primary care. While 60% and 54% of experience leaders are responsible for primary care and specialty services respectively, we expect these numbers to grow as accountable care continues its march.
4. Experience leaders put a big emphasis on scores-not on cross continuum innovation. When asked to name their top three experience improvement priorities, experience culture and experience scores topped the list. The key findings show that experience leaders are looking to change the culture and attitudes of physicians and staff to make empathy and respect an innate part of their organizational culture. At the same time, they are tasked with moving scores on a short-term basis.
5. 35% of experience leaders cite driving accountability at all levels is the biggest barrier to leading experience improvement.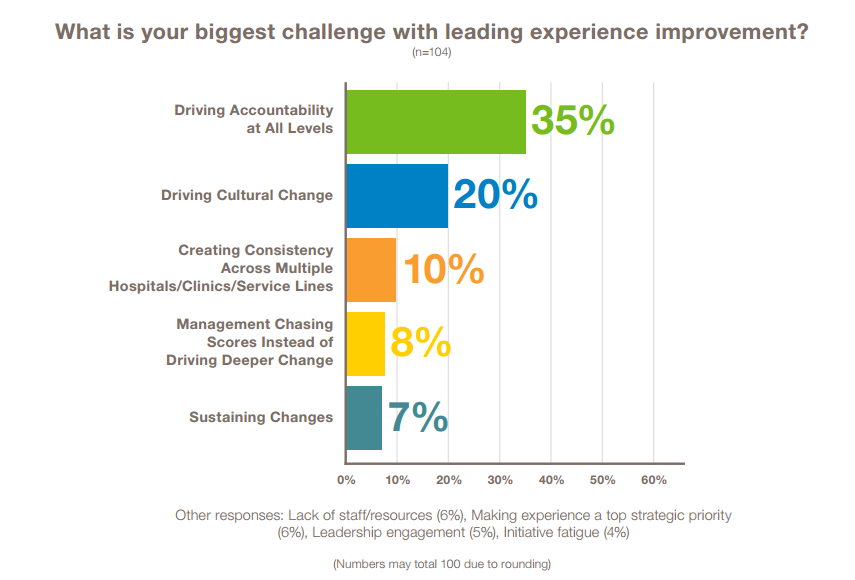 At 20%, driving culture change, arguably related to accountability, took second. When asked how they are overcoming these challenges, experience leaders pointed to metrics and measurement approaches, but most talked about relationship building, empowerment of local leaders, and alignment with other programs to reduce initiative fatigue.
6. Physicians still lack leadership roles in experience and need a greater role in driving the experience agenda.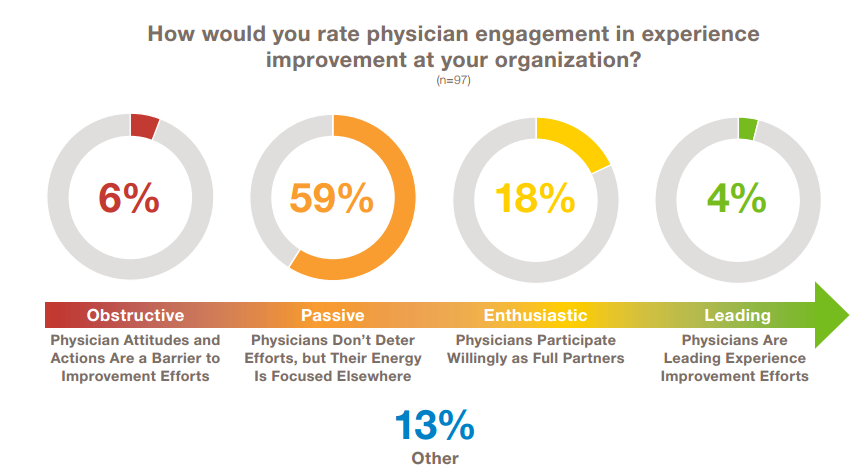 While the most extensive work on experience improvement centers around clinical interactions that patients and families have with doctors and the care team, only 12 percent of experience leaders have a medical degree. Nearly two-thirds of CXOs in the research viewed physicians as passive or obstructive to experience work, and only 4 percent of respondents said physicians at their organizations are active leaders of experience improvement efforts.
"It is important for CEOs to elevate experience improvement as the top strategic priority for their organizations, engage physicians in the work, and support CXOs as they tirelessly lead this work. Only by driving meaningful human-to-human connections across the entire continuum of care will healthcare systems succeed in long-term differentiation, loyalty and growth," said Bridget Duffy, MD, chief medical officer of Vocera. "With burnout and fatigue at an all-time high for physicians, nurses, and other healthcare professionals, executives can strengthen care team collaboration and well-being by creating environments that support these healers and restore joy to the practice of medicine."
7. Patients and families must also be empowered to engage more in experience work. Only 28 percent of research participants said they partner with patients in every improvement project, and 7 percent said they don't engage patients at all.  Monitoring social media for unsolicited feedback and assembling a patient/family advisory council to provide ready feedback on improvement ideas is a start, but experience leaders need to take patient voice further.
8. Experience leaders have yet to fully embrace the quadruple aim.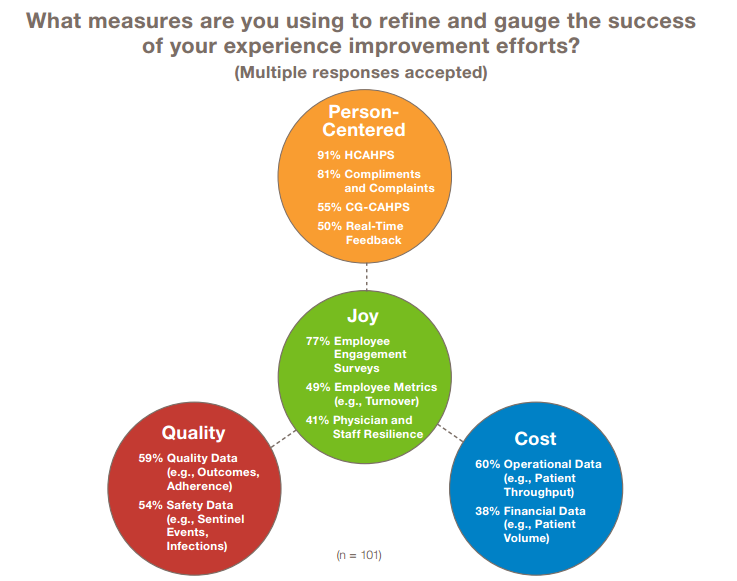 Ninety-nine percent of respondents cited some type of patient experience metric (e.g., HCAHPS, compliments and complaints data) as part of their experience success metrics. But only 62% and 61% pair experience measures with some type of financial/cost metric (e.g., throughput, volume) or quality/outcomes metric (e.g., outcomes, infections) respectively.
9. To truly differentiate the human experience, health systems need to address not just the patient and family experience but also the components of physician, nurse, and staff experience that lead to well-being and engagement. Today, most experience leaders admit that they're not capturing data that reflects well-being and joy—and those who do are mostly relying on engagement surveys that are often cumbersome to administer and analyze and tend to focus more on productivity and resources than on the kinds of emotional connection and community that reinforce joy in practice and keep care teams connected to purpose.
10. Joy, purpose, and connection to community are central to experience work. Research shows that connecting to a sense of purpose and community are critical to driving engagement, wellbeing, and joy among physicians and staff. 
The full report is available for download here.