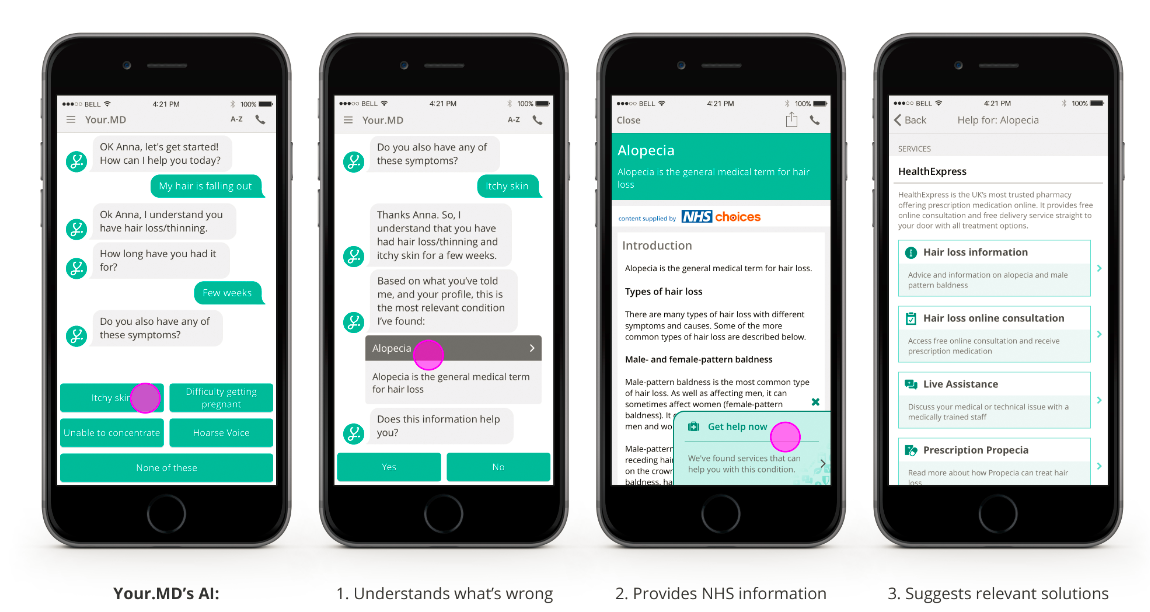 Your.MD, a London-based company that provides medical guidance through artificial intelligence has announced the launch of OneStop Health- a one-stop-shop in digital health to allow people to take full control of each stage of their health issues: from understanding their symptoms to finding the best treatment – all via a chatbot.
Now available on Facebook Messenger and WeChat,  OneStop Health empowers mobile users to find the safest and most suitable health service providers and products. The AI-powered service that enables people to get answers from 3 fundamental health questions:
1. What's wrong with me?
AI understands what the user is suffering from
2. What's the most likely solution?
AI will find the most relevant condition and offer a solution
3. What services are available to help me get better?
In response to these questions if needed, AI will propose the best free and premium 3rd party services from OneStop Health
Focusing initially on five key areas –
1. prescription medicines
2. mental health
3. telemedicine
4. specialist services from the NHS
5. integration with other self-care apps
Your.MD's OneStop Health fills a gap in the market for a one-stop-shop where people can go to find best-in-class health service providers and products, at anytime, anywhere in the world, that are relevant to their unique circumstances.
Integrations
Your.MD's OneStop Health launches with several services already integrated including:
– HealthExpress will provide Your.MD customers with an online clinic that, following a free remote consultation with a doctor, can dispense online prescriptions. The free, next-day delivery service – or same day delivery for London postcodes – will initially be available in the UK, with plans to roll-out across Europe.
– Reputable online psychotherapy platform,PlusGuidance will provide a 24-hour on-demand service for patients with mental health issues via video call, messaging and in-person.
– Your.MD users in Scandinavia will also be able to have a remote consultation with an experienced healthcare professional via HelseTelefonen. 
– Daily Yoga has also integrated its wellbeing app to provide intuitive and comprehensive yoga training, while various additional services will be provided by theNHS to UK residents.
– Samsung S Health – on which Your.MD is available on 400 million Samsung Galaxy Phones – and existing telemedicine service, Allianz Global Assistance, are already benefiting from the app's global footprint on iOS and Android devices and from the growing number of users accessing the service through chat on Slack, Telegram and now Facebook Messenger, WeChat and Kik.
Your.MD launched the beta version of its AI Personal Health Assistant in November 2015 on iOS and Android platforms, marking the world's first Personal Health Assistant to offer medical guidance through end-to-end AI, together with Machine Learning and Natural Language Processing. Your.MD has been researching and developing its AI offering since its establishment in December 2012.
 "Your.MD is truly revolutionary and can make a seismic impact on the global healthcare system by providing accessible, trustworthy and instant healthcare to everyone with a mobile phone, said Matteo Berlucchi, Your.MD's chief executive in the announcement. Our OneStop Health is an integral part of our vision; if you can't get to your doctor or need to get a blood test, a prescription or make an appointment to see the best local specialist, Your.MD can facilitate it – safely and responsibly by connecting you to the best service providers and products who can help you get what you need."