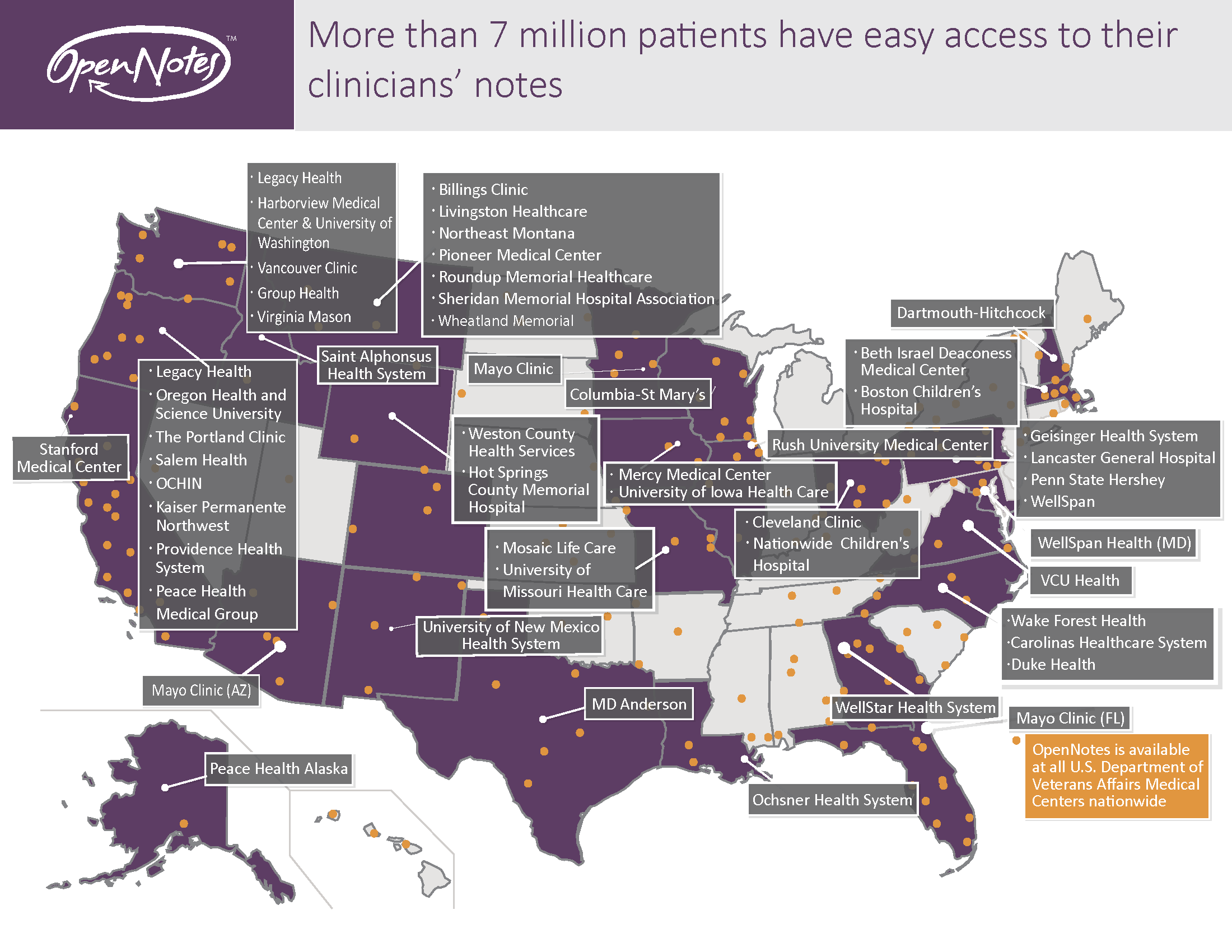 Mount Sinai Health System has launched OpenNotes Initiative that allows patients electronic access to their provider's notes in their medical records, at the East 102nd Street and East 85th Street Primary Care Associates of the Mount Sinai Doctors Faculty Practice offices. OpenNotes aims to provide the highest quality care possible by increasing transparency, communication, and trust between patients and physicians.
Four Mount Sinai physicians in various clinical practices conducted the initial OpenNotes pilot beginning in December 2015. Patients who participated in this effort reported satisfaction with their ability to access more in depth medical records and reported feeling more connected and involved in their healthcare. Patients noted the information provided a better timeline of care, history of treatments, and thorough explanation of office visits.
"When patients can access their physicians' notes, they can better understand their medical issues and treatment plan as active partners in their care," said Sandra Myerson, System Chief Patient Experience Officer, Joseph F. Cullman, Jr. Institute for Patient Experience, Mount Sinai Health System. "This can ultimately lead to improved patient engagement, patient empowerment, and communication between patient and physician."
"Patients expect and deserve to have full access to their medical records and the Mount Sinai Health System is committed to meeting this expectation," said Jeremy Boal, MD, Chief Medical Officer, Mount Sinai Health System.
The notes are now available for the first time in the health system's EHR patient portal called MyMountSinaiChart. Portal users can now easily read details of their office visit from the convenience of their personal computer, tablet, or smart phone. MyMountSinaiChart, launched in 2012, also enables patients to communicate with their doctor, access test results, request prescription refills, and manage appointments. The addition of OpenNotes expands this innovative and secure technology to further improve patient care and communication.
What is OpenNotes? 
OpenNotes is a national initiative that urges doctors and other clinicians to offer patients ready access to their visit notes.Based at Harvard Medical School and BIDMC and initially funded primarily by the Robert Wood Johnson Foundation, OpenNotes began in 2010 with a research and evaluation study examining the impact of offering clinician notes to patients at BIDMC, Harborview Medical Center, and Geisinger Health System.
At the end of a year, those who read their notes reported feeling more in control of their care and having better recall, knowledge, and understanding of their medical conditions. 99% of patients wanted the practice to continue, and all participating doctors chose to keep their notes open after the study ended.  The results of an OpenNotes experiment involving 100 primary care doctors and 20,000 of their patients were published three years ago in the Annals of Internal Medicine. Since then, the OpenNotes movement has spread well beyond primary care to more than 5 million Americans.
Experience suggests that giving patients access to their clinical notes holds considerable promise for addressing the stubborn challenge of improving medication adherence. More than two-thirds of patients who took medications during the original study reported improving the way they took their medications, a finding that was further validated by researchers at Geisinger Health System in a rigorous scientificstudy published recently in the Journal of Medical Internet Research. The investigators showed that patients being treated for high blood pressure who were offered open notes were more likely to fill their prescriptions than those without open notes.