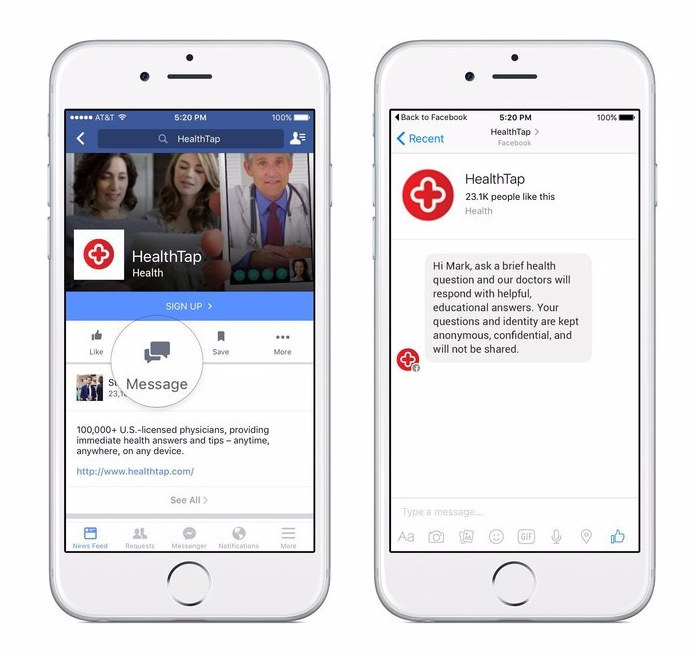 HealthTap, a Global Health Practice providing 24/7 immediate access to doctors via video, text or voice is bringing consumers instant access to its network of 100k doctors via Facebook Messenger. Starting today, anyone using Facebook Messenger can type a question and receive free and trusted doctor answers wherever they are and whenever they need them. HealthTap is the first healthcare company on the new Messenger platform utilized by more than 900 million people worldwide. 
How It Works
Using Messenger, users can immediately see answers to similar questions from HealthTap and submit their own question to receive a new answer from one or more U.S.-licensed doctors, spanning 141 specialties. The HealthTap Q&A service is anonymous and private, letting people feel comfortable asking any health question they have. All HealthTap answers are provided by physicians, are peer reviewed to ensure quality, and come from a network of U.S.-licensed doctors spanning 141 specialties and with an average of more than 21 years in practice. 
Access to doctors and quality health information is important at any age, whether people are managing a chronic condition or just looking for trusted information to live healthier, happier lives. Messenger extends HealthTap's reach, allowing even more people of all ages and demographics to benefit from free immediate access to top quality doctors.
Wide-ranging groups, from college students to new moms to young adults, can now get instant answers to questions on every health topic. From acne to exercise, from pregnancies to children's health, and from healthy living to first-time health challenges – people of every age, gender and demographic can now experience immediate gratification in healthcare, at their fingertips.
"We're excited to be the first healthcare company to deliver fast, high-quality information from compassionate doctors directly to people all over the world through the Messenger Platform," says Ron Gutman, HealthTap founder and CEO. "With this cutting-edge application of HealthTap developed by some of the brightest engineers, product managers and designers in Silicon Valley, it's now easier than ever to access top doctors immediately in a succinct and personal way. The new Messenger Platform enables us to extend the ability of our dedicated and generous doctors to help people everywhere feel good."