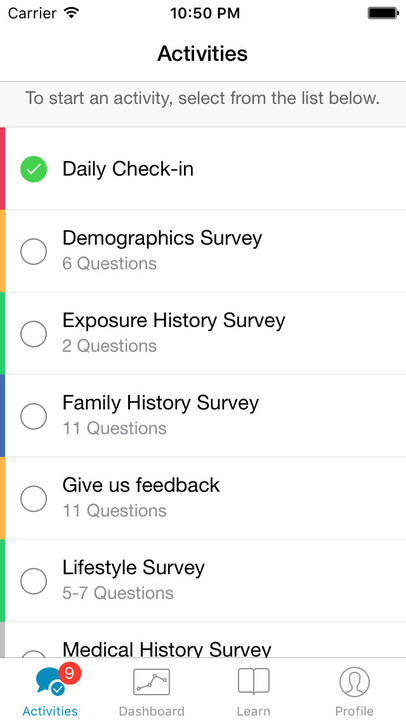 The Innovation & Digital Health Accelerator (IDHA) and Autoinflammatory Diseases Clinic at Boston Children's Hospital is launching release Feverprints, a ResearchKit enabled app for iPhone that will enlist the public's help to answer a surprisingly simple but fundamental question in medicine: What, exactly, is a fever? The Feverprints app crowdsources personal information about body temperature, lifestyle and health. Available now to adults in the United States, as well as U.S. children with parental consent, the app will regularly remind users to record their temperature and answer questions about their symptoms, medications, lifestyle and health. The data will be anonymized and logged in a secure database. 
Feverprints is Boston Children's second ResearchKit app. The first, C-Tracker, was launched in 2015 to gather information about the real-world impacts of hepatitis C and drive improvements in treatment.
Fever is one of the most common signs of infection, but can also indicate the presence of other medical conditions, including autoimmune and autoinflammatory diseases. While a body temperature of 98.6°F (37°C) is generally considered "normal," this number may not be accurate, as it does not account for temperature differences between individuals, and for one person at various times throughout the day. Better understanding of normal temperature variations will allow doctors to provide better medical care. By using ResearchKit, an open source software framework designed by Apple, Boston Children's Hospital is able to gather data more frequently and more accurately from participants using iPhone.
The team — led by Fatma Dedeoglu, MD, director of the Autoinflammatory Diseases Clinic, and Boston Children's rheumatologist Jonathan Hausmann, MD — will mine the submitted data to refine the range of body temperatures called normal and febrile. They will also use the data to define unique patterns of temperature — "feverprints" — that may help clinicians diagnose infections and other diseases more quickly and accurately. In addition, the team will systematically examine how effectively fever-reducing medicines work to reduce temperature in real-world use
"Many factors come together to set an individual's 'normal' temperature, such as age, size, time of day and maybe even ancestry," said Jared Hawkins, MMSc, PhD, the director of informatics for IDHA, a member of Boson Children's Computational Health Informatics Program, and one of the Feverprints team leads in the press release announcement. "We want to help create a better understanding of the normal temperature variations throughout the day, to learn to use fever as a tool to improve medical diagnosis, and to evaluate the effect of fever medications on symptoms and disease course. By using ResearchKit to bring this study to iPhone, we're able to gather more data about body temperature patterns than ever before possible."