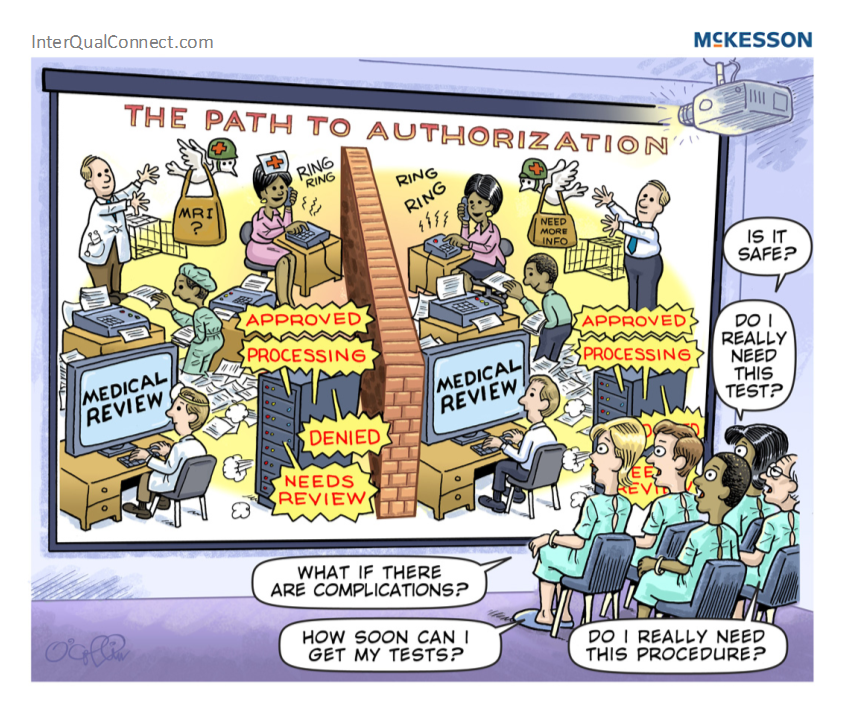 McKesson Corporation today announced the launch of InterQual Connect™, a cloud-based medical review service with authorization connectivity for payers and providers. InterQual Connect works with the same care management systems and InterQual Criteria they already use, making it fast, easy, and cost-effective to implement and deploy.
Today the total cost of an authorization is between $35 and $100 when faxes, denials, appeals, and other aspects are considered, according to McKesson research. Fully 13 hours of nursing time per physician per week is spent on pre-authorization, and 13% of physicians (and their patients!) wait over a week for an authorization, according to a Health Affairs study. It's no wonder, then, that an American Medical Association survey found reducing or eliminating the pain around pre-authorization is an important priority for 78% of physicians.3
"With InterQual Connect, we're changing the paradigm and creating a connected ecosystem where payers and providers are on the same page," says Jackie Mitus, Senior Vice President and General Manager of Decision Management at McKesson Health Solutions. "This is crucial in an increasingly value-based world. The current system is laborious and inefficient, but with InterQual Connect, it becomes collaborative, connected, and efficient. It's all about getting everyone aligned and improving the authorization experience. Now the whole ecosystem just works better."
Key features of the solution include:
– Reduce manual authorizations and costs. Automate authorization requests, even those that require medical review, saving time and administrative costs for both you and your providers.
– Improve payer/provider relationships. Streamline the utilization management process and automate notifications and authorizations, reducing admin costs and eliminating provider hassle. Consistent clinical guidelines and authorization automation will be deployed within the payer's portal, hospital utilization management systems, and payer care management systems. This exchange of clinical guidelines and authorization information provides full transparency to you and your providers.
– Align with providers on standards of care. Gain convenient access to the same evidence-based InterQual Criteria used by over 3,700 hospitals. Connect with providers already using InterQual in their care or utilization management system through our wide range of alliance partners and through CareEnhance® Review Manager.
– Provide fast and secure connectivity. Exchange authorization communications with providers that include the completed medical review inside (278 plus the medical review), supporting automated authorization and/or notification using standard industry formats. InterQual Connect includes routing rules to control access to data, content rules to allow for different InterQual versions, and duplicate checking rules to ensure this request has not been sent before.
By fully automating the authorization process, redundancy—where both payers and providers perform medical reviews—can be eliminated. Now payers can use InterQual Connect's secure connectivity and data exchange to receive the medical review and clinical information from their network providers, and send back notification or authorization, without ever leaving their existing systems.
Often this can be done without ever needing to manually touch the request. This helps eliminate duplicate processes and manual work, enabling users to reduce administrative costs, speed authorizations, and ensure appropriate care.
Implementing InterQual Connect couldn't be easier for payers whose CM/UM system vendors offer the integration. It doesn't require new hardware or more IT staff, because it uses a payer's current IT infrastructure to speed deployment, and minimize IT costs.
Providers gain visibility into the health plan's medical criteria, can digitally submit authorization requests, and receive fast auto authorization from within their existing workflow, using either the payer's provider portal or their own InterQual workflow solution. And now they can obtain the prior authorization that payers require in a new way that helps cut the administrative burden, hassle, and delays.
InterQual Connect is part of the InterQual product line, McKesson's flagship decision support solution. InterQual Criteria help payers and providers ensure appropriate care which helps improve quality and reduce unnecessary cost across the medical and behavioral health continuums of care. The InterQual clinical development team synthesizes the most current, best evidence into a fully referenced decision support tool that is reviewed and updated annually. InterQual's development process, honed over nearly 40 years, is founded on rigorous review of the literature, and includes extensive peer review by practicing clinical experts across the United States.