Consumers are increasingly leveraging online resources to both prepare for appointments and validate physician recommendations – moving beyond diagnosis to become more active in the treatment decision, according to new findings released from the Sixth Annual Makovsky/Kelton "Pulse of Online Search" Survey. Fielded to 1,035 nationally representative Americans ages 18 and older, data further reveal that while the doctor-patient relationship remains integral to the healthcare equation, patients are actively seeking information online to supplement their doctor visits.
Consumers reported an increased level of comfort in leveraging digital health tools to access medical advice and communicate with doctors. Forty-three percent of consumers reported using the internet to access advice from physicians or medical experts, and 45% of patients who use health-related apps were willing to use an app to communicate with their doctor – roughly the same percentage as those willing to use an app to track physical activity (44%).
When asked what information they would first research online about a health condition, the number of consumers who said "treatment options" increased by 21% from 2015 to 2016, while those who said "symptoms" decreased by 14%. 61% of patients reported that they were likely to ask for a specific prescription medication by name, implying research prior to appointments, with Millennials the most likely generational group to ask for a specific prescription medication by name (69%). 
Doctors remain the most trusted source of medical information, trusted by 95% of consumers; however, following a doctor's visit, 62% of patients reported being likely to research a prescribed treatment online, while 53% reported being likely to research an alternative treatment to the one prescribed by their doctor.
Ease-of-Use Trumps Trust in Driving Consumer Use of Online Resources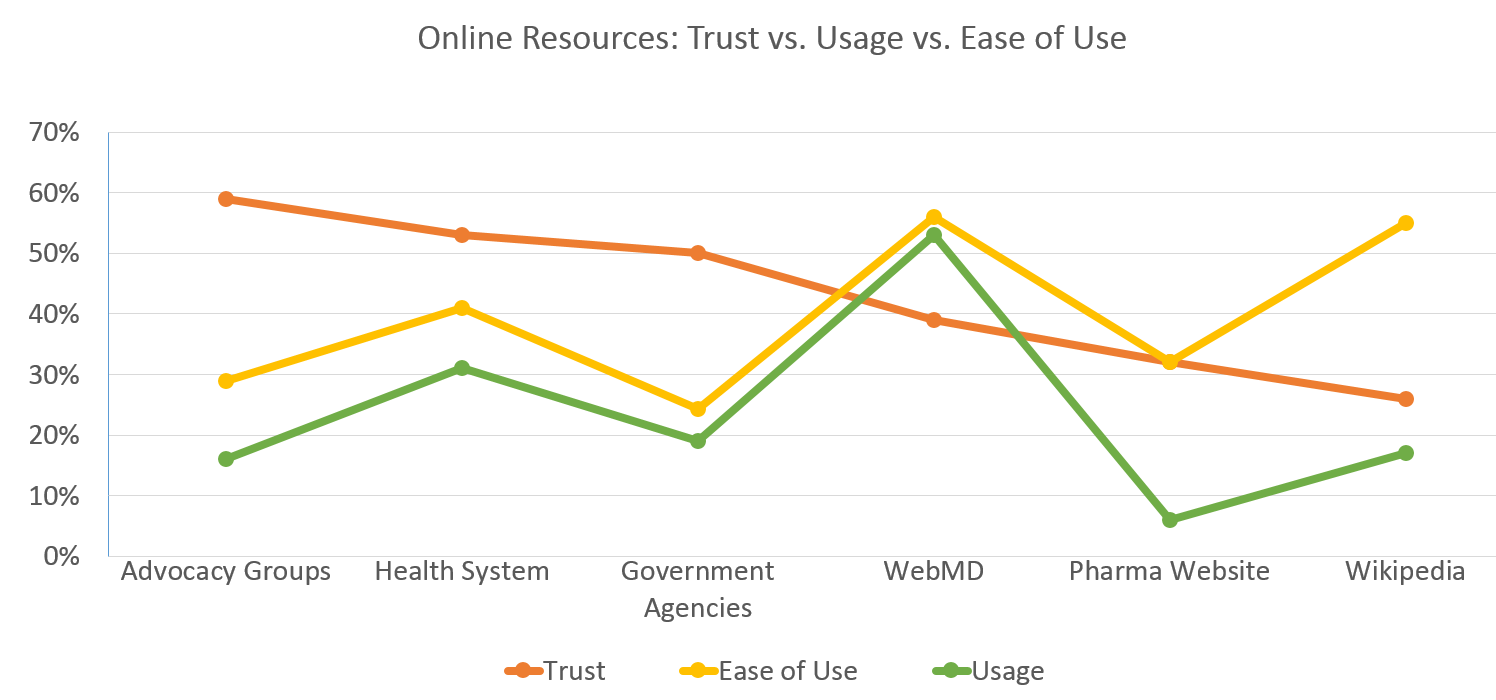 Online health resources are extremely popular, chief among them being WebMD, which is visited by 53% of consumers seeking health information. However, consumers are not visiting these sites because of their perceived trustworthiness; rather, ease-of-use appears to be the differentiating factor:
– Low marks in trustworthiness for WebMD (39%) and Wikipedia (26%) are offset by high marks in ease-of-use (56% and 55%, respectively).
– Advocacy group online resources ranked the highest in trustworthiness (59%), yet were among the least-visited by consumers (16%) – only slightly higher than visits to pharma-sponsored websites (12%).
| | | | |
| --- | --- | --- | --- |
| Online Health Resource | Trust | Usage | Ease-of-Use |
| Advocacy Groups | 59% | 16% | 29% |
| Health Systems (e.g., Mayo Clinic) | 53% | 31% | 41% |
| CDC | 51% | 21% | 27% |
| HHS/NIH | 50% | 20% | 23% |
| FDA | 49% | 16% | 23% |
| WebMD | 39% | 53% | 56% |
| Pharma Website | 32% | 12% | 32% |
| Wikipedia | 26% | 17% | 55% |
Survey results also herald the rise of health system website popularity, such as the Mayo Clinic. Health system websites earned high marks in trustworthiness (53%), ease-of-use (41%) and were second in utilization to WebMD (31%).
Millennials are the Most Responsive Generation to Pharma Advertising
Among generational groups, Millennials are by far the most receptive to pharmaceutical marketing – and, while Millennials have a reputation for leading digitally-centric lives, data show they are influenced across a variety of media.
– More than half of all Millennials (51%) would be motivated by an advertisement (TV, print, or online) to visit a pharma-sponsored website, while just 36% of Gen Xers and 26% of Baby Boomers would be similarly motivated by advertising.
– Millennials are quick to click the first link in online search, demonstrating the effectiveness of paid search with this generation: 42% of Millennials said they visited Wikipedia because "it was the first web link" appearing in their online search, compared to 16% of Gen Xers and 17% of Baby Boomers who listed the same reason.
– Television is still the best way to reach audiences, even among Millennials: 26% of Millennials reported that television advertising would motivate them to visit a pharma-sponsored website, followed by advertising on a website (19%) and social media (16%).
A cornerstone of many marketing and public relations campaigns, survey results also noted that trust of celebrity endorsement is low: only 13% of consumers would trust a celebrity endorsement as a source of information about their medication. However, when dissected by generation, more than one in five Millennials stated that they would trust a celebrity endorsement (22%), the highest among generational segments.
For more information on the Pulse of Online Search Survey, visit www.makovsky.com.