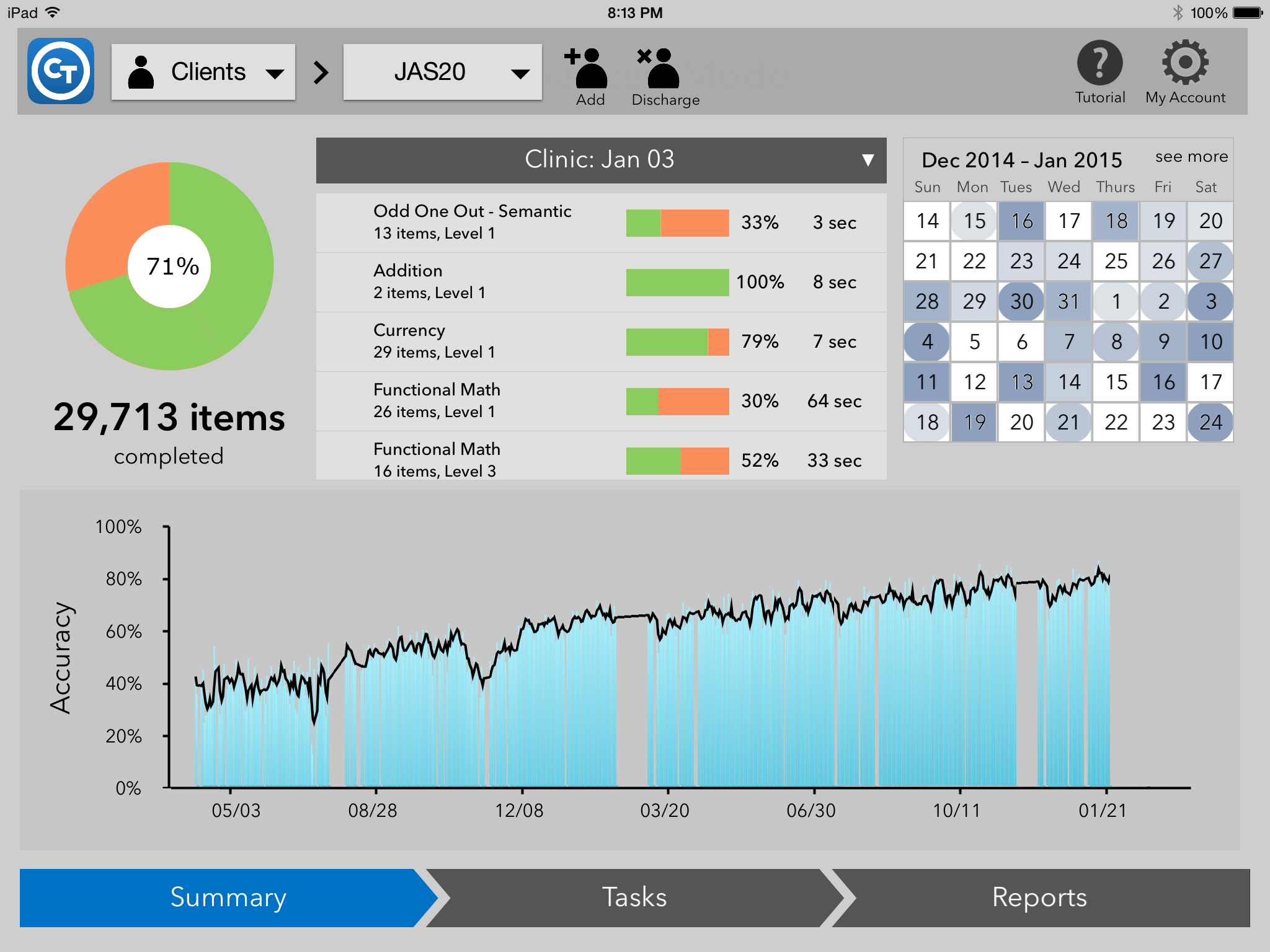 Constant Therapy, a Boston-based innovator of science-based, customized brain rehabilitation apps announced it has raised $2 million in Series A funding led by Golden Seeds. The round included participation from Kapor Capital, Launchpad Venture Group, Pond Capital and Community Health Network of Connecticut. The company plans to utilize the funding to accelerate the  scientific research, data, marketing and development behind its product.
Constant Therapy provides victims of brain trauma — from stroke, brain injury, dementia, aphasia or learning disorders — with science-based, customized brain rehabilitation apps aimed at helping patients perform better at everyday tasks. The company's mobile solution quite literally puts speech, language and cognitive therapy right in their pocket for anytime, anywhere use.
By combining both data and science, its apps can be optimized for the effectiveness of treatment, customized to each patient, and delivered for individual use, or as an integral part of clinical-led therapy. Therapy tasks are based on the latest research and are easy to use. With 65 task categories and a growing library of over 60,000 exercises, patients can continue to make progress at home or even after traditional care ends in the clinic.
Patients pay a subscription price of $19.99 per month, $199.99 per year or $299.99 for three years. Constant Therapy also partners with speech and language pathologists and other therapists by giving them access to the full version of the program for free to use with patients in their care.  Some healthcare organizations that use Constant Therapy include Spaulding Rehabilitation Network, the Stroke Comeback Center and The MossRehab Aphasia Center.
"We believe Constant Therapy can be a disruptive positive force in the $10 billion market for brain rehabilitation services," said Kevin Ohashi, PhD, managing partner and co-founder of Pond Capital. "Unlike traditional paper-based therapies that rely on static and manually delivered exercises, its mobile exercises are dynamic, updated constantly and customized for each patient.  Clinicians can use Constant Therapy with their patients in clinic and the patients can continue to work independently when they go home."  
Founded in 2013 by Boston University professor Swathi Kiran, who was head of the Aphasia Research Laboratory. While working with patients, Kiran noticed that people with cognitive, language, and speech disorders could benefit from a tool that combined technology with communication therapy. She teamed up with three notable technologists to develop mobile versions of proven speech therapy tasks and co-founded the company. 
Since inception, the startup has earned accolades from national organizations in recent months including: the American Heart Association People's Choice Award for Best Health Technology, AARP 2015 Consumer Choice Award for Health Innovation and Village Capital and Global Health & Social Innovation Capital Partners Award.