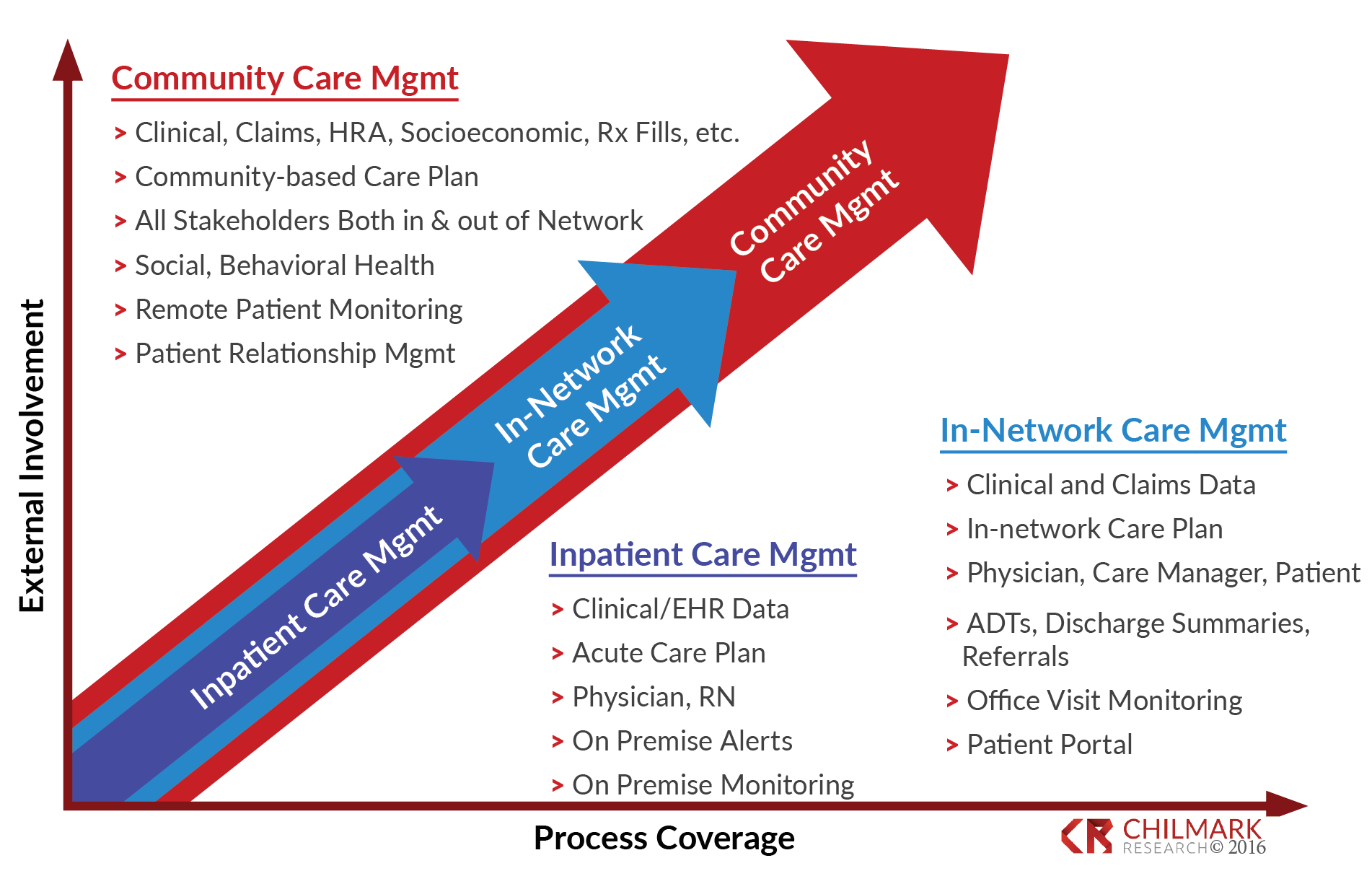 Chilmark Research has released its inaugural 2016 Care Management Market Trends Report on the growing market for provider-centric care management solutions. The report is an in-depth review of over 100 solutions currently available in the market, for which a subset of leading vendors have been comprehensively reviewed.
Defining Care Management
At a fundamental level, care management requires medical professionals to practice medicine differently. Care management will have to increasingly become a team sport, with the physician as quarterback leading a team of mid-level practitioners: office staff, nurse care managers and coordinators (both centralized and embedded), pharmacists, dieticians, social workers, family caregivers, and the patient.
The report points to an important, ongoing challenge — incorporating cross-organizational and handoff considerations into existing workflows. For most of these solutions, clinicians toggle from their EHR to a clinical portal to access care management functionality. EHR vendors have incorporated care management functionality into their products and are building on existing customer relationships to see good initial uptake of their offerings, but again, these solutions fall short of engaging the extended community.
To address these concerns, dozens of health IT vendors have started to roll out solutions aimed at streamlining care management, executing evidence-based care plans, and supporting the workflows of multi-disciplinary care teams. They come from a variety of health IT technology domains that, individually, play a key role in coordinating care with their own best practices, insights, advantages, and challenges.
Care Management Solutions: Long Way Before Reaching Maturity
These solutions have a long way to go before reaching maturity. They must grow beyond core competencies that only address individual stages of the care management lifecycle. They must balance their own proprietary standards for risk stratification, clinical workflow, and evidence-based care with the unique needs of current and prospective customers. Above all, in a market with so many competitors, they must be able to answer the question, "Why should we choose you?"
According to Matt Guldin, Chilmark analyst and author of the report, "Provider-led care management is really in its infancy. Today, HCOs are only experimenting with these tools and using them for revenue assurance and utilization management. The next major stage in their evolution will be to help drive better patient care and allow them to successfully scale their care management efforts to support larger numbers of patients. Looking ahead, HCOs will look to incorporate care management across a wider variety of care settings, incorporate additional clinical and non-clinical stakeholders, and directly embed a higher level of automation and workflow processes within these solutions."
For HCOs adopting these solutions, the choice is not easy. While HCOs have familiarity with their EHR vendor and its capabilities, care management is a new area for most EHR vendors, and these solutions remain immature. A wide range of other vendors are looking to provide the solution that will meet the HCOs care management needs, but there is not a single vendor today that will have everything needed to fully enable a care management strategy across the community and stakeholders that they serve.
The report is available to subscribers of the Chilmark Advisory Service or may be purchased separately. For more information, visit http://www.chilmarkresearch.com/research/reports/.