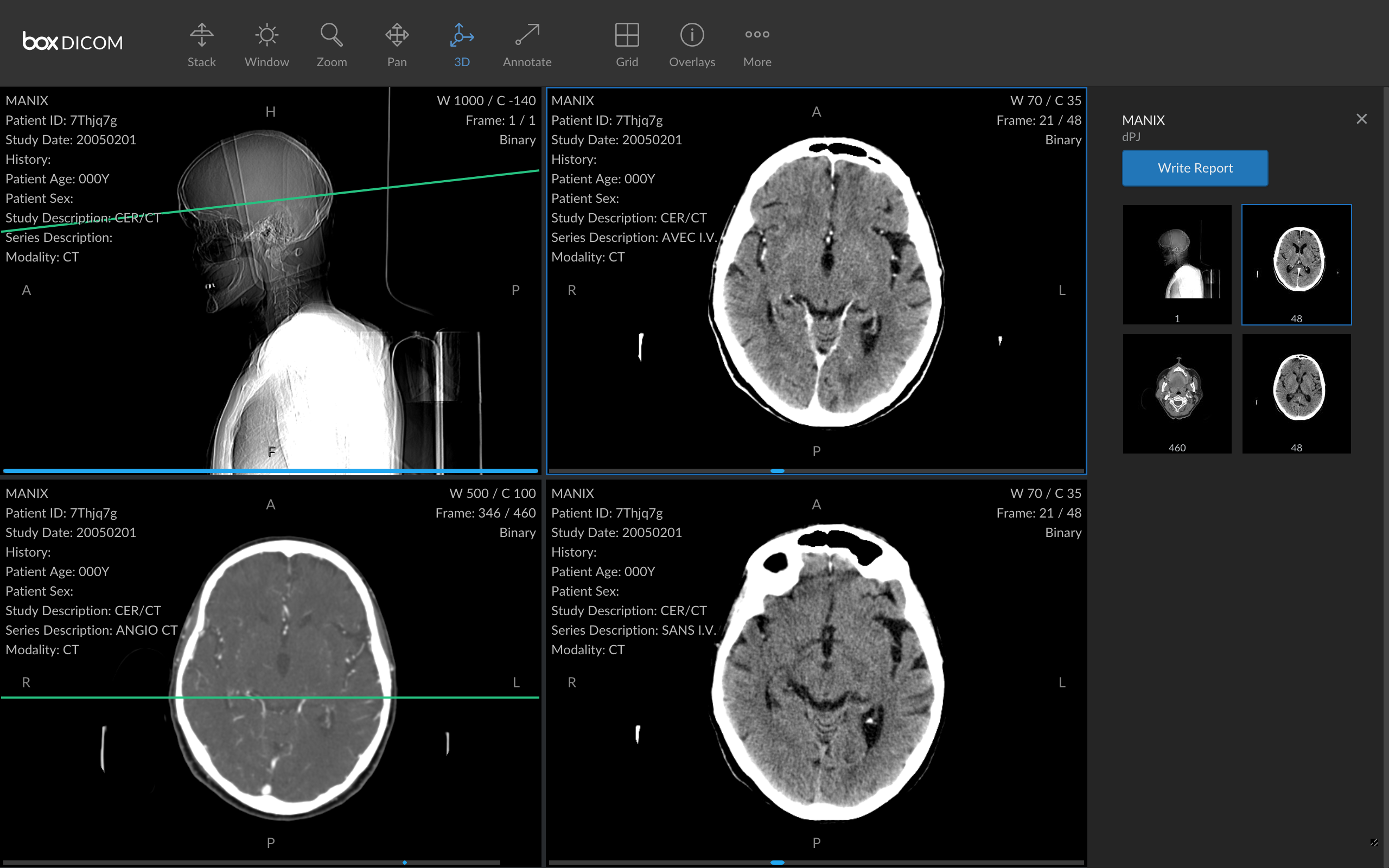 Enterprise content management platform Box, today announced during HIMSS16 that the Box DICOM Viewer has been FDA cleared as a Class II Medical Device, enabling it to be used for diagnostic purposes. Box DICOM Viewer allows users to store, view and share any DICOM file (x-rays, MRIs, CT scans, ultrasounds) on a web browser or mobile device. Medical professionals can now collaborate across facilities, remotely diagnose patients, share imaging studies with patients, and securely transfer images.
Additionally, Box unveiled a new solution tailored specifically for hospitals, this new solution leverages Box to streamline referral management, enable medical professionals to view and share DICOM files (like X-rays, CT Scans and Ultrasounds), reduce manual faxing and scanning, and provide access to critical data that is too often trapped in proprietary, hospital-based enterprise systems.
The new Box for Healthcare solution addresses data sharing and transfer issues for healthcare providers by providing the following services:
Box Content Management Platform: Box allows hospitals to securely share, manage and collaborate on content in the cloud from any device in real-time. Box supports HIPAA compliance and signs Business Associate Agreements with customers.
Box DICOM Viewer: Medical professionals can dramatically improve turnaround times for patients by viewing DICOM images from the web or any mobile device, securely collaborating and sharing images across facilities, and conducting remote diagnostics.
Box Governance: Enables customers to comply with regulatory policies, satisfy e-discovery requests and effectively manage sensitive information.
Box Consulting Services: Professional services and domain expertise to help customers transform their clinical workflows with custom integration needs.
Partner Integration Capabilities:
– Supports HIPAA compliant faxing services
– Communication with hospital-based EHRs and PHRs leveraging the government sponsored DIRECT messaging protocol;
– Continuity of Care Document online viewing app that allows structured data from EHRs and PHRs to be easily viewed and shared from Box.
"Even though the healthcare industry is still very reliant on on-premise storage, we identified the cloud as a must-have technology over three years ago because of its agility," said David Baker, VP of IT at St. Joseph Health. "Box has become a primary mode of data storage and collaboration throughout our system and embracing solutions for sharing medical images within Box will only speed up coordination of radiology exams. We are very excited to see Box invest in this area."
"Despite our industry's significant investment in electronic health records and the growing use for clinical care coordination, we are still overly reliant on scanning and faxing for referrals into and out of health systems," said Aneesh Chopra, former Chief Technology Officer, White House and Box special advisor. "As a pioneer in secure enterprise cloud collaboration, Box is addressing these challenges by integrating DIRECT messaging to digitize paper-based workflows and develop more efficient ways for health systems to capture and transfer patient data."
Integration with TigerText
To make the sharing of clinical imaging studies even easier, Box is deepening its integration with TigerText, the leading HIPAA compliant messaging solution for hospitals and doctors. Powered by the TigerConnect developer platform, the new integration will allow physicians using TigerText to receive and collaborate around clinical imaging studies stored in Box from the TigerText mobile interface. Within the TigerText mobile interface, physicians will be able to collaborate on X-rays and other images and other images for immediate wet reads or curbside consults.
"As the leading messaging solution for hospitals across the nation, we are excited to deepen our integration with Box around their new Box DICOM Viewer," said Itamar Kandel, President of the TigerConnect, business unit of TigerText. "Leveraging our APIs, Box will give doctors the ability to access imaging studies on their mobile phones via the Box DICOM Viewer. This enhances our ability to provide important clinical information in a secure format at the point-of-care."