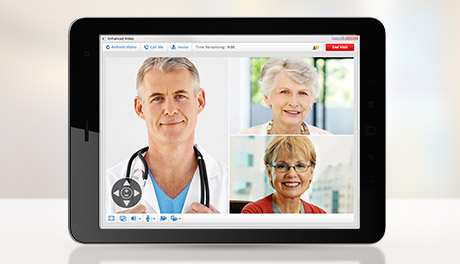 Telehealth service provider American Well, today announced the launch of AW9, its newest product release, featuring an industry-first multiway video solution that enables joint doctor appointments. Multiway video allows a patient or provider to invite other participants, such as a specialist, caregiver, health coach, family member or language translator into a live, video visit.
Additional features of the AW9 include patient-self scheduling and the introduction of Sidekick, a photo app for provider-to-provider consults that allows a provider to share a photo with another provider during a video curbside consult without saving that photo to the device. 
"The traditional doctor appointment has always been a one-on-one interaction between provider and patient and yet, as many of us have experienced, either personally or through the care of loved ones, navigating chronic conditions like diabetes or cancer requires a team of people," said Dr. Roy Schoenberg, CEO and co-founder, American Well in the press release. "This is why we are thrilled to introduce multiway video. Far better than scheduled, follow-up appointments or a group email thread, multiway video gives the full care team the ability to communicate with each other, at the same time, during a live visit. This will make patients' and families' lives easier, and facilitate better communications between providers when consulting about a patient."
Multiway Video: Everyone the Patient Needs In One Place
Multiway Video makes real-time team-based care possible by letting a patient and provider having a doctor appointment invite others to participate in the same visit, as it's happening. This is helpful to patients who may want to include a family member or primary caregiver in the appointment. Importantly it also eliminates the administrative burden required to coordinate team-based care, as it enables the initiating provider to invite the first available specialist into a visit immediately and electronically.
Patients and providers can invite guests via an email address before the visit begins, during intake, or during the visit. Third and fourth parties do not need to register and can join the visit immediately by clicking a secure email link.
Patient Self-Scheduling: Freedom to See a Specific Doctor Now, or Later
While patients have always had the option of an on-demand visit with a provider of their choice, based on availability, now patients can schedule their own appointment with a specific provider in advance. This is especially helpful to patients who need recurring care such as those seeking behavioral health services, people managing chronic conditions, and patients who need follow-up care.
Once a telehealth practice activates this feature, providers and administrative staff can open single or recurring time slots, and patients can then browse available appointments by preferred date or by provider. Once scheduled, the patient will receive an email with a link to begin the appointment.
Telemed Tablet Peripheral Device Upgrades for Providers in Health Systems
The Telemed Tablet is a device that facilitates provider-to-provider visits within a clinic or hospital setting. Using the touchscreen Telemed Tablet, providers can initiate immediate consults with other specialists in their network, no matter where they are. With AW9, American Well has integrated peripheral devices a dermatoscope, otoscope and stethoscope and a high-definition Pan-Tilt-Zoom (PTZ) camera into the Telemed Tablet. These tools facilitate higher quality examination by the consulting provider from his or her mobile phone, tablet or computer.
AW9 also launches a new mobile app, Sidekick, which supplements a live provider-to-provider video consult with images and information taken on the iPhone. An initiating provider meeting with a patient can now easily snap a picture for higher-res images of the patient and related medical imagery (such as an X-ray) during the visit. This enables the remote or secondary consulting provider to ask for information that the initiating, local provider can then snap and include without disrupting video connection. In addition to X-rays, providers can share EKG's, lab sheets, and even data retrieved from electronic medical record (EMR) screens.
Images are available to both clinicians during the live video visit, but not saved or stored on the device, to preserve the security of patient health information.
Sidekick: Snapchat for Doctors
With the introduction of Sidekick, remote physicians gain access to more, richer information and imagery than they would otherwise, and without requiring that their information systems connect to the local provider's systems such as the EMR. This opens up provider-to-provider telehealth consults to a much larger pool of remote specialists who may be unaffiliated with that point of care. 
"The Sidekick is like Snapchat for doctors," said Dr. Schoenberg, "It lets one clinician show another an Xray, medical record, rash virtually anything you can snap a photo of, during a video consult. When the visit ends, 'poof' the shared image disappears so records and images are not duplicated in an EMR, and the remote consulting physician does not have to be on a hospital computer or log in to see important information in the moment."