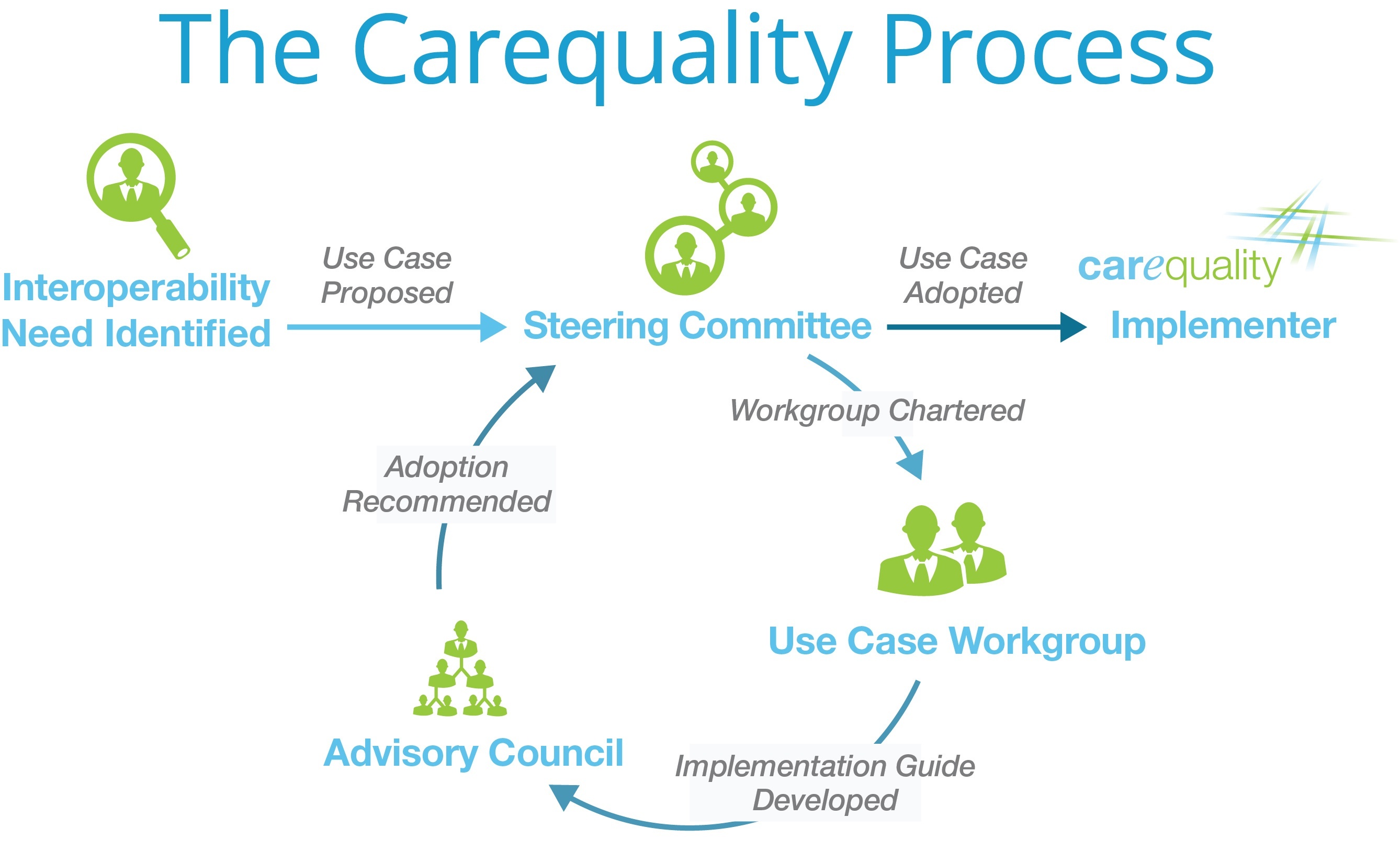 Carequality, an initiative of The Sequoia Project, announced five new adopters of the Carequality Interoperability Framework: Coordinated Care Oklahoma, GE Healthcare, Kno2, Netsmart, and OneRecord. These new Carequality adopters represent the diversity of the larger Carequality community – large and small, HIE and consumer access platform. The organizations join athenahealth®, eClinicalWorks, Epic, NextGen Healthcare and Surescripts in contracting to implement the comprehensive Framework.
Carequality is a multi-stakeholder initiative that has brought together public and private sector players from across the healthcare ecosystem to meet the challenge of connecting disparate data sharing networks and platforms. The Carequality community uses a consensus-based process to develop and implement tools that enable seamless connectivity across all participating networks.  The Carequality Interoperability Framework consists of legal terms, policy requirements, technical specifications, and governance processes that together make it possible for healthcare to replicate the success other industries have achieved in breaking down barriers between many networks, programs, and platforms.
"The diversity of organizations – from HIE to consumer access, large to small – adopting the Carequality Framework really highlights our vision for an interoperability framework that unites the entire healthcare continuum," explained Dave Cassel, director of Carequality in an official statement. "Enabling patients and providers to access health records from the diverse participants in the Carequality ecosystem is a major step forward, not only for the healthcare experience but also for patient empowerment."
The adoption and timely implementation of the Carequality Interoperability Framework advances the promise of seamless, nationwide interoperability for patients and providers. With a single unified health data sharing agreement built upon Carequality's ground-breaking Principles of Trust, there is no more need to negotiate one-off legal agreements with individual data sharing partners. Carequality implementers – and their clients – can connect more quickly and easily than ever before.
The Sequoia Project supports multiple, independent health IT interoperability initiatives, most notably: the eHealth Exchange, a rapidly growing community of exchange partners who share information under a common trust framework and a common set of rules; and Carequality, a public-private collaborative effort to build consensus among existing data sharing networks regarding technical specifications and best practices, much like the telecommunications industry did for linking cell phone networks.