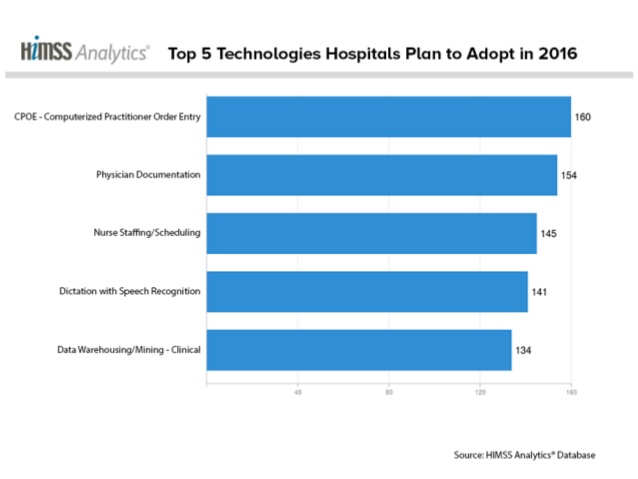 In a newly released report from HIMSS Analytics examines the changes in a hospitals' buying intent from 2014 through 2015. The report identified the following top 5 technologies hospitals plan to adopt in 2016:
1. CPOE
2. Physician Documentation
3. Nurse Staffing/Scheduling
4. Dictation with Speech Recognition
5. Data Warehousing/Mining – Clinical
Report Background
In early 2015, in a forward-thinking article on Healthcare IT News, HIMSS Analytics identified 18 technologies with positive growth potential that were set to take hold in the industry. This predictive analysis utilized data on technology adoption from 2010 to 2014. HIMSS Analytics has analyzed the changes in buying intent from 2014 through 2015 and is making the analysis available to HIMSS Corporate Members before the general market. HIMSS Analytics correctly predicted 4 of the top 5 technologies planned for deployment in 2016.