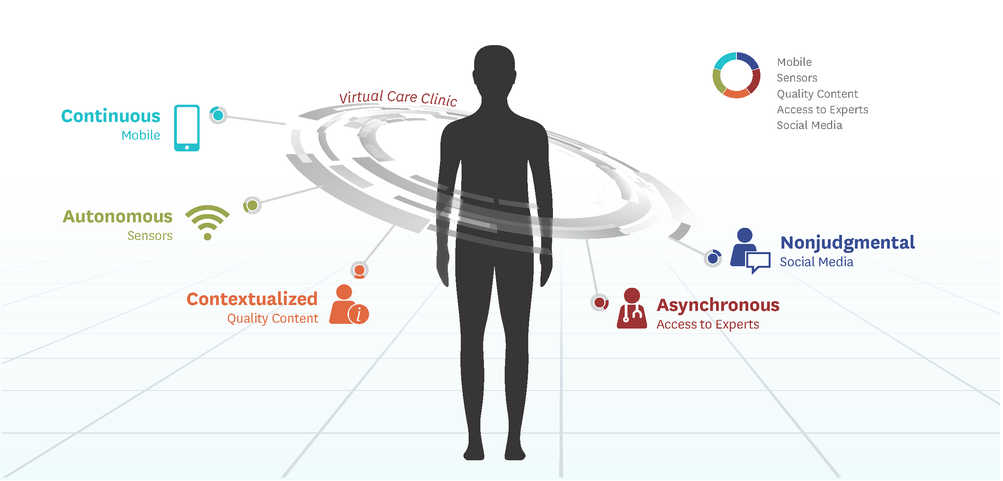 The University of Southern California (USC) Center for Body Computing (CBC), the digital health innovation accelerator for the Keck Medicine of USC medical enterprise, today announced its eight foundational partners for its Virtual Care Clinic (VCC).
The disruptive digital health care model utilizes mobile apps, wearable sensors, virtual human health care providers, augmented and virtual reality (AR/VR), data collection, analytics and artificial intelligence using digital communication tools to provide a seamless, integrated system where patients anywhere in the world can access medical care and content.
USC Virtual Care Clinic Overview
The VCC, housed at the renown USC Institute of Creative Technologies (ICT) is located in Playa Vista, in the heart of Los Angeles' digital zone known as Silicon Beach. The VCC will harness cutting edge technologies and creative solutions developed at ICT to extend Keck Medicine of USC experts to anyone with a smartphone. 
In addition to its collaboration with ICT the USC CBC invited the following best-in-class foundational partners to establish its VCC ecosystem: Dr. Evidence, IMS Health, Karten Design, Medable, Planet Grande, Proteus Digital Medicine and VSP Global. Using mobile apps, "virtual doctors," data collection and analysis systems, world-class diagnostic and wearable sensors coupled with experiential design and engaging, expert patient health information, the VCC delivers wireless, on-demand access to Keck Medicine of USC experts while doctors go beyond telemedicine models for remote management and care of patients regardless of location.
"Our Virtual Care Clinic is not only the democratization of health care allowing anyone access to our medical experts without leaving their home, but it also capitalizes on the promise that digital health is supposed to offer," said Leslie Saxon, MD. "Because we have worked in collaboration with our VCC partners and our medical experts, this health care model will empower patients, improve quality outcomes with more precision medicine analytics and diagnosis, and enhance the physician-patient relationship by creating a contextualized experience and seamless communication that puts the patient in the driver seat of their own health care experience and outcomes."
Dr. Saxon further explained the partnership with USC's ICT assures that best-in-class technologies developed at ICT can be leveraged for healthcare and patients will remain engaged in their health in a more continuous manner using creative and engaging, highly tailored solutions. "We have early proof of the success of this partnership in our highly innovative VR hackathon for health that we co-hosted at ICT this year and that will result in the use of VR to enhance the patient understanding and experience, " added Dr. Saxon.
In the next few months, the VCC will plans to initially offer access to its experts at the USC Eye Institute, ranked No. 9 among ophthalmologic programs in the nation according to U.S. News & World Report, and the USC Institute of Urology, recognized as a worldwide leader in robotic cancer surgery for bladder, prostate and kidney cancer. Ultimately all 1,500 faculty/physician experts, surgeons and researchers at Keck Medicine of USC will become involved in the VCC.
The 8 foundation partners for USC CBC's Virtual Care Clinic include: 
USC Institute for Creative Technologies (ICT) – Nationally renowned for its Virtual Humans, artificial intelligence (AI), virtual reality (VR), graphics and narrative communities, especially in work with the U.S. Department of Defense (DoD), ICT is the creator of the VCC's "Virtual Doctors," a staff of engaging characters based on the world renowned USC medical care providers for on-demand, patient-doctor interaction.
Dr. Medicine – Providing the most comprehensive database of peer-reviewed clinical trials research on disease treatments and outcomes, this guided mobile content is best-in-class precision medicine in the hands of each patient.
IMS Health – IMS is the leading provider of structured mobile, medical app vetting and provides quality assessments and app prescriptions.
Karten Design (KD) – Part of embracing the consumerization of health care is to deliver information, services and products that engage and empower patients. Known for its "medicine made beautiful" mantra, KD delivers an experiential and integrated solution into EMR product design.
Medable Inc. – One of the biggest concerns for patients is cybersecurity. In fact, PwC's Health Research Institute 2016 report states, "Half of all patients would think twice about using any connected device because of cybersecurity issues." Medable is the leading cloud platform for building HIPAA-compliant health care apps with scalable analytics functionality allowing for large data-sets to fulfill the promise of Big Data, population health and the meaningful-use rule of the Centers for Medicare and Medicaid Services (CMS).
Planet Grande – Located in Malibu down the coast highway from L.A.'s film and TV community, this Emmy Award-winning video creator infuses the best of Hollywood storytelling and engagement into information to help patients become heroes of their own health stories.
Proteus Digital Medicine – A leader in digitized medicine, pills actually are ingestible sensors that allow physicians to monitor medications, adjust doses and know if patients are adhering to their medications via mobile data. Patients become more medication compliant and do not have to leave their home to receive better, real-time care from their physician.
VSP Global – A 2015 Rock Health report stated, "Wearable health is only at 12 percent adoption rate and to date no iconic consumer brand is yet involved." Enter VSP Global and its innovation lab, The Shop, into the VCC partnership. Representing 77 million lives, this well-known fashion brand makes VSP Global a unique partner as both a payer disrupting health care and a savvy consumer marketing powerhouse. The first wearable sensor in your eyeglasses created by The Shop with consultation from the USC CBC, will launch this spring.