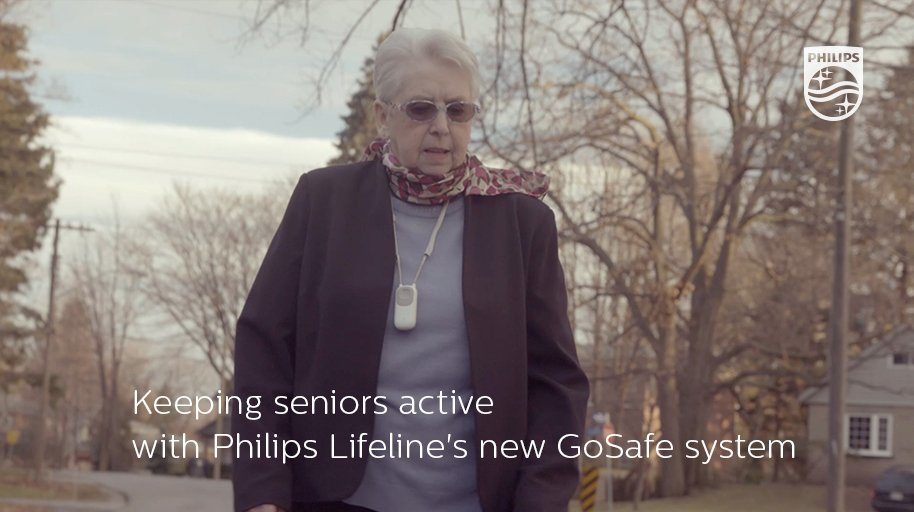 This week, Royal Philips announced the availability of Philips Lifeline GoSafe, its mobile medical alert sthat is part of Philips suite of solutions that connect care across the health continuum. Featuring the power of up to six location technologies, GoSafe gives seniors the assurance to get up and go while being protected by the 24/7, Canada-based emergency call response centre which protects more seniors than any other medical alert service.
"When seniors feel less confident, anxious or fearful, they often become less engaged and will withdraw from doing the activities they enjoy. This can increase their risk of falls and social isolation," explains Dr. Michelle Acorn, Nurse Practitioner and Professor, Ontario, Canada. "The foundation for aging well is tied closely to maximizing function through participating in everyday activities which contribute positively to one's physical and psychological wellbeing. It is important for seniors to remain active, mobile and socially connected. This entails getting outdoors for walks, running errands, shopping, volunteering, attending family gatherings, or participating in social groups. Participation contributes in very meaningful ways to enable your ability to live a fulfilling and independent lifestyle."
Simplifying Aging in Place for Seniors
The mobile medical alert service is currently available at participating Lifeline programs across Canada, GoSafe's built-in AutoAlert fall detection technology is designed to automatically call for help if it detects a fall, providing protection even if the senior is unable to call on their own. Whether the wearer experiences a fall, a health emergency, or just wants some added reassurance, GoSafe enables help to arrive quickly when and where it is needed. The GoSafe system utilizes an in-home communicator to optimize in-home performance, and the GoSafe pendant can be charged while worn, providing continuous protection for the wearer.
A large majority of seniors are active later in life: 80 per cent of seniors participate frequently (at least monthly) in at least one social activity, 36 per cent perform volunteer work and 13 per cent participate in the work force*. Falls are the leading cause of injury-related hospitalizations for Canadians aged 65 years and older. Approximately 20 to 30 per cent of Canadian seniors experience at least one fall each year, with falls often causing disability, loss of independence or even death*. With over 90 per cent* of seniors living in private homes, GoSafe was designed to help provide peace of mind to seniors at home or on the go.
"At Lifeline we take pride in helping aging Canadians live independently in their homes, longer," said David Doyle, Director for Philips Lifeline Canada in a statement. "We offer caregivers and those they care for peace of mind knowing that our response associates are there to help should they need it. The new GoSafe offers our customers the freedom to continue doing the things they enjoy both in and outside their home."