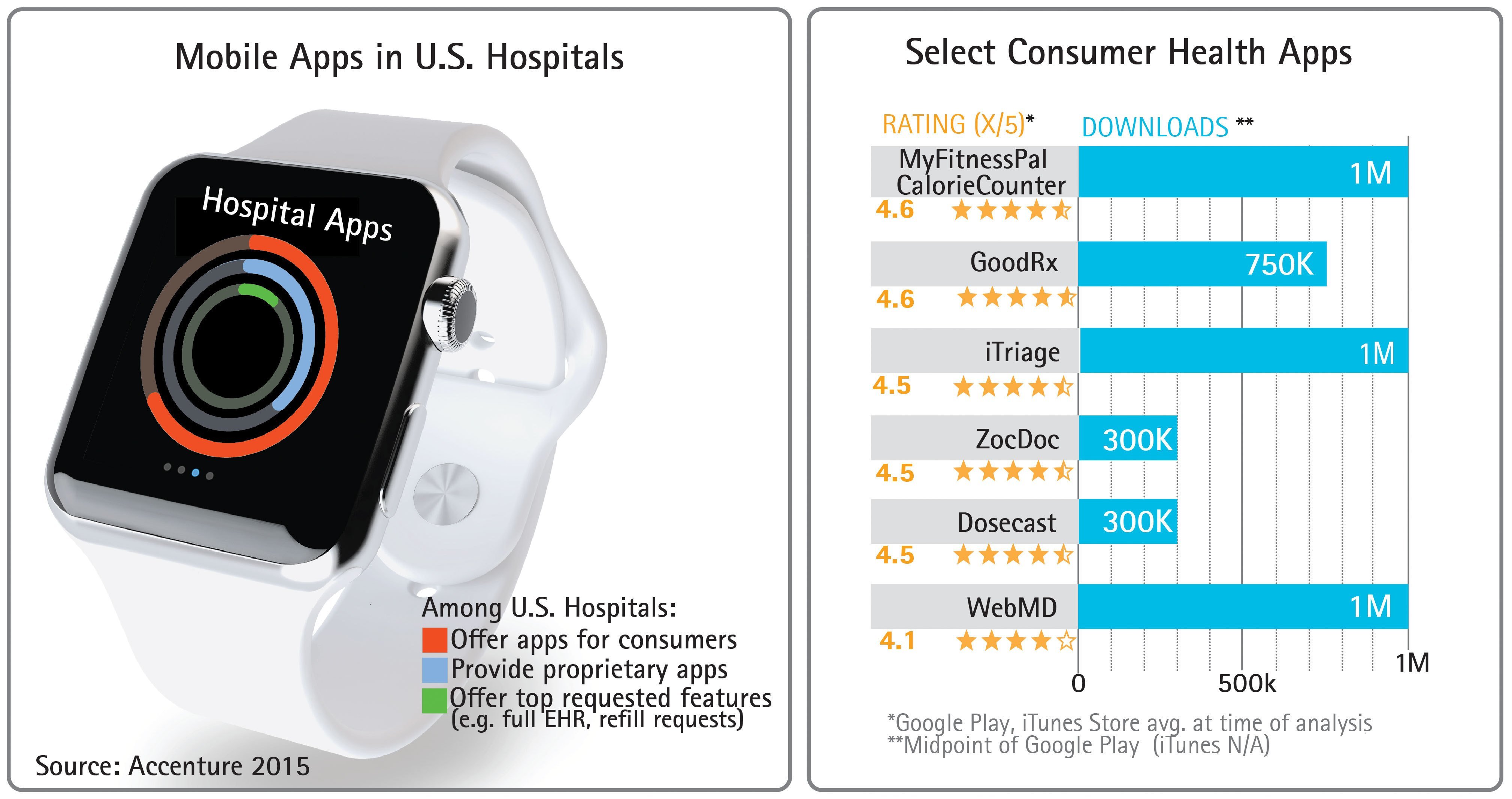 Mobile health app usage has grown increasingly over the past three years with 54 percent of health consumers willing to use their smartphones to engage with their healthcare providers, according to new research from Accenture. The report finds that despite the acceptance from consumers, healthcare providers are failing to meet consumer needs with consumers complaining about poor user experience with providers' proprietary apps and mobile functionality that often fails to meet their individual needs.
Hospitals Struggle to Create An Effortless Mobile Experience
Only 2 percent of patients in the largest U.S. hospitals are using hospital-provided mobile health apps. Accenture estimates that failure to align mobile apps to the services consumers' demand could cost each of these hospitals, on average, more than $100 million in lost annual revenue. 
The research, which assessed mobile app use among the 100 largest U.S. hospitals, found that two-thirds (66 percent) of the 100 largest U.S. hospitals have mobile apps for consumers and roughly two-fifths (38 percent) of that subset have developed proprietary apps for their patients. However, only 11 percent of health systems offer patients proprietary apps that operate with at least one of the three functions that consumers demand most: access to medical records; the ability to book, change and cancel appointments; and the ability to request prescription refills electronically.
Having A Mobile App Is Not Enough
"Simply having a mobile app is not enough," said Brian Kalis, managing director in Accenture's Health practice in a statement. "Hospital apps are failing to engage patients by not aligning their functionality and user experience with what consumers expect and need. Consumers want ubiquitous access to products and services as part of their customer experience, and those who become disillusioned with a provider's mobile services – or a lack thereof – could look elsewhere for services."
According to Accenture, this is already happening, as approximately 7 percent of patients have switched healthcare providers due to a poor experience with online customer service channels, such as mobile apps and web chat. Accenture estimates that this pattern could lead to a loss of more than $100 million in annual revenue per hospital and suggests that as consumers bring their service expectations from other industries into healthcare, providers are likely to see higher switching rates, on par with the mobile phone industry (9 percent), cable TV providers (11 percent) or even retail (30 percent).
The researchers analyzed the mobile health apps offered by hospitals as well as those offered by independent digital health disruptors – such as Good Rx, ZocDoc and WebMD – through the Google Play and iTunes app stores. The report suggests that one way for hospitals to improve the customer experience is to partner with digital disruptors such as these to create mobile platforms tailored to their specific patient demands. For example, a large healthcare provider might partner with ZocDoc to improve appointment scheduling or with InstaMed Go to improve bill paying.
Providers need to meet consumer expectations by going mobile and creating user experiences unique to the mobile touchpoint to close the growing gap between what's being delivered and consumers' ever evolving expectations.
 "Mobile engagement is becoming increasingly critical to the success of every hospital in the digital age," Kalis said. "Today it's all about enabling an individualized approach, where patients are empowered to help manage their own care. Large hospitals that design and build experiences as well as partner with digital disruptors will have the ability to better engage with their patients, which will enhance patient loyalty – thereby enabling the hospitals to protect their revenues."