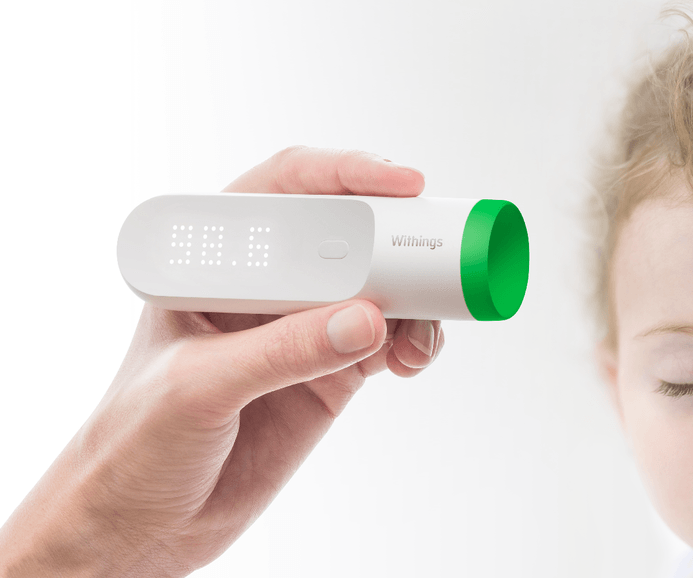 Withings, a leader in the connected health revolution, has extended its therapeutic areas of expertise with the unveiling of the FDA-approved Withings Thermo – a Wi-Fi-connected temporal artery thermometer with a revolutionary 16-sensor array that provides one of the fastest, most accurate, non-invasive temperature readings available. 
Withings Thermo will be available in Q1 2016 for a MSRP of $99.95 and will be supported by a dedicated app for both iOS and Android devices.  Within the app you get a temperature diary, a simple analysis and you can include relevant infomation such as medication and/or symptoms. You can easily share the Thermo diary with your doctor at any time with one click.
Reinventing temperature measurement with a revolutionary sensor
Withings Thermo measures the temperature from the temporal artery at the side of head, the new gold standard for temperature measurement, which provides one of the most accessible and reliable images of body temperature, while ensuring a comfortable and sanitary process. Withings Thermo boasts the new HotSpot SensorTM Technology: a sophisticated sensor array of 16 independent infrared (IR) sensors that can quickly locate and measure the IR signature and heat being emitted.
With just a point in the direction of the artery, without requiring any motion or scanning, the sensors take 4,000 measurements in 2 seconds while a specially-designed algorithm automatically corrects for biases, such as skin heat loss and the ambient temperature. The hottest point is then determined to ensure the most accurate and reliable single temperature reading.    
The first Wi-Fi connected thermometer to monitor the health of the whole family
Thermo automatically sends temperature readings to your smartphone on the dedicated application, via Wi-Fi or Bluetooth, allowing a seamless synchronization. As Cédric Hutchings, CEO of Withings, said: "We invented the first Wi-Fi connected health device, Withings' smart scale, to enable users seamless access to their data to take control of their weight. Withings Thermo was designed to have a similar impact on the family's health routine."
The app gives the ability to better control and manage fever episodes for multiple users, by following the temperature trend and getting a clear fever status at any time. It also allows users to provide contextual information associated with readings, such as logging symptoms or making notes of any administered medicines.  In addition, notifications can be set to prompt parents with measurement reminders to better monitor fever episodes. All collected data can be easily shared with a physician at any time.
Temperature taking made easy and convenient
Measurement is made via an incredibly simple gesture. Users gently place the device on their forehead, click the button, and they get the result instantly. A vibration tells the user when the measurement is complete, and along with displaying the reading in either Celsius and Fahrenheit, the device will also provide instant color-coded feedback via a LED display that will glow Green for normal, Orange for moderated, and Red for elevated temperature levels. With Thermo, taking the temperature of a sleeping child, and evaluating its fever in the dark is incredibly easy.
Thermo operates on two AAA size batteries that can last up to 2 years, making the device exceptionally portable – easily moved from the household medicine cabinet to a mother's purse or father's pocket.