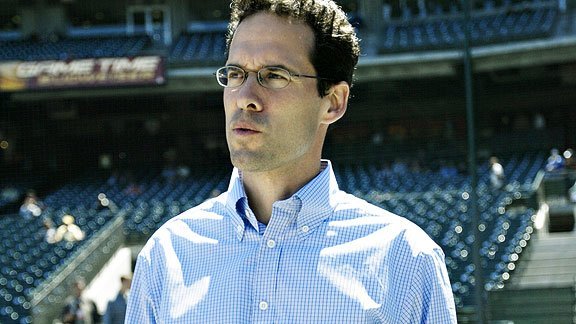 After leading a data revolution in Major League Baseball, data guru Paul DePodesta is joining the faculty of the Scripps Translational Science Institute (STSI) where he will apply his skills and insight to the emerging field of digital medicine.
STSI is a National Institutes of Health sponsored consortium led by Scripps Health in collaboration with The Scripps Research Institute. Through this innovative research partnership, Scripps is leading the effort to translate wireless and genetic medical technologies into high-quality, cost-effective treatments and diagnostics for patients. 
DePodesta is a Harvard economics graduate who rose to prominence when, as the assistant general manager to Oakland Athletics General Manager Billy Beane, he used his knowledge of data analytics to radically alter the way the team recruited players. His time with the Athletics was depicted in the film "Moneyball" through the fictional character Peter Brand, as played by actor Jonah Hill.
In his new role at Scripps, DePodesta will serve as an assistant professor of bioinformatics at STSI to work on large medical data projects with the center's analytics team, which is led by Ali Torkamani, Ph. D., associate professor and director of genome informatics. Other team members include Andrew Su, Ph. D., associate professor, and Nathan Wineinger, Ph. D., director of biostatistics.
Wide range of research projects
The team's work covers a wide span of diseases and medical conditions. Examples include:
– The Molecular Autopsy Study, which is searching for genes associated with sudden unexplained death by sequencing and analyzing the DNA of adults, children and infants whose death cannot be explained using traditional medical investigative methods.
– The GIRAFFE Study, which seeks to identify a set of genetic mutations associated with atrial fibrillation, the most common type of irregular heartbeat. Those mutations would then be used to predict a risk of developing the potentially dangerous condition.
– The IDIOM Study, which uses DNA sequencing to look for the genetic causes and potential treatments of idiopathic diseases – those serious, rare and perplexing health conditions that defy a diagnosis and standard treatment.  
 DePodesta first connected with Dr. Topol last summer after reading the physician/researcher's acclaimed book "The Patient Will See You Now." In an email to Dr. Topol, DePodesta explained that he was struck by the parallels between baseball and medicine, and was looking to apply his skills and knowledge to a field with global impact.
Soon after, the two scheduled a one-hour lunch which turned into a three-and-a-half-hour discussion about the intersection of Big Data analytics and health care. In October, DePodesta was a featured speaker at the inaugural Transforming Medicine: Evidence-Driven mHealth conference organized by STSI. He will join the institute's faculty on Jan. 1. 
"In disciplines as disparate as baseball, financial services, trucking and retail, people are realizing the power of data to help make better decisions," DePodesta said. "Medicine is just beginning to explore this opportunity, but it faces many of the same barriers that existed in those other sectors – deeply held traditions, monolithic organizational and operational structures, and a psychological resistance to change.

"Being part of the STSI faculty allows me to apply the things I've learned in baseball to a critical sector of our lives and our economy that is ripe for this kind of revolution," he said.