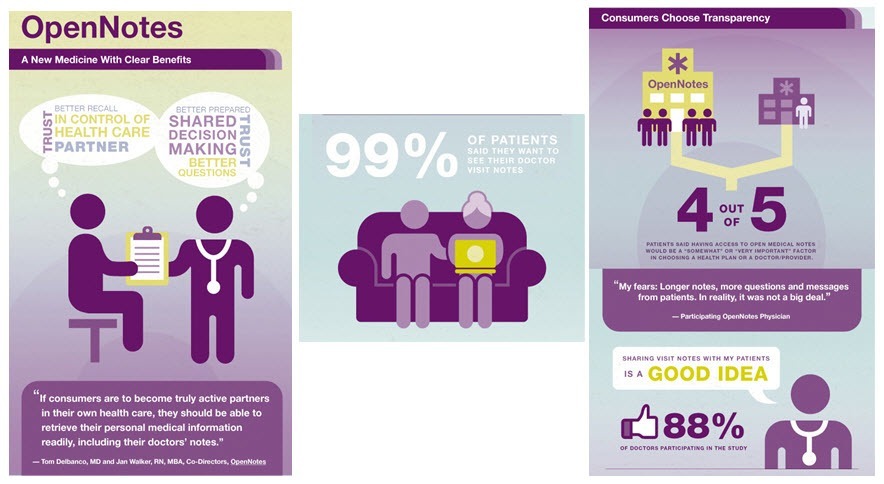 Cambia Health Foundation, Gordon and Betty Moore Foundation, Peterson Center on Healthcare, and the Robert Wood Johnson Foundation are teaming up to jointly fund the three-year, $10M expansion of the OpenNotes movement. The funding will be used to accelerate access to clinical notes to 50 million patients nationwide.
For the next three years, the new $10M funding will support OpenNotes' ability to assist providers with adoption, to reach a wide range of consumers, and to evaluate the impact of the effort on health outcomes and costs. OpenNotes will work with a broadly representative advisory board to target health care organizations and consumer advocacy groups, and also individual clinicians and consumers.
In the three years since the pilot results were reported, the OpenNotes movement has continued to spread—including widespread adoption by major medical systems nationwide and within geographic regions, such as Oregon and southwest Washington.
What is OpenNotes? 
OpenNotes is a national initiative that urges doctors and other clinicians to offer patients ready access to their visit notes.Based at Harvard Medical School and BIDMC and initially funded primarily by the Robert Wood Johnson Foundation, OpenNotes began in 2010 with a research and evaluation study examining the impact of offering clinician notes to patients at BIDMC, Harborview Medical Center, and Geisinger Health System.
At the end of a year, those who read their notes reported feeling more in control of their care and having better recall, knowledge, and understanding of their medical conditions. 99% of patients wanted the practice to continue, and all participating doctors chose to keep their notes open after the study ended.  The results of an OpenNotes experiment involving 100 primary care doctors and 20,000 of their patients were published three years ago in the Annals of Internal Medicine. Since then, the OpenNotes movement has spread well beyond primary care to more than 5 million Americans.
Experience suggests that giving patients access to their clinical notes holds considerable promise for addressing the stubborn challenge of improving medication adherence. More than two-thirds of patients who took medications during the original study reported improving the way they took their medications, a finding that was further validated by researchers at Geisinger Health System in a rigorous scientific study published recently in the Journal of Medical Internet Research. The investigators showed that patients being treated for high blood pressure who were offered open notes were more likely to fill their prescriptions than those without open notes.
"Our research shows increasingly that patients can benefit greatly from reading the notes taken during a medical visit. They tell us they feel more in control of their care and are more likely to follow up on recommendations," said Jan Walker, RN, MBA, co-founder of OpenNotes and Assistant Professor of Medicine at Harvard Medical School (HMS) and Beth Israel Deaconess Medical Center (BIDMC). "This has enormous implications for improving the quality and costs of care. Moreover, we're learning that having a second set of eyes on the record may be an important way to improve patient safety."