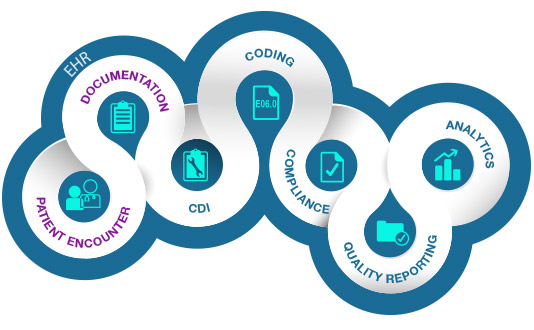 Nuance Communications, Inc. has announced physicians have documented more than 100 million patient stories annually physicians using Nuance cloud-based clinical voice recognition. This milestone comes on the heels of dramatic growth in healthcare organizations using web and mobile apps with embedded Nuance Dragon Medical cloud-based solutions, which have increased up to 30% month-over-month since the beginning of the year. Nuance anticipates this pace of adoption to continue based on market feedback indicating 94% of healthcare organizations are considering or strongly interested in cloud-hosted clinical speech recognition, with 89% citing portability as the top benefit.
Physicians Under Pressure to Document Complete Patient Stories
Physicians are under increasing pressure to document complete patient stories in EHR while treating patients on different floors, and in multiple facilities that often use different clinical systems and tools. By enabling them to capture patient stories quickly and accurately on the spot—via mobile device, web, desktop, or virtualized environment—Dragon Medical cloud-based speech solutionsprovide the security, flexibility, and personalization to support today's dynamic clinical workflows.
"Physicians are more mobile than ever, both inside and outside the hospital. At the same time, there is an increased need for patient stories to become immediately available in the patient's record. IntegratingNuance Dragon Medical Direct with our Cerner physician documentation tool has enabled us to meet both of these needs," says Dr. Ehab Hanna, chief medical information officer of Universal Health Services (UHS), Inc., which has so far deployed the solution in 16 facilities nationwide. "Our goal was to transition at least 30% of patient stories to Nuance's cloud-based technology in conjunction with Cerner's EHR. Within just a few weeks, we were pleasantly surprised to see voluntary adoption rates of 60% to 90% across our hospitals. You don't reach numbers like that unless you have a good tool."
Dr. Hanna attributes the significant adoption rates to the accuracy of Nuance's speech recognition and portability of voice profiles, which allow physicians to have a consistent user experience as they dictate clinical documentation in ways that fit their clinical workflows. "It understands me from the first minute I begin talking," he adds, noting that physicians loved that no training was needed. The ease of use and convenience of Dragon Medical were also big contributors to rapid physician adoption, as were the strong existing relationships between the UHS medical staff and IT staff during the rollout.
In addition to more than 3,000 healthcare organizations that rely on cloud technology from Nuance, the number of those accessing the platform through speech-enabled partner applications—such as mobile EHR apps from Cerner, Epic, and eClinicalWorks—has more than tripled in the past year.
Launched in 2011, Nuance's industry-leading medical speech recognition became available through the cloud, issuing in a new way for clinical professionals to interact with clinical documentation systems and apps via voice navigation, dramatically enhancing their efficiency and making capturing patient stories fast, flexible,and accurate.