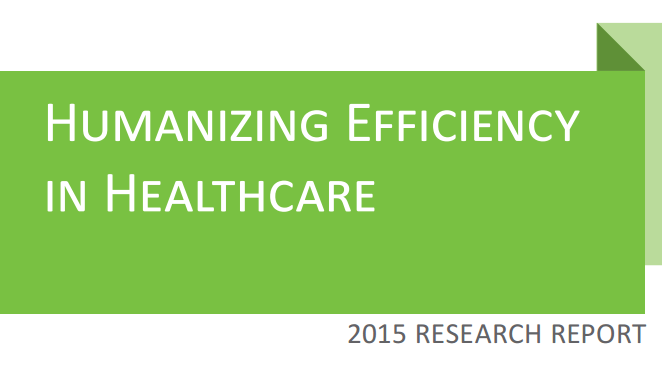 Vocera Communications, Inc., a mobile healthcare communications company has released the findings of its first Humanizing Efficiency in Healthcare research study. Survey and interview findings revealed gaps in communication, infrastructure, and stakeholder engagement as many hospitals and health systems still struggle to align quality, safety and experience strategies.
Study Background/Methodology
The survey was conducted by Vocera's Experience Innovation Network (EIN), an international group of thought leaders focused on putting science behind the experience of care and discovering innovative solutions that meet the Quadruple Aim. The EIN was founded by Bridget Duffy, MD, the industry's first Chief Experience Officer (CXO) during her time at the Cleveland Clinic.
More than 100 senior level healthcare executives completed an online survey or participated in one-on-one qualitative interviews to provide insight into their organization's strategic initiatives, emerging best practices and operational infrastructures designed to drive improvement. 
Study Reveals Gaps in Healthcare Efficiency and Experience Strategies
When asked to describe their top three measurable goals for improvement work, 59 percent of study participants cited efficiency goals, 55 percent cited quality-related goals, and 55 percent listed patient experience goals. Yet, personnel headcounts show a clear skew to quality and safety, with organizations staffing an average of three times as many quality and safety professionals as those dedicated to patient experience improvement.
The study also showed that most organizations are not actively engaging patients and families in experience and process improvement efforts, even though 46 percent of participants point to a lack of stakeholder engagement as a top reason why improvement initiatives stall or fail. When asked to describe their organization's adoption of structured, experience-focused improvement methodologies, less than a quarter of respondents said their approach includes specific tools for identifying gaps in experience, communication or the emotional needs of stakeholders.
"To be successful, organizations can no longer solely focus on stripping out waste and reducing cost as a growing body of evidence points to patient, family and staff experience as key drivers for transforming healthcare. We must identify technologies and design processes that hardwire humanity at every point of care," said Bridget Duffy, MD, chief medical officer of Vocera in an official statement.
Roadmap for Humanizing Healthcare Efficiency
Now that responsibility for human experience is embedded in the healthcare ethos, the report recommends experience leaders utilize these four best practices to take healthcare into its next iteration: 
1. Strategy & Governance 
Develop a clear course and align the organization around human experience differentiation as the key to clinical outcomes and growth.
2. Culture & Performance Management 
Clearly define behavioral standards and expectations within the culture, hire-for-fit, performance management, and leadership coaching tools.
3. Operating Model and Infrastructure 
Create the organizational and technological infrastructure, communications processes, and daily management system to turn strategy into results.
4. Improvement & Innovation
Map the gaps in both efficiency and empathy across the patient journey to define differentiating moments of truth that improve experience and outcomes.
To request the Humanizing Efficiency in Healthcare Report, click here.