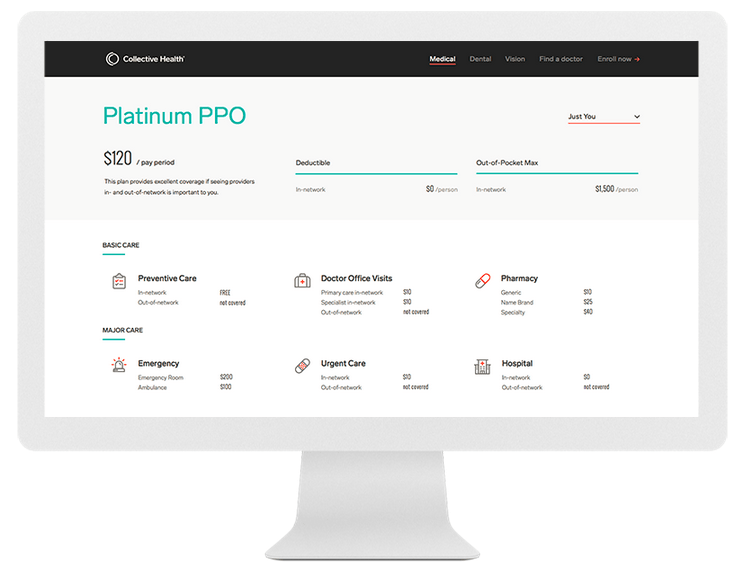 October is open enrollment season across the U.S. when the annual window opens for millions of Americans to change health plans. To make this process less confusing, Collective Health is bringing employer health insurance into the 21s century and shifting the focus from profits to people. Today,  the enterprise health insurance software and services leader Collective Health has raised $81 million in Series C funding led by Google Ventures and returning investors NEA and Founders Fund along with Maverick Capital, Redpoint Ventures and RRE Ventures. Collective Health will utilize the new funding to offer its employer health insurance solution to companies nationwide in 2016, expanding beyond California for the first time.
Employers pay 93% of private healthcare costs in the U.S., and the majority are self-funded. This means they each are running mini insurance companies within their benefits team. And they're operating in the dark using technology from the 1980s and paper-based systems. Collective Health offers enterprise software and services to handle everything from enrollment to plan management to claim adjudication in a way that optimizes for care and cost.
New Partnerships with Anthem and BCBS California
Collective Health is also announcing that it is teaming up with leaders in healthcare across the U.S. including Anthem and Blue Shield of California to bring companies its complete health benefits solution. In the less-than two years since its founding, Collective Health has raised $119 million in total funding, including $32 million in its Series B round in March 2015. In 2016, the Collective Health platform will serve 30,000 members and is expected to process over $200 million in health insurance claims. By expanding availability of its employer health insurance solution to companies across the U.S., Collective Health is on a trajectory to process more than $2 billion in claims in 2017. In addition to today's funding announcement, the company has announced its newest customer, Activision Blizzard, a gaming entertainment company. 
"We're working to shift the focus of health insurance from profits to people," said Ali Diab, CEO of Collective Health. "This significant infusion of capital comes at the perfect moment, enabling us to make our solution available to companies across the U.S. The funding will also enable us to continue to invest in building out our world-class team, forge new relationships with key partners and significantly grow our customer base. Ultimately, this funding will give Collective Health a big boost in our mission to make the healthcare experience in our country something we can all feel proud of."
Along with providing an unparalleled benefits experience to members, Collective Health provides benefits managers and HR teams with the platform they need to communicate and deliver the value of employer-sponsored health insurance benefits to employees and their families. Because health insurance is the second largest cost for most enterprises, tracking and managing the financial components of health insurance is critical and requires real-time visibility into numerous areas from premiums to utilization. The Collective Health technology platform surfaces and simplifies what employers and employees need to know to make informed and intelligent health insurance decisions, during enrollment and throughout the year. 
Founded in 2013 to transform the US health insurance experience, Collective Health has grown to more than 120 employees working to rebuild every layer of the health benefits experience. In the last year, the health insurance technology innovator added several enterprise companies headquartered in California to its customer base.