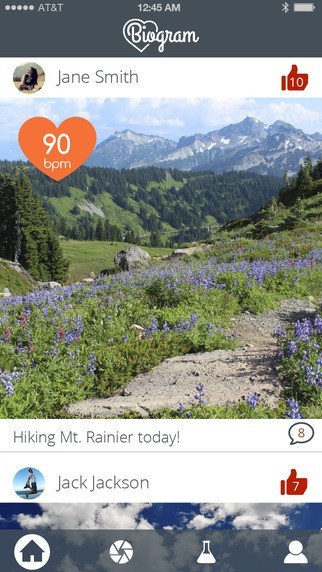 The University of Southern California (USC) Center for Body Computing (CBC) and Medable Inc. has launched an Instagram-like app called Biogram that lets users embed heart rate data into a photo distributed to social media via a photo-sharing network. Developed by using ResearchKit, the Biogram app will help researchers better understand how publicly sharing biometrics influences personal relationships and experiences in a social community.
Biogram Research Study Overview
As part of the research study, researchers at the USC CBC led by Dr. Leslie Saxon will use Biogram to collect heart data along with other biometric information such as weight and steps taken, directly from HealthKit, the centralized location on an iPhone where users store health data. With more than 70 million people in the United States using photosharing apps and according to Pew Research, about half of young adults (ages 18-29) post to Instagram with 49 percent posting daily photos. Biogram's ability to embed heart rate into posts will seamlessly create a personal collection of health data, capturing user emotion and experience that can be shared to social networks including Facebook, Twitter, Instagram and Tumblr.
Benefits of Leveraging Social Sharing
The study has the power to capture data on millions of Biogram users, exponentially increasing the number of medical research study participants, which traditionally average under 1,000. For instance, users can share photos of a new pair of shoes, playing with their dog and hugging their grandparent – all with their heart rate data embedded at the time the photo was taken.
"Wearable devices and apps realize the full potential when the user has an emotional connection and even dependence with the technology – it becomes contextualized biometrics leading to greater empowerment and education about an individual's health and behavior," said Leslie A. Saxon, MD, founder and executive director of the USC Center for Body Computing. "As a researcher, one of the advantages of developing Biogram using ResearchKit is that we can now not only scale our medical studies to capture possibly millions of participants and give us groundbreaking observations but because ResearchKit is an app platform where we can engage users socially and emotionally with their health and study it."
Ensuring HIPAA Compliance with Medable
An essential partner to the Biogram development is Medable's cloud platform for HIPAA-compliant healthcare applications. Medable's platform enables developers to build apps with scalable analytics functionality, an important feature given the sensitivity of health information and the size of datasets from ResearchKit applications. The USC CBC study takes extra steps in privacy protection asking participations through each step of the process to allow researchers to access activity and health data passively collected via the Biogram app and other data stored in HealthKit on their iPhone.
The Biogram on ResearchKit announcement comes on the heels of the USC Center for Body Computing's announcement of its Virtual Care Clinic at last week's Body Computing Conference, which included a demo of a "hologram house call."