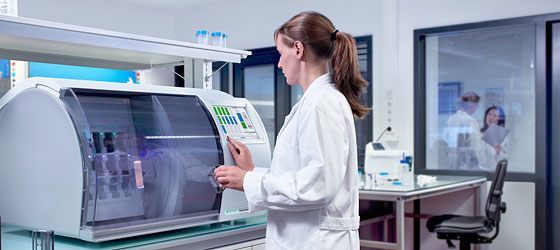 Royal Philips has announced a collaboration with Genomic Health, Inc., a provider of genomic-based diagnostic tests, to leverage Philips digital pathology tools in Genomic Health's continuing scale up of its molecular diagnostic testing processes. Pathology involves the examination of patient tissue samples and plays a crucial role in the diagnosis and treatment of a wide variety of diseases, including cancer. Pathologic evaluation of tumor tissue specimens is a critical step in the genomic testing process conducted by Genomic Health's Clinical Reference Laboratory.  These genomic tests support physicians' ability to deliver personalized treatment for patients diagnosed with complex disease such as cancer.
"By utilizing Philips's latest digital pathology solution, we are providing our pathologists with a state-of-the-art system that will provide the next level of scalability and efficiency for our overall pre-analytical process, adding new capabilities that will be increasingly important as worldwide demand for Genomic Health's tests continues to grow," said Jon Cassel, Senior Vice President of Operations at Genomic Health.
Philips lntelliSite Pathology Solution* is an automated digital pathology image creation, management and analysis system comprised of an ultra-fast pathology slide scanner, an image management system and case viewer. This solution is complemented by advanced software tools to manage the scanning, storage, presentation, research analysis and sharing of information.
* In the European Union, the Philips IntelliSite Pathology Solution is CE Marked under the European Union's 'In Vitro Diagnostics Directive' for in vitro diagnostic use.In Canada, the Philips IntelliSite Pathology Solution is licensed by Health Canada for in vitro diagnostic use. In the United States, the Philips IntelliSite Pathology Solution can be used for in vitro diagnostic use for Manual Read of the Digital HER2 Application and is available for research use only. The Philips IntelliSite Pathology Solution is registered for in vitro diagnostic use in Singapore and Middle East.