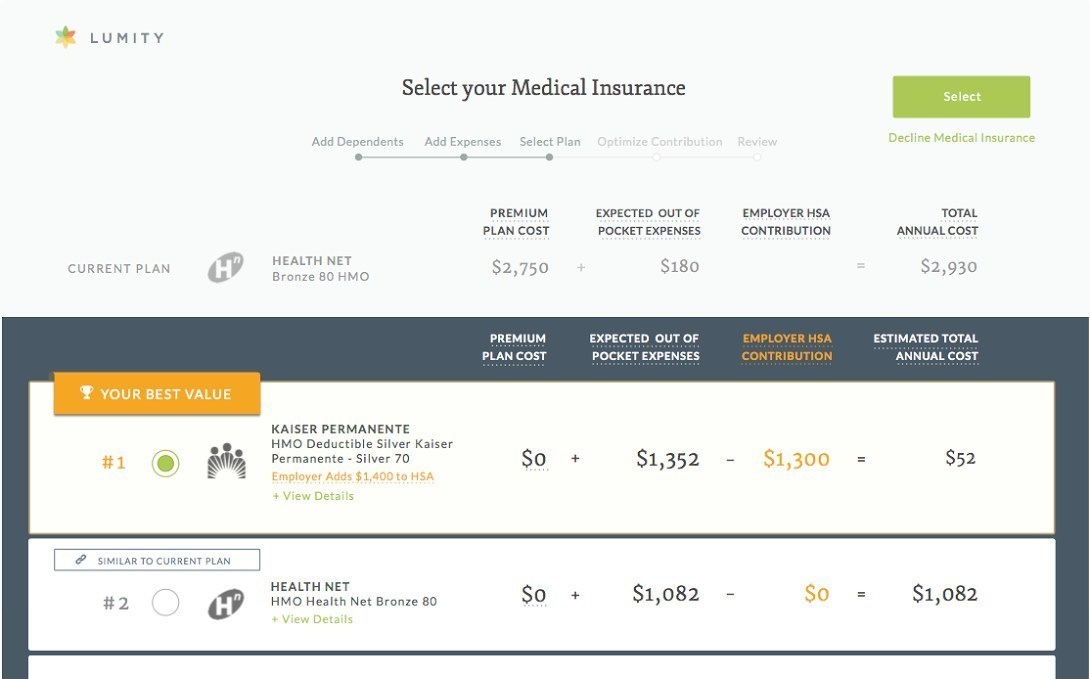 Palo Alto, CA-based Lumity, a data driven benefits platform that optimizes employee health plans, announced it has raised $14M in Series A funding led by The Social+Capital Partnership with participation from True Ventures and Rock Health. Through real-time insights and predictive models, Lumity's benefits platform helps employers and employees use data to collaborate on choosing health plans that drive value and fit employee needs. The funding round will be used to help accelerate the rollout of Lumity's benefits platform.  
"Ninety-nine percent of businesses in America have fewer than 500 employees, and they're in the middle of a perfect storm. They're getting hit hardest with rising health insurance premiums, with many employees now paying up to 40% of the cost of their healthcare. On top of that, the confusing array of plan choices lead many to over- or under-insure relative to their needs, collectively costing them over $40 billion every year. Lumity makes these complex decisions easy and saves employers and employees 20-30% — without compromising benefits," says Tariq Hilaly, Lumity's co-founder and CEO in an official statement.
Large companies analyze reams of data in order to optimize employee health plans and benefits. Founded in 2013, Lumity is leveling the playing field with sophisticated risk models and easy-to-use decisioning tools. For the first time, small businesses can accurate picture of the aggregate health of a company, helping them determine whether full or self-insurance options are the most cost-effective choices for their group. As a broker, Lumity monetizes through insurance commissions and provides its software and professional services at no additional cost to its customers. 
Armed with these sophisticated insights, the company's proprietary health plan recommendation engine provides customized health expense estimates at the employee and company level, matching the right health plans and benefits to specific needs. Lumity works closely with all the major national carriers as well as the hundreds of national prescription benefits managers.
"Lumity made it easy for us to migrate off Trinet, saved us 34% in pure apple-to-apple health plan savings, and made our employees better off in the process," said Jim Zemlin, Executive Director of The Linux Foundation. "We can allocate more resources to hiring with the $400,000 we saved. It's time a company like Lumity stepped in to help employers and employees use data to drive these kinds of critical decisions that affect their ability to get affordable access to healthcare."