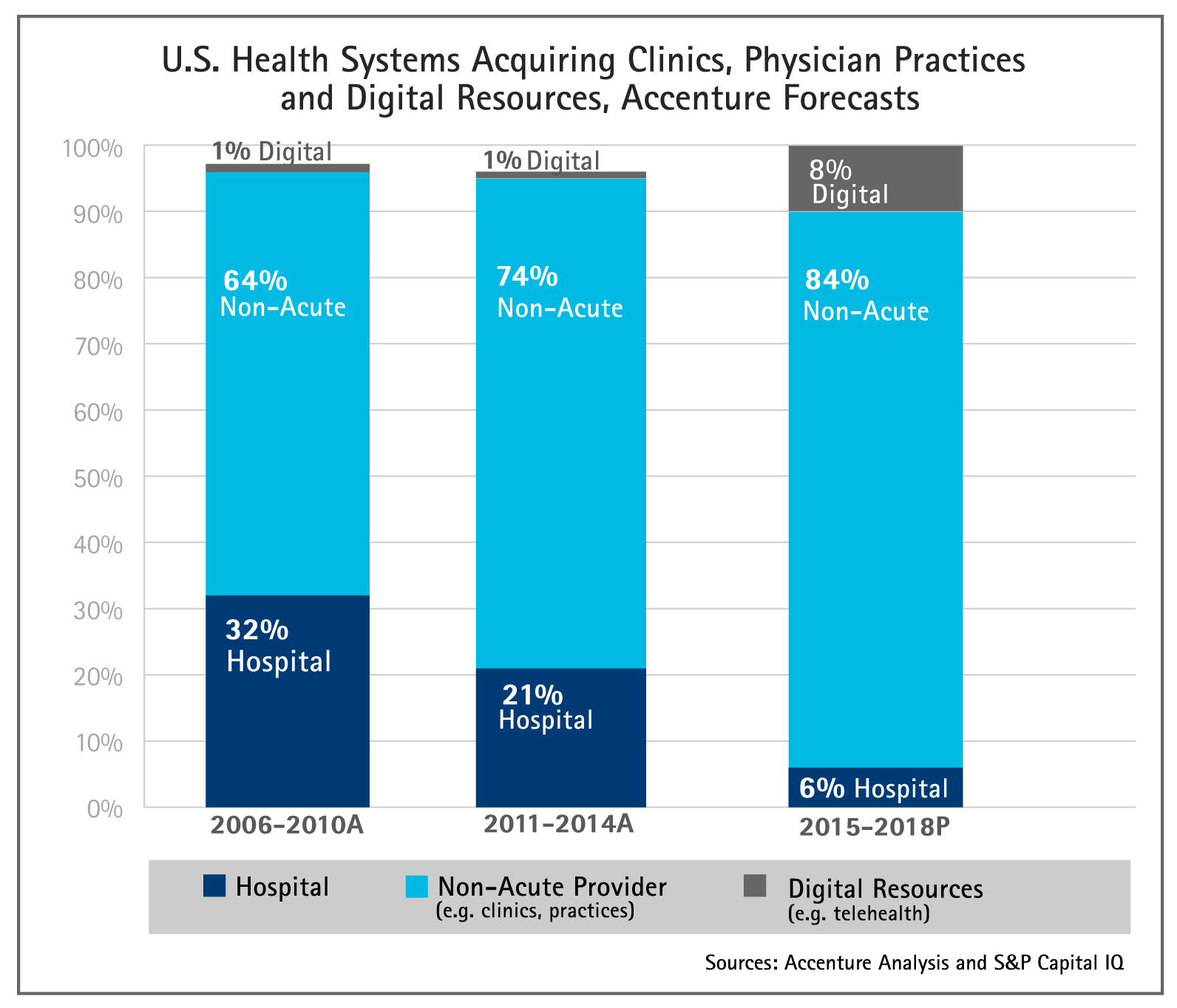 Healthcare M&A in the US reached $241B by May 2015, the highest year-to-date volume ever recorded. Healthcare providers are making these acquisitions to gain economies of scale; shift from volume-based to value-based care; address local market characteristics to remain competitive; better appeal to consumer wants and needs; and expand their digital health and ehealth capabilities, according to a new report from Accenture. 
While this new wave of M&A growth expands a set of strategic options available to healthcare providers, it also creates management complexity. As a result, providers must view potential acquisition opportunities and threats from both horizontal and vertical perspectives, as well as a rapidly emerging digital health dimension.
Accenture's report, which analyzed more than 1,500 healthcare provider acquisitions between 2006 and 2015, identified the game can only be won by viewing the strategic growth opportunities holistically— all three dimensions simultaneously—as investment portfolio managers would. Doing so successfully means getting the most out of M&A transactions. Failure to do so means leaving significant money on the table.
As providers are seeking to diversify and differentiate, Accenture's research found the shift toward vertical and digital acquisitions in healthcare will continue gaining momentum. The share of "vertical" acquisitions – in which health providers buy non-acute-care facilities, such as clinics or physician practices – will reach 84 percent of the total provider acquisition volume by 2018, up from 74 percent today. The share of "digital" acquisitions – purchases of health companies that focus on sensors, mobility, analytics or cloud (SMAC) capabilities, such as remote monitoring or telehealth–will expand by a multiple of eight, from 1 percent of overall acquisition volume in 2014 to 8 percent by 2018.
At the same time, Accenture found traditional acquisitions of hospitals by providers decreased from 32 percent to 21 percent between 2006 and 2014. The share of traditional horizontal acquisitions will shrink even more dramatically, from 21 percent in 2014 to 6 percent by 2018.
Think like a portfolio manager or leave money on the table
In this new era of healthcare M&A, provider executives must avoid the trap of viewing deals as one-off opportunities to create a new revenue stream or add market share. Accenture recommends 5 key steps provider executives need to take to become effective managers of a diverse healthcare portfolio:
1.  Know Thyself
•  Disaggregate and assess the current portfolio of operations and businesses
• Establish strategic objectives and focus areas for growth.
• Analyze your current positioning, strengths, weaknesses to determine your value proposition to potential targets in various sectors
2. Think Long… and Short
• Project longer-term, realistic scenarios that will likely impact your system (e.g., scan 10+ year horizon for my services, markets, patient/member segments, business mix). 
• Develop scenario-based plans, emphasizing commonalities across scenarios and the initiatives needed to help the core business adapt to the future requirements
3. Work on Your Core
• Divest under performing assets to generate additional cash and  assess ability to maintain strong profitability in core assets.
• Commit  dedicated resources for strategic growth initiative and establish an organizational framework in place to e­ffectuate growth process e€fficiently
4. Define the Playing Field(s)
Multidimensional-vertical, horizontal, payer, digital
• Survey and evaluate acute, non-acute, payer and digital landscapes, in regional markets and nationally, to identify opportunities.
• Proactive target screening and streamlined/ consistent evaluation is key
5. Go Where You Want to Grow
• After comprehensive due diligence, define approach, operating model and capital requirements.
• Strive for value creation from investments through merger integration
According to the Aberdeen Group, an effective portfolio management program can increase ROI and enable companies to achieve up to 25 percent more revenue from new products when compared with less successful competitors. "Best in class" organizations typically improve project ROI by as much as 28 percent.6
Report Background/Methodology
Accenture analyzed healthcare provider acquisition data from S&P Capital IQ from 2006-2014. Data from more than 1,500 acquisitions were analyzed and categorized by type of provider organization acquired. Accenture performed historical and trend analysis to determine 2015-2018 forecast.