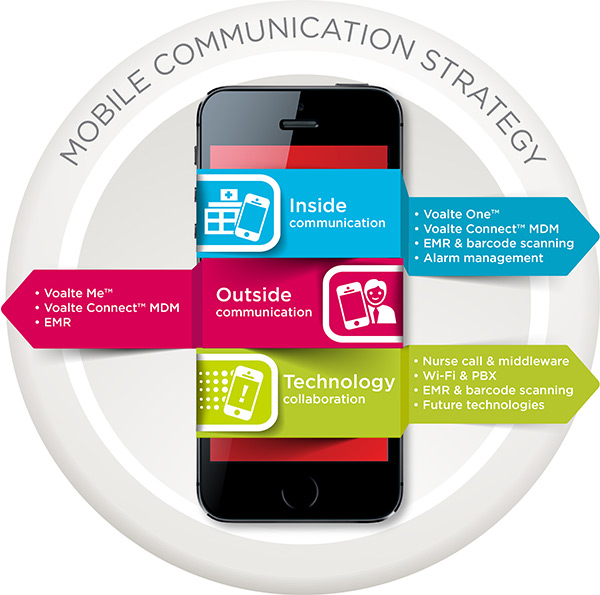 Voalte, a Sarasota, FL-based company that develops smartphone alternatives that simplify caregiver communication has raised $17 million in Series D funding led by Ascension Ventures, Cerner Capital, Inc., an affiliate of Cerner Corporation, and Bedford Funding. The funding will be utilize to sustain triple-digit growth trajectory as revenues grew by 250 percent year-over-year in the second quarter, due in large part to continual product innovation as well as a rapidly expanding customer base. The Series D round brings the total funding raised to nearly $60 million over the past three years. 
Founded in 2008, Voalte's comprehensive Mobile Communication Strategy enables care teams inside and outside the hospital to access and exchange information securely. The company has established partnerships with Cerner where it provides communication capabilities for Cerner's CareAware Connect smartphone communication solution. Last quarter alone, 44 new sites signed with Voalte for their healthcare communication solutions, which are now used by tens of thousands of caregivers at more than 150 healthcare organizations throughout the United States.
"The next phase of technology adoption is progressing from individual hospitals to multi-site health systems that need to deploy a system-wide standard for caregiver communication," said Trey Lauderdale, Founder and CEO of Voalte. "Ascension Ventures and Cerner are industry leaders and recognize how Voalte solutions help hospitals improve care coordination and patient care. I'm excited about the partnership and how it will enable us to continue to push the envelope on advancing healthcare communication."
Growing Pains = High Burn Rate? 
Record growth is not always a smooth ride, Voalte announced "internal restructuring" to improve operating efficiencies back in February resulting laying off fewer than 40 employees including the COO. The announcement lead to speculations around the company's mismanagement of money most likely attributed to a high burn rate to fuel rapid growth of the company. "The company continues to employ more than 125 staff members, and we look forward to continuing to work toward our goal of improving health care communication," said Voalte co-founder and president Trey Lauderdale said in a written statement.