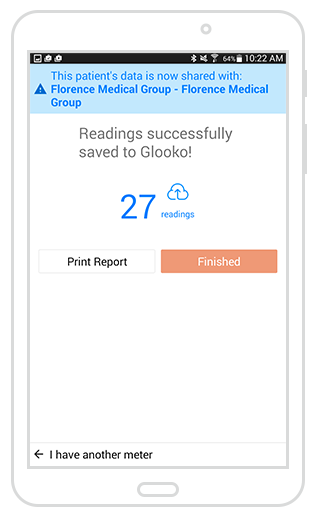 Glooko Inc., a unified platform for diabetes management, today announced the official launch of its "Glooko Office Kiosk" package to redefine in-clinic diabetes care experience for patients with diabetes and healthcare professionals by bringing insights that drive teachable moments to patient-clinician interactions
For the first time, Glooko Office Kiosk enables diabetes data from popular blood glucose meters, insulin pumps, and continuous glucose monitors (CGMs) to be synced to an Android tablet and visualized in aggregate on Glooko's mobile, cloud-based diabetes management platform. By making its technology available in a "Kiosk" style offering, the company hopes to revitalize clinical encounters for both diabetes patients and clinicians by adding efficiency and interactivity to the diabetes care process.
How Glooko Office Kiosk Works
The Glooko Office Kiosk enhances each step of diabetes clinical care encounter, which starts with the expectation that a patient's diabetes device data will be downloaded prior to or at an appointment and be used to drive diabetes care recommendations during the appointment. With the ability to download 40+ diabetes devices and multiple Bluetooth biometric inputs for activity, weight, blood pressure and medications, the Glooko Office Kiosk increases the frequency and quality of data-driven decision support.  "Since using Glooko Kiosk in my practice, the time it takes to download data for both Type 1 and Type 2 diabetes patients using a blood glucose meter, insulin pump, and/or CGM has decreased substantially – my practice is more efficient", said Dr. Michael Greenfield, Glooko CMO.
Not only is downloading made more efficient, but the unified reports that the Glooko Office Kiosk includes enables both the patient and the health care provider to identify trends and insights in data on their mobile phone, the web and via printable reports. During or between office visits, these reports allow focus on trend identification and therapy optimization versus interpreting disparate data points and disjointed reports from a variety of devices.
"Clinical visits are most effective when a patient already has an idea of what is and isn't working with their therapy regimen," added Rick Altinger, Glooko CEO. "With Glooko's data visualizations and pattern identification algorithms, the patient is equipped to ask the right questions before the appointment starts and when it does, the patient and clinician are looking at identical visualizations. This workflow makes each clinical encounter more effective."
Glooko's latest innovation has been successfully deployed to diabetes care facilities of all sizes nationwide, from private practices to ACOs, including Scripps Whittier Diabetes Institute, Stanford Hospital, and Cornerstone Health Care.  
Integration
Glooko Office Kiosk is compatible with 40+ diabetes devices and growing. Most recently the company showcased its integration with Dexcom CGM data and Insulet's OmniPodTM wireless insulin delivery system, marking the first CGM and insulin pump integration into the Glooko platform. Glooko's platform also works with many other industry leaders devices including Abbott, Johnson and Johnson's OneTouch® products, Roche, Nipro DiagnosticsTM, and Bayer, to mention a few. In the near future Glooko will also integrate with Medtronic's MiniMed® products.
Pricing
Glooko Office Kiosk is available for purchase and includes a four-month free subscription trial following an initial hardware fee. Following the free trial Glooko Office Kiosk costs $300/month and can be cancelled at any time. To purchase the Glooko Office Kiosk visit www.glooko.com/glookokiosk or contact bizdev@glooko.com.