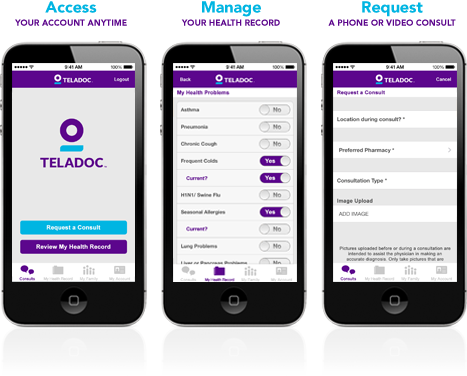 Dallas-based telehealth provider, Teladoc has been selected by Virtua, the largest health care provider in southern New Jersey, to provide telemedicine services to its employees and residents of the communities it serves. As part of the agreement, board-certified primary care physicians employed by Virtua will join Teladoc's clinical network, which offers 24/7/365 access to state-licensed, board-certified physicians via phone, internet, secure online video and mobile devices. Virtua's telemedicine offering is slated to launch in fall 2015, following technical implementation and training. By providing telemedicine consults in a new co-branded service, Virtua expects to increase consumer access to non-emergent care within its three-county market area.
"Expanding access to primary care across our communities is a continuing priority, and the addition of a telemedicine option is a natural extension of Virtua's wide range of primary care health services, including our 21 physician practices and three urgent care centers," said Richard P. Miller, Virtua president and chief executive officer in an official statement. "Teladoc's reputation for clinical quality and patient satisfaction aligns with our focus on providing an outstanding patient experience, and we look forward to working together to provide convenient, on-demand health services that people want and need."
Last month, Teladoc's initial public offering (IPO) debut under the symbol "TDOC" on the New York Stock Exchange at $19 per share, raising $157 million. The underwriters for the offering also have a 30-day option to purchase up to an additional 1,237,500 shares of Teladoc common stock. The company's quiet period is set to end on Monday, August 10th. 
Founded in 2002, the company emerged as an early leader in the growing telehealth space as self-insured employers and insurance companies look for ways to cut healthcare costs by providing a video visits platform for doctors and patients.