96% of providers identified radiology on their list of departments that had the greatest need for image sharing, according to new report by peer60, a smart data software company. The report findings are based on a survey of more than 500 healthcare organizations, the report confirms while radiology departments have the greatest need for image sharing today, there is a growing need to exchange this information across departments and facilities as coordination of care is "now a critical component in the effective practice of medicine."
Image sharing has become a top investment priority for the industry and that healthcare organizations overwhelmingly prefer cloud-based technology to facilitate the medical image exchange. Reducing repeat imaging procedures is one of the driving factors for facilities to adopt image sharing technology. In a previous peer60 report, reducing unnecessary imaging is a top priority for 57% of providers. When patients are re-imaged, they are exposed to unnecessary radiation, which also drives up the cost of health care. According to the same report, the majority of providers said at least 20% of imaging would be classified as "unnecessary." 
According to 88% of providers, receiving images from other sites was the most important component of image sharing. Sending images for a second opinion was the least important component of image sharing. However, the facilities completing the largest number of annual imaging studies (over 1 million) were more likely to consider it important compared to facilities performing fewer annual imaging studies.
Ideal technology to handle image sharing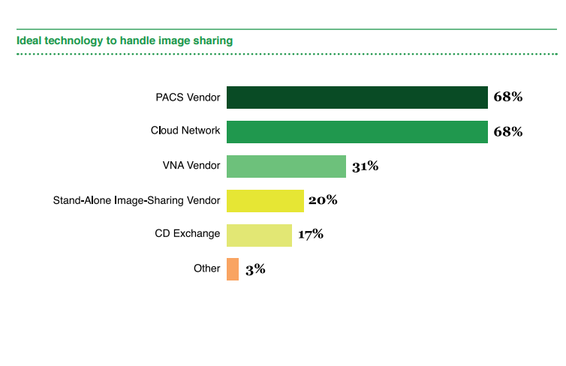 According to the peer60 report, PACS or cloud networks are the ideal technology to handle image sharing. Both of those options were selected by 68% of providers overall. On average only 31% said VNA was the best option, and only 20% said stand-alone image-sharing vendors were the best option. This is surprising because most providers are considering the stand-alone image-sharing vendor, Nuance, which doesn't offer a PACS or VNA solution. Perhaps PACS vendors have not yet stepped up their image sharing technology to the level providers expect.
Overall Market Share Leaders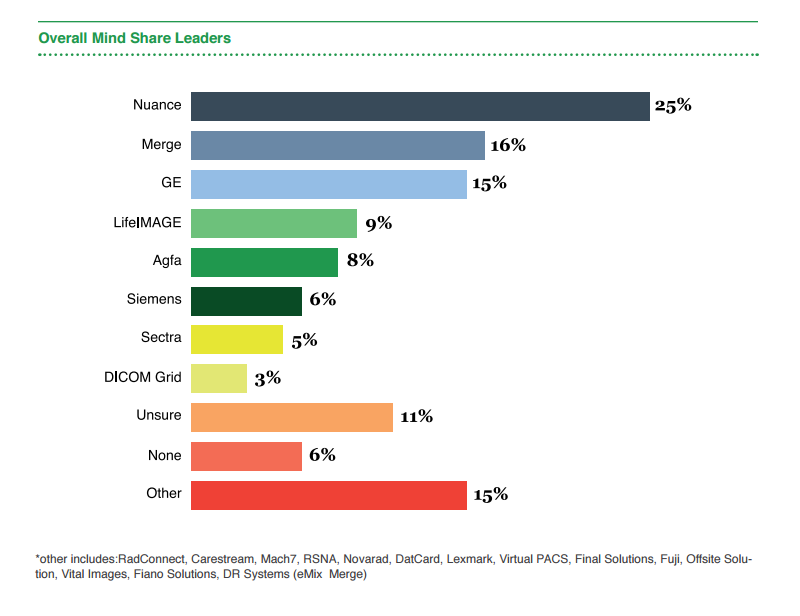 The report identified Nuance as the leading provider of medical image-sharing offerings in its 2015 market report. peer60 calls Nuance's performance in both mind share and market leader categories "an impressive feat" for the growing image-sharing market. Nuance ranked as the top vendor in both mind share (25%) and market share (17%). To date, the Nuance PowerShare Network has facilitated the exchange of more than 3 billion medical images among more than 2,700 facilities, overcoming the barriers that organizations and individual physicians face when they need to send or receive X-rays, CT scans, and other medical images and reports for their patients who are transferred or have been treated across the country at various healthcare facilities. With the PowerShare Network, providers can securely share and access medical images and reports in real time, across desktop and mobile devices, resulting in a clear picture of the patient's healthcare needs and more timely treatment. 
For more information, see more of the report here.