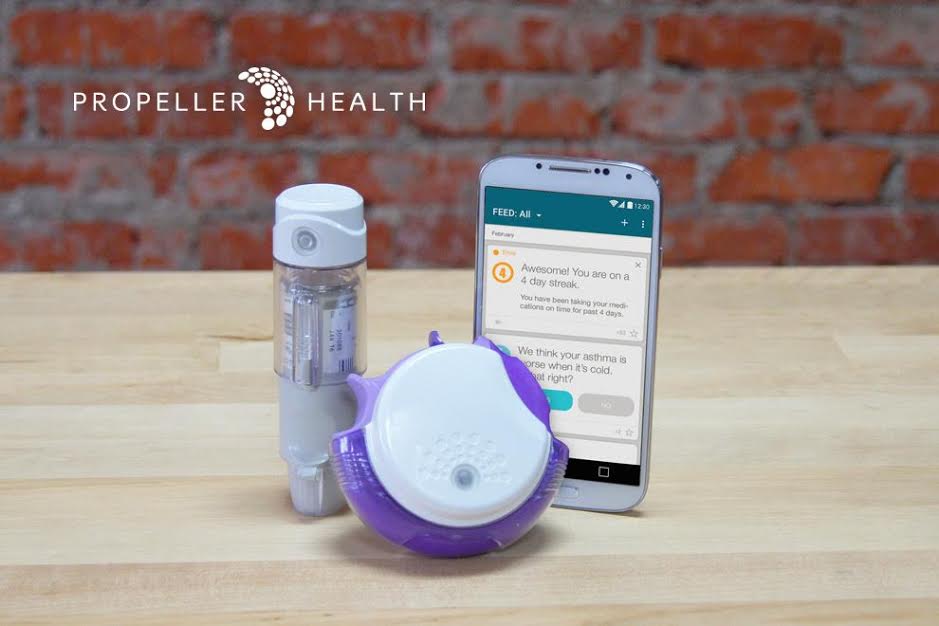 Propeller Health, the FDA-cleared digital health solution for chronic respiratory disease, today announced U.S. Food and Drug Administration 510(k) clearance to market its Propeller platform in association with medications using GlaxoSmithKline's Diskus® dry powder inhaler (DPI) device for asthma and chronic obstructive pulmonary disease (COPD). This new clearance follows 510(k) clearance to market the Propeller platform in association with medications using Boehringer Ingelheim's Respimat® inhaler for chronic obstructive pulmonary disease (COPD) received in March 2015.
Propeller is an FDA-cleared digital health platform designed to help patients and their physicians better understand asthma and COPD, and help to improve the symptoms and outcomes of these chronic respiratory diseases. With proprietary sensor technology, software, and services, Propeller's platform remotely monitors use of inhaled rescue and controller medications in asthma and COPD, analyzes patient trends, and provides regular feedback. The Propeller system has FDA-granted claims to increase adherence to therapy, predict oncoming exacerbations and help reduce the frequency of symptoms and exacerbations in asthma and COPD.
The Propeller Health system has been used by patients with asthma or COPD in over 35 commercial programs across the US, including major healthcare systems, payers, employers and other commercial partners. These clearances mark the third and fourth FDA clearances received by Propeller Health. In July 2012 Propeller Health received 510(k) clearance from FDA to market the Propeller system to patients with chronic respiratory disease for use with medications using pressurized metered-dose inhalers (MDI) (press release). In May 2014, the company received 510(k) clearance to market the Propeller system with two improved features:  a new low-energy MDI sensor (eliminating the need for charging), and enhanced software analytics (to help predict exacerbations and identify worsening patients).
"Today we're excited to announce back-to-back FDA clearances that demonstrate our leadership and commitment to a singular goal: moving the field of respiratory health forward." said David Van Sickle, CEO and co-founder of Propeller. "510(k) clearance of our platform with inhaler devices from leading global respiratory companies GlaxoSmithKline and Boehringer Ingelheim opens the door for millions of patients to expect and achieve something better in asthma and COPD."
Under the 510(k) clearances announced today, the Propeller system can now be used in association with medications delivered by Boehringer Ingelheim's Respimat device (such as Spiriva Respimat®, Combivent Respimat®, Striverdi Respimat®, Stiolto Respimat®) and dry powder inhaler (DPI) medications utilizing GlaxoSmithKline's Diskus® device (such as Advair Diskus®, Flovent Diskus®, Serevent Diskus®).
The installed base of the Diskus® device in the United States is significant. According to IMS Health, physicians in the US wrote 14 million prescriptions for Advair® in 2014, representing 54.5% of the market for combination inhaled corticosteroid/long-acting beta agonist (ICS/LABA) products. Respimat® is the platform inhaler for the Boehringer Ingelheim respiratory therapies, which include Spiriva® and recently FDA-approved, Stiolto®. Respimat® is the only inhaler that actively delivers a slow-moving mist that helps patients inhale the medication.