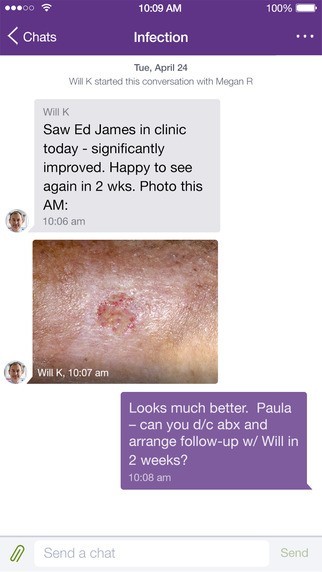 athenahealth, a cloud-based EHR provider for practice management and health systems has launched athenaText, a secure text messaging service for providers and care teams. athenaText is fully integrated with athenahealth's cloud-based EHR platform, and accessible through the standalone athenaText, Epocrates mobile apps and Apple Watch. No matter the setting, athenaText enables care teams to deliver high-quality, well-coordinated patient care.
The athenaText is now available for free from the Apple App StoreSM or Google PlayTM store, to all 1,000,000+ health care professionals (HCPs) on the athenahealth network, including every athenaClincials® EHR and Epocrates user. Care teams and providers now have the ability to share texts, images and medication information easily across care teams.
As patient cases become more complex, physicians need to coordinate care with an increasing number of providers and staff members. Some HCPs take the risk of sending non-HIPAA compliant text messages, while others call, email, or use a combination of all three in a time-consuming effort to stay connected and informed. Because athenaText enables HIPAA-compliant messaging, there's no need to be cryptic to avoid revealing PHI. Communicate clearly and share texts and images with the confidence that your communications are secure.
athenaText App Features
Whether using athenaText via web-based athenaClinicals, a mobile phone, or Apple WatchTM, providers can leverage the power of athenahealth's new text messaging service in the following ways:
Communicate with confidence – athenaText is ideal for teams working in dynamic care environments as it enables them to respond quickly to in-the-moment changes. Users can send and receive real-time messages to track a patient's progress or share photos of a condition — either at the point-of-care through the athenahealth EHR or on-the-go via mobile, all in a manner that enables HIPAA compliance.
Create care networks – athenaText comes with a convenient, pre-populated directory of providers and support staff. In addition, with over one million profiles, the athenahealth Provider Directory easily connects providers with one another for curbside consults or patient referrals.
Access clinical intelligence – athenaText hyperlinks any drug mentioned within a message to the corresponding drug information in Epocrates, the #1 clinical intelligence app for U.S. physicians.
Elevate care coordination – Later this year, physicians will be able to exchange patient charts securely across care settings via athenaText, helping to decrease the possibility of oversights as patients move from provider to provider. 
Add the latest drug information – Annotate your messages with information from athenaText's built-in drug reference
Client Feedback
Earlier this year, Annapolis Internal Medicine in Maryland started using athenaText to improve communication. "For years, we played phone tag," said Dr. Kevin Groszkowski of Annapolis Internal Medicine. "Now our entire care team is communicating effectively and securely on one, fully-integrated system. For example, the front desk alerts medical assistants via text when patients arrive to pick up prescriptions, while the billing team keeps us docs on task with text reminders to fill out patient charges. But the biggest benefit is being able to respond immediately to clinical questions from our nurse practitioners — whether I'm in or out of the office. What I love is that the care isn't slowed down because I missed a call or email, and patients aren't kept waiting. athenaText keeps the care cycle moving forward, saving us valuable time while improving patient care." 
Providers can access athenaText within the Epocrates mobile app or download it for free from the Apple App StoreSM or Google PlayTM store.