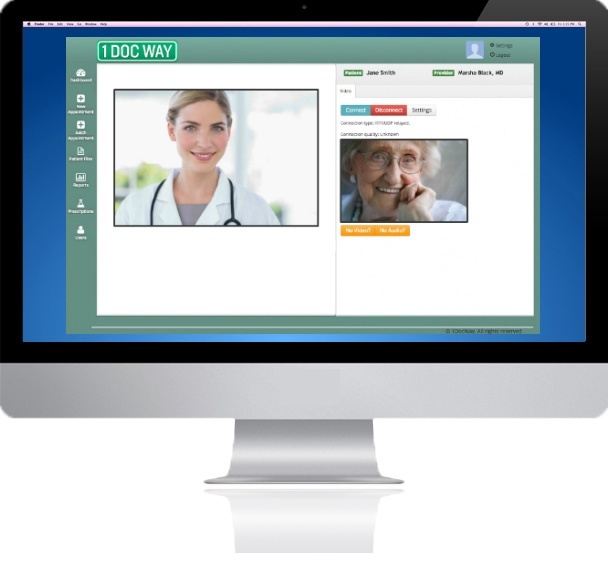 1DocWay, Inc., a NYC-based leading telepsychiatry network operator announced that its psychiatry delivery network has treated over 20,000 patients in 11 states during the first half of 2015. To accelerate its growth, 1DocWay has raised $1.7M in its seed round, led by iSeedVC, with participation from Rock Health, Asset Management, Great Oaks Venture Capital, Waterline Ventures and others. 1DocWay has experienced rapid growth in recent months as awareness and demand for psychiatric services have burgeoned, and now serve patients in Arkansas, California, Illinois, Kansas, Minnesota, Missouri, New Mexico, Oregon, Texas, Virginia, and Washington. 
Founded in 2011 by a team with experience running hospitals and building software at Microsoft, 1DocWay is building hub-and-spoke networks across the country to improve access to mental health treatment in settings where patients need it the most. Its technology serves patients by partnering  hospitals and their mental health professionals with community health centers, skilled nursing facilities, military bases, critical access hospitals and other care settings in need of psychiatric services.
At a time when awareness of the importance of behavioral health continues to rise, 1DocWay is focused on bringing access to care to the 80 million Americans who currently live over 50 miles away from the nearest behavioral health provider. While recent legislation such as the Mental Health Parity Act — which requires insurers to cover mental health no differently than other medical conditions — and the Affordable Care Act — which requires plans that participate in the exchanges to cover mental health treatment — have created tailwinds for the growth of the psychiatry space, care is poorly distributed across the country, often leaving the communities most vulnerable to mental illness without options for treatment. This problem has persisted even though 26 states have passed legislation requiring commercial insurers to reimburse for telepsychiatry services delivered into these underserved settings.
Using 1DocWay, hospitals can expand their reimbursable services to underserved areas, build their referral base, and reduce the high cost of comorbid patients suffering from multiple chronic and mental illnesses.
"1DocWay has been instrumental in building and maintaining our telepsychiatry program," said Susan Mathis, COO of CenterPointe Hospital, who has been working with 1DocWay for over 2 years. "They went above and beyond in connecting us to remote facilities and ensuring that that all the parties involved benefited from their platform. We've seen higher than expected ROI so far and we look forward to growing our telepsychiatry program with their support."