This post is sponsored by SyTrue
When healthcare executives gather these days, discussion quickly turns to growing data volumes, ways to extract patient data across the spectrum of care, and tools for gaining insights from data.  These familiar issues are driven by new "value-based" (versus "volume-focused") shifts launched throughout healthcare in the past decade.
For radiology executives, the "value-based" environment also breeds pressures from falling reimbursements. To change this picture, radiologists know they must create data-driven practices and use new twists of the thinking cap in their operations.
That remains a tall order.  Radiologists work in a large, fragmented industry and are pinched in two ways. First, there's a simple reality: Diagnostic work is difficult. Research estimates show the –
Rate of diagnostic error in clinical medicine is approximately 15%…  second readings in radiology typically disclose discordance rates … of 2% to 20% for most general radiology imaging formats.'* (American Journal of Medicine)*
Value-based medicine also creates radiology's front-burner issues. It now prompts fewer radiologic studies (urging value-based decisions) and sharper calibration of dosing. But one resonant symbol of these challenges lies in a single figure: 80%.  Gartner Group, the IT research advisory, predicted several years ago data will grow 8-fold by 2017, and 80 percent of it will be unstructured.  That same 80% figure is also the level of valuable unstructured data found throughout radiology reports.
One solution to these shifts in radiology is a technology that drew the attention of Shannon Werb, CIO of vRad (Virtual Radiologic) and his colleagues. vRad, the nation's largest radiology practice, saw a  path to value-based care through Natural Language Processing (or NLP).
In the cloud platform offered by SyTrue, vRad's analytics integration partner, NLP is an interlaced array of technologies (artificial intelligence, linguistics, data science, a terminology server for healthcare terms) all dynamically operating as one.  For its own evolving business, vRad chose SyTrue's Smart Data platform from a number of competing vendors.
A review of that selection process helps explain the rich outcomes produced by SyTrue and vRad partnering on new toolsets.
There were broad requirements for selection, since vRad's industry standing is unique. A global telemedicine company with a large operations platform, vRad serves 2100 hospitals with nearly 6 million patient radiology reports annually. Its imaging platform has 32 million imaging studies (growing 700,000 monthly). Its PACS system allows radiologists to view 1.2 billion images annually.
For its immediate needs, vRad targeted twin challenges: Extract the "smart data" nuggets from unstructured data in reports to answer basic questions, then use NLP for deeper, actionable insights.
Refining the "80%," Radiology's Core Data
A note on "unstructured data" may help here. It may seem puzzling, but this is simply data lacking pre-defined models (like those in Excel) or just not ready for analytics.  It may be a text – scribbled notes, 140-character "tweets" – or audio with quantitative and qualitative elements. But in a care site, unstructured data reflects truly critical information because it's what the physician records, and often, it is what is left out of analyses. Data that is not "EMR-enabled" will not enter the EMR record – and it's ignored.
vRad is now well positioned to refine and leverage its critical unstructured data.  Its domain is a digital and a diagnostic specialty. Radiologists' daily reports offer a vast reservoir of information, much of it unstructured data – if it can be extracted and refined. So once a toolset like NLP is marshalled, daily report data will reveal new ways for a radiology practice to operate.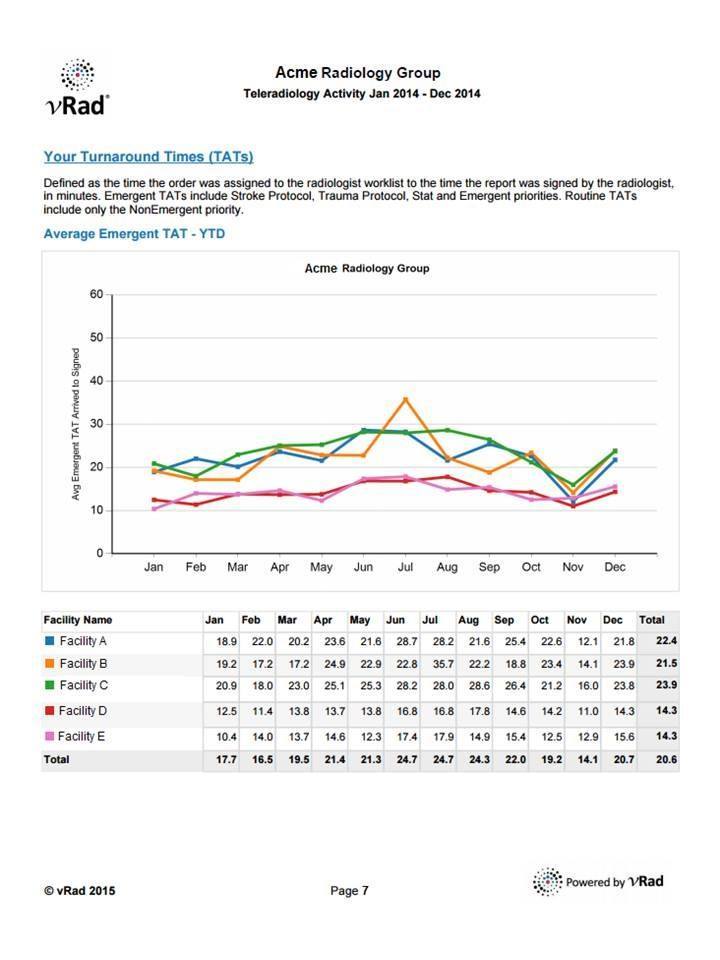 Approach
vRad's analytics integration with SyTrue underwent phases, starting with simple questions. As Shannon Werb recalls, "We wanted to move the quality conversation in radiology further." But there were gaps in their "known knowns" in reports and data. Before turning to SyTrue, vRad was using a different analytics partner, and posed a basic question to them: "Yes or no – are there actual findings in vRad radiology reports?"  That first effort missed the mark.  
By tapping Sytrue's platform, vRad launched a kind of retrospective look at clinical decision support: What informed a physician's decision to order a test? The answer could help a physician see "findings present" in case that physician sees findings less often than colleagues. Werb adds: "We really didn't know what the picture looked like until we could partner with SyTrue to see the findings, and the distinctions among findings — critical, acute or incidental findings." The work produced vital qualitative insights.
This led to richer questions and the ongoing partnership. As Werb says, "What's exciting about SyTrue's platform is how easily we can integrate their cloud-based NLP tools in our clinical database."  The process of integrating with SyTrue's platform — 4 to 6 weeks –"was straightforward. Tuning the platform to our needs took somewhat longer, but it held no surprises."
Inside the NLP Framework
Executives considering NLP should know its value for healthcare. As SyTrue CEO Kyle Silvestro points out, physicians create 2 billion clinical notes and reports annually (8 million daily). Managing this data load manually is unthinkable anywhere.  So tools must help untangle the many complexities in healthcare data. Giant "data chunks" demand carefully extracting the data, laborious cleansing, normalizing and validating of data – to make this usable to users.  NLP makes the process a "Google on steroids," as Silvestro says, so users pose natural language questions on a platform, and produce actionable insights.
The SyTrue "Smart Data" NLP platform gives vRad a system of interrelated tools: artificial intelligence, linguistics, data science, and a terminology server – operating as one. (The terminology server normalizes free text for the alphabet soup of healthcare's terminologies and coding systems.) Using a range of interfaces, the platform also feeds in data from EMRs and related diagnostic information systems. All these platform tools work in real time to provide actionable insights to users.
Critical here is that NLP's giant search capacity spotlights the otherwise locked-in nuggets in unstructured clinical data, making it a linchpin in data integration and interoperability. SyTrue CEO Kyle Silvestro adds that while "NLP is key to generating clinical insights," so is the rest of the cloud-based platform.  Radiologists using NLP can extract and comprehend the special terms in a data set, be it from structured or unstructured elements.
vRad now integrates SyTrue's NLP  with its clinical benchmarking platform and its data normalization tool. It can now extract the 80% of data that is unstructured in its reports and develop findings-based metrics.  The NLP-driven work has become vital to vRad's Global Practice Information (GPI) Report that goes to clients, and lets clients see trends, benchmarks and gain new operational insights. Absent NLP to refine the reservoirs of radiology's unstructured data, none of this is doable.
NLP's Insight-Generating Uses
As Werb sees the SyTrue partnership, "We began seeing NLP's potential as we worked with SyTrue.   It was clear that when the SyTrue platform was integrated with data from vRad's RPC Indices (the first findings-based national benchmarking metrics for radiology imaging) and our own data normalization tool – we were unlocking that 80% of data that is unstructured yet critical, And we could develop findings-based metrics."
Werb stresses NLP's power in imaging analytics: "You start asking the right questions, and you get answers you didn't even think to ask."
To see vRad's data-driven analytics another way, consider the physician who orders a CT. With vRad's analytic reports on the physician's work unit, vRad can identify his roster of colleagues and the kinds of radiology done. The radiologist can then see which exams are most common in the unit.  In reviewing his colleagues' work, he can also see if he's in the normal range (relative to peers); he might even see he's not getting positive findings like the others. So he has options, and can choose to improve his "findings rate" by carefully choosing his exams.
Werb underscores, "This solution is meant to help radiologists operate more effectively and efficiently by providing insight into how they can improve. It is about presenting insights in a data-driven manner for the overall good of patient care and the practice of radiology."
So RPC Indices offer a context for a new behavioral repertoire for physicians trying to improve their care and results with exams. Physicians can use vRad's RPC indices to better appreciate regional and procedure norms for different exams, a tool never available earlier.
Looking Forward
The future is bright for vRad's rich data driven platform. With its acquisition by MEDNAX in 2015, vRad will continue innovating.  Werb says it will iterate its RPC Indices, its industry leading benchmarking platform. Given MEDNAX's focus on pediatrics and anesthesiology, vRad sees room to extend its healthcare footprint further.
And there is a promising new partnership with SyTrue. Launched with SyTrue and Xifin (an economics optimization company), this will develop a consolidated diagnostic report (CDR) using SyTrue technology.  It's in "proof of principle" stage, but showing impressive results, so vRad foresees consolidated diagnostic (pathology and radiology) reports enabling better care.  Pathologists and radiologists tend to work separately, but with a CDR, they'll achieve better concurrence and more precise diagnoses.  "It will make a difference in.cancer patients' lives," Werb adds.
"The work on extracting quality insights resonates with us," says Werb, "and future leveraging of NLP and the SyTrue platform will be essential to our work."   Key here, adds Werb, is getting the clinical process, the NLP and the workflow aligned so technology is "front and center" in the process, not at the back end.
The future?  What if, Werb asks, "we could use algorithms and tools so as radiologists do readings, they gain real-time comparable insights from related cases – to inform their own findings?" It's a real possibility.  Werb is clearly "excited about leveraging technology this way in the future."
Companies
vRad (Virual Radiologic) is a global telemedicine company and the nation's largest, radiology practice with over 350 physicians.  Both the physicians and operational platform serve over 2100 hospitals, providing nearly 6 million patient radiology reports annually. Its imaging platform includes over 32 million imaging studies (growing 700,000 monthly). In 2014, vRad earned the Frost & Sullivan "North America Award for Visionary Innovation."
SyTrue, the Chico, CA-based data refinement and clinical intelligence company offering NLP solutions, addresses the evidence-based needs of partners like Xerox and vRad, the nation's largest radiology practice. SyTrue's Smart-Data-Driven-Radiology Module is designed to identify, extract and convert qualitative radiology-related data into actionable quantitative insight, including findings-based metrics. SyTrue's NLP and complementary toolset, integrated with vRad's platform of benchmarking metrics and normalization tool, serves vRad and its clients.
Sources
* Eta S. Berner, Mark L. Graber (2008) – "Overconfidence as a Cause of Diagnostic Error in Medicine" American Journal of Medicine 121 (2008).