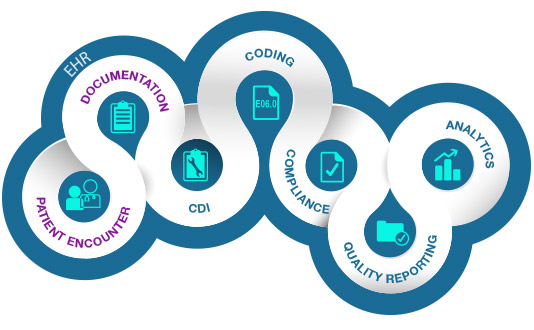 Nuance Communications today announced a strategic partnership with JVION, a healthcare analytics company, to further support healthcare organizations with Advanced Practice Clinical Documentation Improvement (CDI) as they prepare for the shift to a value-based reimbursement model. Part of the Nuance Clintegrity 360 solution, Advanced Practice CDI provides physicians with real-time visibility and guidance into how clinical documentation translates into quality metric scores and appropriate reimbursement. By partnering with JVION, Nuance enables organizations to mine their own clinical data and dive deeper to pinpoint specific target areas for clinical documentation improvement.
Although the industry is transitioning payment models, many healthcare organizations are not prepared to fully make this shift due to the revenue gap that exists between reimbursement under today's fee-for-service system and the changing rules under a value-based payment model. Advanced Practice CDI arms healthcare organizations with actionable insights and data to ensure they are accurately and consistently charting information to capture the severity of their patient populations, case mix index (CMI) and associated levels of care.
"We want to get paid for the quality of care and services we provide," says Joann Hatton, director of Utilization Management and Clinical Documentation Management at Heritage Valley Health System, in western Pennsylvania. "It's not about the money, it's about improving patient care, but the positive financial impact of Nuance's CDI program was clearly evident."
By successfully engaging physicians in the CDI process, Heritage Valley achieved remarkable improvements in quality metrics, including a 27 percent reduction in the predicted mortality rate. Within the first 13 months of implementation, the health system also realized more than $7 million in enhanced revenue and two of their hospitals, Heritage Valley Beaver and Heritage Valley Sewickley, saw CMI increases of 6.4 percent and 13.79 percent, respectively.
"The transition to a value-based payment system is perilous," warns Anthony Oliva, DO, national medical director at Nuance. "Fully engaging physicians while they are capturing the patient's story optimizes revenue in the fee-for-service system while simultaneously developing a strong picture of the severity of the population they are treating for predicting their future healthcare needs under a value-based payment system."
Swedish Health Services, pilot tested JVION's analytics with Nuance Advanced Practice CDI to provide real-time CDI performance data for its five-hospitals in the greater Seattle area. "Data drives our practice," explains Jennifer Woodworth, director of Clinical Documentation Integrity Program at Swedish Health Services. "Physician and hospital compensation is tied to quality metrics, which means to prove that you are providing high quality care you need data. This real-time reporting allows us to drill down to ICD-9 and ICD-10 codes, complications and other specialized details to see how we are doing with the accuracy of physician documentation, and this enables us to create proactive initiatives that maximize our current resources."
Since first implementing the Nuance CDI program three years ago, Swedish Health Services has secured more than $18 million in appropriate reimbursement through focusing on better documentation. "In fact, 60 percent of our clarifications are clinically based and related to severity of illness and risk of mortality," says Woodworth. "The impact of our CDI program has meant better documentation, which means better quality of care at Swedish."
Juggling Fee-for-Service and Value-Based Care
To help organizations maintain financial integrity while negotiating these two differing reimbursement models, Nuance Advanced Practice CDI, powered by J.A. Thomas & Associates, helps healthcare providers to:
– Improve the accuracy of documentation to support patients, physicians, and downstream reporting;
– Optimize inpatient revenue, as treatment moves to the outpatient setting, by capturing appropriate reimbursement through aligned clinical documentation and billing codes at the point-of-care;
– Enhance value-based incentive payments by accurately reflecting the severity of patient cases, and appropriate diagnosis for measurement;
– Accurately predict the patient population they will be treating tomorrow so the level of resources and risk are optimized based on the expected cost of care.