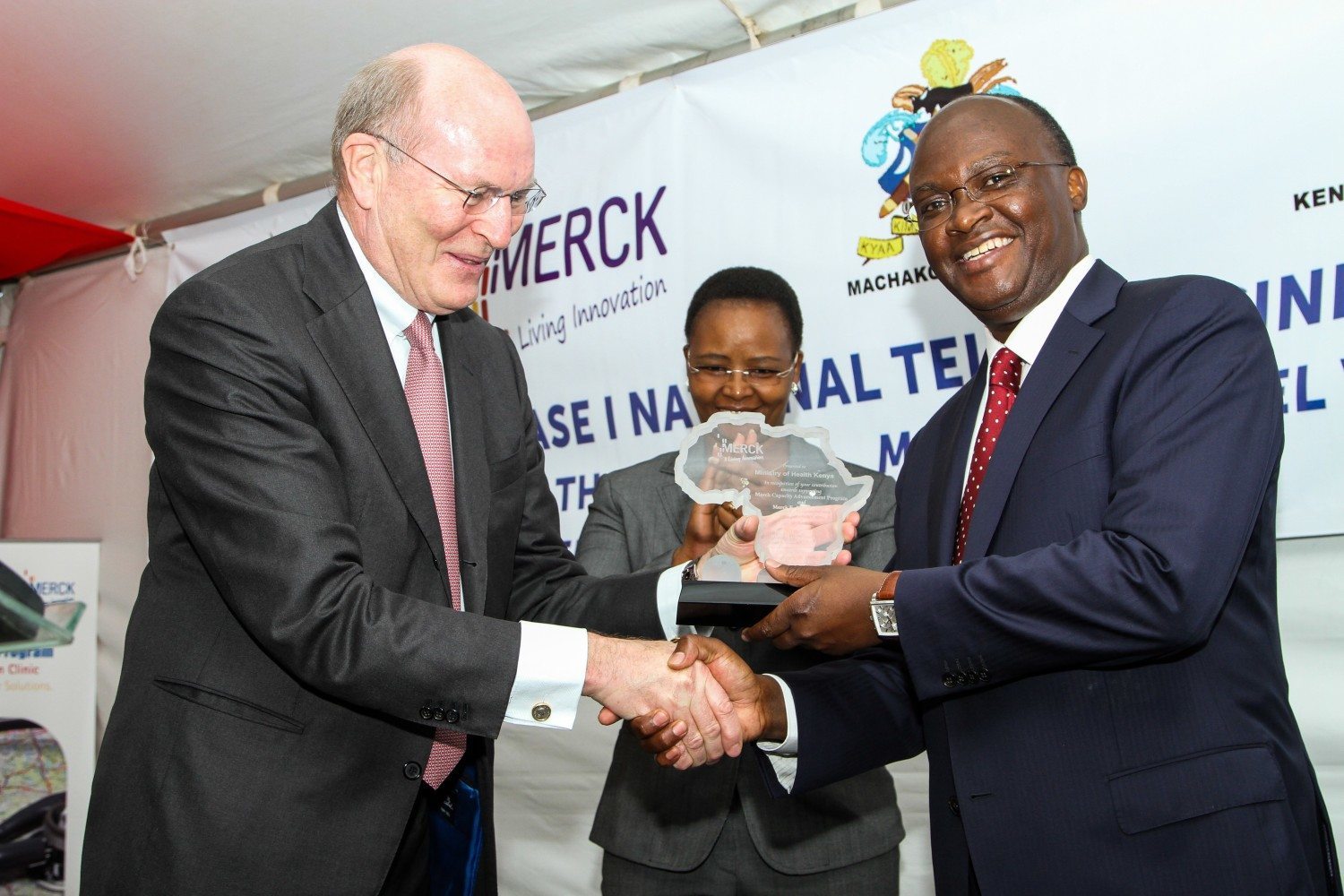 Merck in partnership with Kenya Ministry of Health, kicked off their first telehealth clinics at both of Kenyatta National Hospital in Nairobi and Machacos Hospital as a part of their e-health initiative in Africa. Merck e-health is a new initiative of Merck's 5 year Capacity Advancement Program (CAP).
The CAP has been launched by Merck in 2012 to expand healthcare capacity in the areas of research and development, supply-chain integrity and efficiency, pharmacovigilance, medical education, and community awareness in Africa and developing countries.
Merck's telehealth clinics will allow patients and healthcare providers in remote areas through using the power of IP and video conferencing to interact with Cancer specialists at Kenyatta Hospital, the largest national referral and teaching hospital in Kenya in order to extend the reach of healthcare into remote areas.
During the launch ceremony, Frank Stangenberg- Haverkamp, Chairman of Family Board and Executive Board of E-Merck KG said "Merck e-Health initiative demonstrates our commitment to building healthcare capacity and improving access to innovative and equitable healthcare solutions and disease awareness for patients in rural areas across Kenya."
At the launch of the Merck e-health Initiative at Kenyatta National Hospital., Cabinet Secretary of Health, Dr James Macharia, stated "we are happy to partner with Merck to support Kenya national telemedicine program which will enable patient consultations with specialists in referral hospitals to help earlier diagnosis, quicker and better care".  "Video conferencing technology takes into consideration the reality of Africa in which majority of poor population live in rural set-up with inadequate health facilities and less developed road infrastructure which are barriers to better healthcare specially in Cancer early detection and treatment"  he added
"The next phase will also include upgrading of the telemedicine to facilitate the sub-specialists examine the patient at the county hospital in real time by availing digital patient examination equipment," said Dr Macharia.
Merck Capacity Advancement Program Roadmap in Kenya
Merck CAP has provided since 2012 more than 2000 medical and pharmacy students with medical education about clinical diabetes and hypertension management in Kenya and aims to reach more than 15000 medical students across Africa by the end of 2018.
"Merck has also announced in May 2015, the start of Merck Cancer Control Program-MCCP in partnership with Oxford University and University Of Nairobi to educate the students and healthcare providers about Cancer early detection and prevention, the program will be augmented by community awareness campaigns to contribute to reducing cancer incidence and improve its survival rates.  The program has been kicked off in Uganda in April and will be provide the medical education program in Kenya, Uganda and Tanzania starting from June 2015" Rasha Kelej said.
"Merck has developed tailored patient materials to raise awareness about cancer early detection and prevention among African communities to help controlling the disease and improving cancer survival rate in Africa." She added.
Moreover, Merck African Supply Chain Forum has been launched in April 2015 in partnership with University of Nairobi, KEMSA (Kenya medical supplies authority) and PSK (Kenya Pharmaceutical Society) in order to contribute to improving supply chain efficiency in Kenya by providing training and technical support to help developing and applying (GDP) Good distribution practice and (GSP) Good Storage Practice international guidelines in the country.
Merck e-Learning solutions to help fight diabetes in Africa
Merck previously partnered with African Ministries of Health, Universities and Patient Diabetes Association to carry out nationwide diabetes awareness (SMS) text messages to healthcare providers and community members in Kenya, Uganda and Ghana.
They have also introduced e-Learning platform, where medical and pharmacy students and healthcare providers in rural areas can have free access to all medical educational materials and lectures on a dedicated website that has been developed by EXCEMED
Capacity Advancement Program (CAP) Overview
Merck CAP is a 5 year program aiming to expand the professional capacity in developing countries in the areas of research and development, advocacy building, supply-chain integrity and efficiency, pharmacovigilance, medical education, and community awareness.
As part of the CAP, by end of 2015, more than 5,000 medical students in partnership with African universities such as University of Nairobi, Makerere University, Namibia University and University of Ghana, in addition to Asian universities such as Maharashtra university, India and University of Indonesia will benefit from European-accredited clinical chronic diseases management training, which is seeking to equip them with skills to better manage and prevent these diseases.
Merck is planning to target more than 15,000 students by the end of 2018 expanding to more African, Asian, Latin American and Middle Eastern countries with special focus on non –communicable diseases such as Diabetes, Cancer, Thyroid Dysfunction and Fertility Management.
The program will also kick off initiatives on building research capacity and improving supply chain in order to improve patient safety in Africa.